Although Mohegan Sun calls its Country Club "Connecticut's best kept secret", once a golfer stands upon this golf course's cushioned tee boxes and walks along its pristine fairways, word will most certainly spread.
For any golfer visiting Mohegan Sun for the obvious fun, your stay would not be complete without playing eighteen holes at the newly redesigned Mohegan Sun Country Club at Pautipaug. Located about fifteen minutes from the hotel/casino, the drive time is worth the effort as this parkland-like golf course boasts a redesign with added yardage and all new greens. We played a best-ball format and although we didn't hit out of the sand, we raked bunkers which were thick and powdery.
From the moment Barry and I walked towards the welcoming clubhouse, we were greeted by everyone from the attendant who hoisted our bags to members who were eager to share the history of their golf course (and on which hole they made an ace!) Even former pro football player Ahmad Rashad gave us a pep-talk before our round! This friendliness made me feel at home and, while on the small yet efficient practice range, I felt like a member of this exclusive private club, not just a guest.
The practice putting green is well manicured and resembles the golf course greens in speed and lie. It is important to get in a bit of practice here before heading out to the first tee as you will learn much about the course and feel more comfortable as you enter the 18-hole 6471-yard (from the blues) maze of forestry, sand and water.
Our group began Media Day scramble format on the ninth hole, a 411-yard (blue tee/349 ladies) par-4 with a pretty view of trees and a big bite which started our team off with a bogey.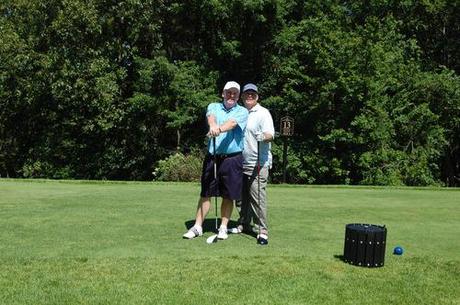 My scramble team: Mike Stinton with Barry Solomon
in spite of its straight-forward appearance.The tenth hole, "Double Down", a 353-yard par-4, put us right back into the game with a birdie. Although it's a relatively short hole, the fairway on ten is surrounded by water with bunkers left, right and center of the fairway forcing a golfer to be precise or land in the drink.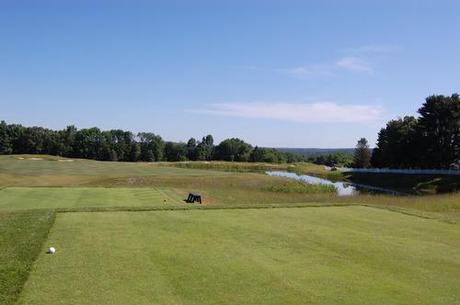 Mohegan Sun Golf Course 10th hole
One memorable hole on the course was the redesigned sixth, a tricky 485-yard par-5 in which you might focus your attention on the small waterfall on the right side of the fairway while the left drop surrounding the green tricks you into thinking you can go for it. Yes I did "go for it"...I thought I took enough club and guess where I landed? Smart play on this golf course is essential in order to score well.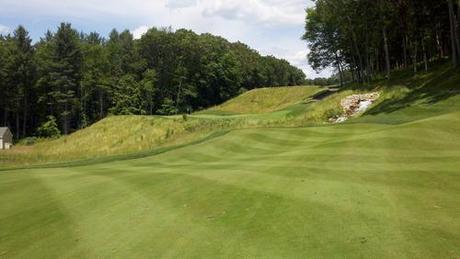 Mohegan Sun 6th hole
Barry's favorite golf hole was the seventh, High Meadow, the number-one handicap hole on the course. This 384-yard par-4 is deceptively difficult for it's length yet Barry played it wisely from tee to green making a birdie without assistance from his playing partners.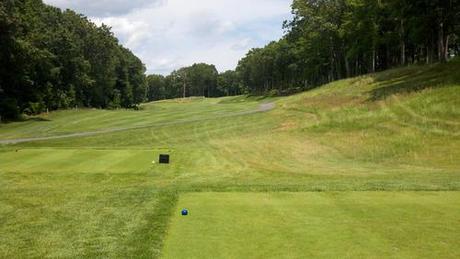 Mohegan Sun 7th hole
A warm welcome did not just begin at the golf course, it extended throughout the Mohegan Sun hotel. Aquai is a Mohegan word meaning "welcome" and is not just a term that is bandied about, it was shown by all of the employees we encountered within Mohegan Sun "country".
We would like to thank Mohegan Sun for the five-star attention given to us at both the Country Club and throughout their property.
Like Mohegan Sun on Facebook and be sure to follow on Twitter @MoheganSun.
Voice your opinion on Twitter @Golf4Beginners and friend us on Facebook.