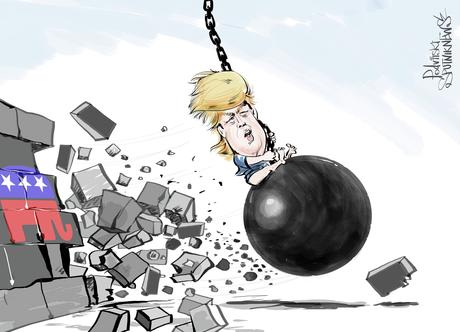 I have a funny to share with you, dear readers.
I was reading about how Trump is the radical right wing evangelicals'  and God's chosen "Chaos candidate".
I was reading about this on a crazy Christian web site, Charisma. They kept referring to Trump as God's "anointed wrecking ball" with other references to "Cyrus".
Not Miley Cyrus, just 'Cyrus'.
So as a good, well-brought up Lutheran woman, my mind went Biblical in reference. I thought maybe, just maybe, in some incomprehensible way these wacko-bird evangelicals were referring to Cyrus the Great of Persia, in the context of a powerful leader.
Cyrus the Great, who ended the Babylonian captivity of the Jews and ordered the rebuilding of the Jewish temple. A prominent non-Judeo-Christian leader anointed by God. Cyrus the Great of Persia who was called the Messiah in the prophetic book, Isaiah :
45:1

Thus saith the

Lord

to his anointed, to Cyrus, whose right hand I have holden, to subdue nations before him; and I will loose the loins of kings, to open before him the two leaved gates; and the gates shall not be shut; 45:2I will go before thee, and make the crooked places straight: I will break in pieces the gates of brass, and cut in sunder the bars of iron:
45:3 And I will give thee the treasures of darkness, and hidden riches of secret places, that thou mayest know that I, the

Lord

, which call thee by thy name, am the God of Israel.
THAT Cyrus. Evangelicals......so logically Biblical Cyrus. Old Testament Cyrus.
Noooooooo.  The crazy evangelicals were referring to the sexy music video by Miley Cyrus from back in 2013, that they probably have never seen or heard, and would not approve of if they had.  No one would accuse these numbnuts of being conversant with popular culture.
Because......wrecking ball.
After reading and re-reading, they clearly meant Trump was God's anointed MILEY Cyrus wrecking ball intended to demolish non-evangelical Christian opposition to things like creationism and tolerance for the LGBT. They believe Trump is supposed to restore Christian theocracy to the government of the United States.
Like a wrecking ball.
And now I'm left with the unavoidable mental image of Trump, in skimpy underwear, licking a sledgehammer for God. Orange spray-tanned fat, old Trump, who thinks he is God's gift to women, in skimpy underwear, brown socks and brown shoes, twerking his way to a Christian theocracy for the United States, in the name of Jesus.  And now you have that image too.
Yup - now just try to get that image and the MILEY Cyrus music out of your head.