I'm sure you're here because you've heard so many people raving about mochi – there's mochi confections, mochi ice cream, and even microwaveable mochi.
The mochi you buy at Asian grocery stores and specialty shops is delicious. But, did you know you can make the mochi at home too?
Mochi is a chewy, fun Japanese dessert made from short-grain glutinous rice, molded into squishy balls, and it's so much more delicious when you make it from scratch!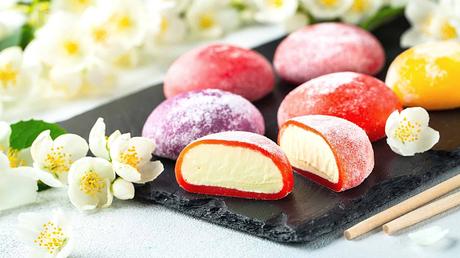 How to make mochi from scratch
Making mochi from scratch is no easy task. It takes a lot of work because the glutinous rice is extremely sticky, so you'll need to do lots of mixing, flipping, stirring, and powdering.
But, the end result is worth it because home-made mochi is delicious.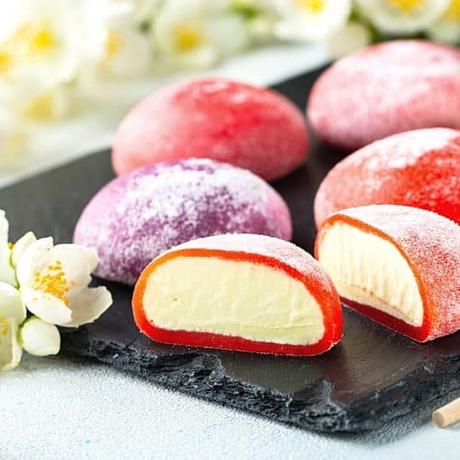 Print
Daifuku Anko Mochi Recipe
Today we're making daifuku mochi which is mochi with an Anko red bean paste filling. It's semi-sweet but an ultimate classic flavor. It is most often served alongside a nice hot cup of green tea. Although this isn't the easiest of recipes, the results are so tasty; you'll be glad you took the time to make mochi.
Course
Dessert
Cuisine
Japanese
Prep Time
15
minutes
Cook Time
45
minutes
Servings
16
mochi balls
Author
Joost Nusselder
Cost
$10
Equipment
Ingredients
3

cups

mochi gome glutinous rice

400

ml

water

1

tbsp

sugar

potato starch

16

scoops of Anko red bean paste
Instructions
It's time to cook the rice first. Glutinous rice doesn't require soaking, so just set your rice cooker to a "glutinous rice" setting or cook according to rice package instructions. You can also use an instant pot and cook the rice on high for about 5 minutes.
Now you must knead the cooked rice in your stand mixer to mimic the pounding of traditional mochi-making methods. Knead the rice for 3 minutes.
Using a spatula turn the mixture over, and using the flat beater, pound the rice for 45 seconds.
Now knead the dough again for 3 minutes.
Pound it again for 30 seconds and flip it over with the spatula.
Knead the dough again for another 2 minutes.
Pound again for 30 seconds.
Knead for the last time for 2-3 minutes.
Grab a tray, line it with parchment paper, and cover it with potato starch.
At this time, you can remove the "dough" using a spatula and place it on the starchy tray.
Flatten the mochi and coat with potato starch generously.
Break off dough pieces and roll them into balls and push your finger inside the ball to create room for the bean paste. Add in the scoop of bean paste and cover with dough again.

To break off the dough, twist and pull gently. Next, place the balls and cover them with more potato starch to avoid stickiness.
The secret to great mochi is when the sticky rice is pounded into a bean-paste consistency and flavored with various sweet ingredients that are usually stuffed in the middle of the mochi ball.
We're not making mochi using the traditional pounding method, instead, you'll be using your stand mixer.
What is mochi?
At first glance, mochi looks more like a ball of play dough than a yummy treat, but it's a fun dessert adults and kids alike love.
The most popular types of mochi are green tea and red bean paste flavored. But, there is so much variety, it's hard to list them all (I'll give it a try though!).
You can even find savory mochi or mochi soup and noodles dishes.
In Japan, mochi refers to the plain rice mochi ball, not Westernised versions like ice cream mochi. It can be sweet or savory, depending on the filling or flavoring.
To make mochi using traditional methods, people take the glutinous rice and pound it for a long time until it takes on an elastic and smooth texture. Then they add classic fillings like red bean paste or cover the mochi in soybean flour.
As I mentioned in the introduction to mochi, it is made out of a special type of rice, which is called mochi gome, and it's a Japanese short-grained glutinous rice.
This kind of rice is popular in Asia, and it has a low amylose content which makes it very sticky when cooked.
It's kind of waxy and pearly raw, but it's great for making dishes like sushi or mochi where the rice has to be sticky and clumpy.
You can use glutinous rice and cook it, or you can use mochi rice flour to make these delicious confections.
The gome rice is pounded into a dough and filled with sweet ingredients or tinted with matcha powder and various types of food coloring to make mochi.
Plain mochi has a sort of neutral flavor similar to gummy candy. It is chewy, and it has the texture of play dough, but trust me, it's very tasty.
Also read: 15 Best Types of Japanese Snacks You Need To Try Now
Mochi recipe tips
Before you start making the mochi, you'll need to consider the following factors:
You need to have a stand mixer that can knead the steamed rice. Something like a KitchenAid or Cuisinart professional mixer will do the job. Don't try to use your hand mixer because it will break.
The rice is very sticky, so you will get your hands dirty, and you have to work hard to shape the cake.
You'll need to have potato starch on hand to dust your hands and the rice.
Keep a bowl of water nearby to soak your hands and the utensils – it will make working with sticky rice easier…not to mention cleanup will be less of a hassle.
Some of the ingredients below might be hard to find, so have a look online. I like this Hakubai Sweet Rice for glutinous rice, and this Shirakiku Koshi An is a great red bean paste.
Mochi: nutritional information
One piece of daifuku mochi contains approximately:
100 calories
1 gram of fat
15 mg sodium
23 grams of carbohydrates
Generally, mochi is considered to be a relatively healthy treat, but it also depends on the fillings. Ice cream mochi or custard mochi contain more carbs and fats because of the fillings.
Most mochi is gluten-free and cholesterol-free, which is great news considering it's still a treat/dessert.
Most mochi is also not very sweet but enough to satisfy a sweet craving. And since it's low in calories, it's quite diet-friendly as long as you eat only a piece or two.
Mochi recipe variations
Microwave & Mochiko flour
If you're short on time or you don't have a stand mixer, rest assured, you can use Mochiko sweet rice flour to make mochi at home in your microwave.
Mix 1 cup of Mochiko flour with 1 cup of water. Place the mixture in the microwave oven for about 2.5 to 3 minutes. You'll get a kind of sticky dough you can fill with your favorite fillings.
Grab your tray and spread potato starch all over. Flatten the dough and cover with starch. Mold them into balls, fill them, and roll them in the starch again. Now you've got yourself easy microwave mochi.
The taste is pretty good, but it's not quite as amazing as the made-from-scratch mochi with glutinous rice.
Fillings and flavors
There are so many types of mochi, I can't possibly list them all, but I'm listing the most popular mochi flavors and fillings so you can choose the fillings that you like the most.
Daifuku with red bean paste
Ichigo daifuku with red bean paste and whole strawberries
Hanabira mochi – plum blossom mochi popular for New Year's celebrations. It is shaped like a petal with a white exterior and a red anko interior.
Sakuramochi – cherry blossom flavored
Hishimochi – three-layered mochi in red, white, and green
Warabi mochi – this is a rice-free mochi made from bracken starch and covered in kinako (soybean flour)
Kinako mochi – toasted mochi covered in soybean flour
Green tea mochi
Kusa mochi – green mochi with yomogi (mugwort)
Shiroan mochi – filled with white bean paste
Custard mochi
Ice-cream mochi – the mochi is filled with different flavors of ice cream
How is mochi made?
One of the most common questions people ask is, "how do you make mochi, and what tools and appliances do you need?"
The traditional method of making mochi is a long and ceremonial process, using specialty tools. The mochi-making process is called mochitsuki.
First, they soak glutinous rice overnight, then steam it until it's cooked. Then, they put the steamed rice in a large traditional mortar called usu and pound the rice for a long time using a special mallet called kine.
After the pounding, the mochi is transferred to a large family workstation, and everyone starts shaping the cakes into balls, and then they are flavored or stuffed.
In Japan, you can find special bread-making machines with a mochi-making function.
Zojirushi is a brand that specializes in rice-making appliances, and they have a mochi maker you can find on Amazon.
In today's recipe, we skipped the expensive appliances and the traditional usu and used a handy stand mixer.
Origin of mochi
Mochi is commonly associated with Japanese New Year celebrations and traditions.
To prepare for the new year, families make Kagami Mochi, which is a large piece of cakey decoration. It has the shape of a big snowman with a big mochi base and smaller mochi balls on top.
In addition, the Japanese also make regular mochi to eat as a dessert during the celebration. Making mochi was always a big family and communal affair.
The history of mochi goes far back, although there is no exact known date of when mochi was invented. It's believed that this dessert originates sometime in the Kofun period (300 to 538 AD) in western Japan.
Mochi was a common farmer's food because the farmer's used last fall's rice harvest to make these cakes. They believed that mochi represents the rice's soul and spirit.
Therefore, mochi is the home of the rice's spirit, called inadama. You can practically call mochi a delicious soul food and comforting dessert.
How to serve mochi
Since mochi is a type of treat, it's most commonly paired with a cup of green tea or some type of hot drink. It is served cold if it's the type of supermarket mochi. But, usually, mochi is served while it's fresh and warm.
To eat mochi, you take small bites, or you can cut the mochi into small pieces and chew them slowly to savor the flavors. You can also eat zoni soup which and contains bland, flavorless mochi pieces.
So, next time you're making mochi, make sure to experiment with mochi flavors since there are so many yummy varieties!
For more Japanese sweetness, try this Imagawayaki (Obanyaki) recipe: a delicious Japanese dessert