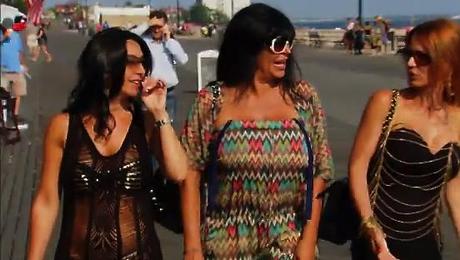 Snookie, JWoww and Deena from the Future return to present day Staten Island to smush some Juicers and shop Forever 21.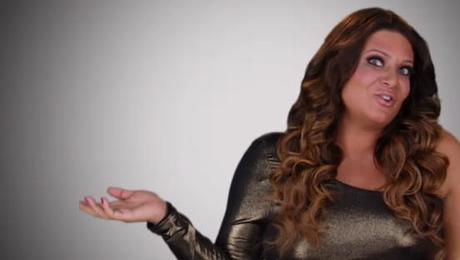 WTF? "You'd look great with bangs" they said. "Trust me" they said.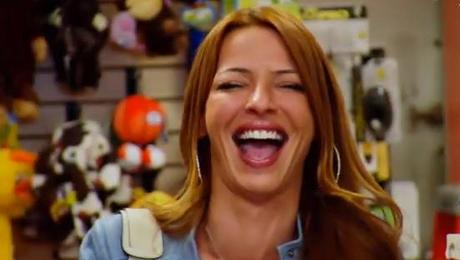 OhMyGawd. Stop. Seriously. Did you see that wig? That's what I look like when my dog falls asleep on my head! I can't.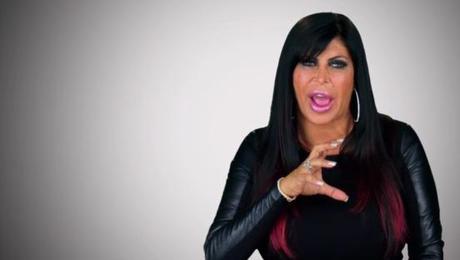 They did The Bash. They did the Botox Bash. The Botox Bash. It was a Big Lip smash.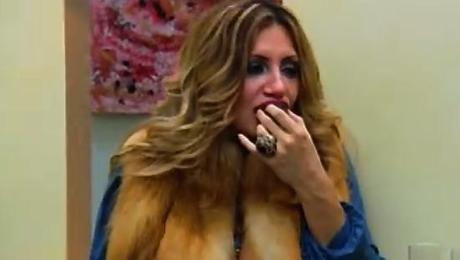 Hell, yeah. I would totally shovel this s*** down like a Bath Salt Zombie if I could move my face.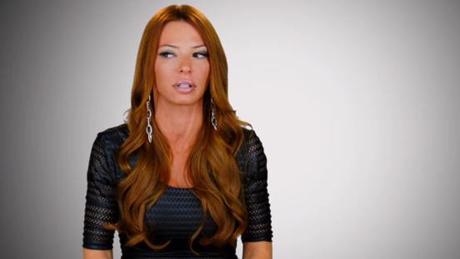 If I stay perfectly still maybe she'll pick up a different scent and go find somebody else to chew on.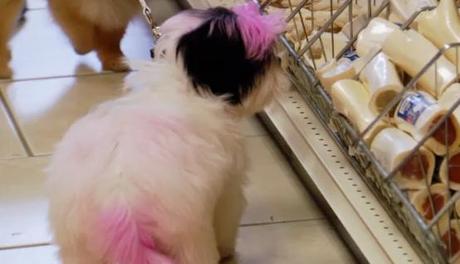 When it comes to Wiseguys and Petco, Mama always says sniff out the biggest sausage or go home hungry.
Pack it up.  And plump it up.
Stick a "For Sale" sign in the ground and a needle in your face, and there you have it.
You just summed up the latest episode of Mob Wives.
It was all about moving on, moving out and not moving your forehead as the Wives got right down to business and Botox as soon as the credits stopped rolling.
You know I love me some Mob Wives, but I have no idea what was going on this time around.  It was just cray cray.
After last week's I Can't Believe It's Not Buttah knife fight between Carla and Renee, the first step was to get Ramona up to speed.  Since she had not attended Big Ang's brunch and therefore had missed Carla working her stubby little margarine lightsaber like some kind of hoochie Princess Leia, Ramona needed to scoot over to Renee's for the recap.
And who better to accompany her than Karen.  And Karen's new hot mess of a wig.
Seriously.  What was that all about?  It kind of looked like the hair you get at iParty on Halloween to change up last year's Naughty Nurse outfit.  You know you don't want to spend too much money on it because it either ends up on the curb like hairy roadkill or caught on that jagged piece of metal that's always poking out of a Motel 6 screen door.
It also sorta looked like that Jessica Simpson QVC bang clip-on apparatus that might have had some issues on the ride over.  Maybe the window was cracked down a little too far.  They smoke, you know.
But then again, it also looked as though maybe KG had just gotten back from the rough part of town and gotten a weave sewn in approximately 1/4″ above her natural hairline.
OhNoSheDin't.
We'll probably never really know what was going on up there.  Girl, pleez.  Next time, just leave it to the sistahs.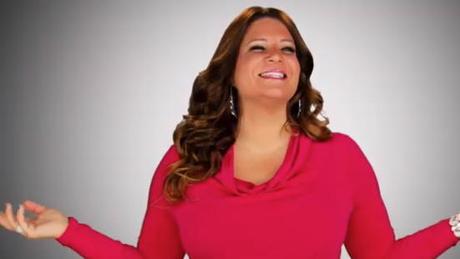 Renee filled Ramona in on all the (bleepity bleep bleep) name calling and accusations from the night before, as Karen kept getting her new bangs caught on her eyelashes.
Those things should come with White Girl directions.
Ramona got all Italian gangstah like they used to do on Mob Wives: Chicago (…oh, Leah DeSimone.  Gone too soon…) and either called Carla a Butana or Butanna or Putana.  They all kinda sorta mean the same thing if you do your research, and no matter where I looked online I realized that everyone had a different opinion on which was the correct spelling and pronunciation and meaning.
After about 15 minutes I also realized that only teen age boys should spend that much time Googling the Italian swear word for "whore," and I decided to clear my Safari history and move on to Carla's pool like it never happened.
Over at Casa Butana…or Butanna or Putana…Carla was putting her twins through some serious interrogation regarding their Dad and his new girlfriend, Raquel.
Fresh out of prison, Joe had already somehow managed to score a fairly attractive girlfriend and a new three-story home.
Yeah.  Three stories.  I thought the same thing.
I've never been to prison, and I'm barely making rent on 2 1/2 rooms.  What's wrong with this picture?
Watching little Carmen and Jo Jo boing around in their floaties and inflatable donut rings almost made you forget all the bad stuff they've had to endure in their short little lives.  But then Carla kept bringing it all back up again, and at the same time I noticed that 10 year old Mini-Me Joe already had his first gold Guido chain when most kids his age still wear those edible Sweet Tart necklaces.  So there you go.
Down the street, it appeared to be Take Your Dog Shopping Day as Big Ang and Drita hit up the local pet shop for some gossip and kibbles.
Drita's little yapper Lucky Santangelo was more than overly excited to see Big Ang show up with her pocket pup Louis, and almost wagged himself into a coma before they even made it into Pet Oasis.  It should also be noted that sometime over the Summer Louis had apparently gone from gangster to gangstah rapper and now suddenly wanted to be addressed as Lil Louis.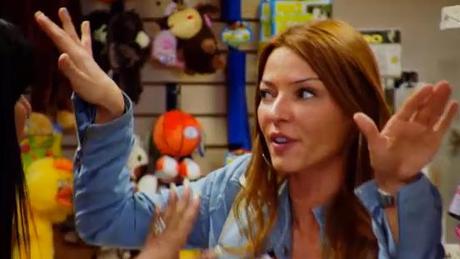 Or Snoop Doggy Lou.  Whatev.  It's a dog.
There was also a potential romantic interest creating what could prove to be quite the puppy love triangle moving forward, because Big Ang had also added a purebred mix of pink Hello Kitty and Sissy Dawg to her barnyard.
Boys.  Meet Chanel.  Kind of makes you wish you still had your marbles, huh?
As Drita and Ang rehashed the buttah knife drama again, the only thing of any importance was that for some reason, out of the store's entire inventory stock, somebody chose to film Big Ang against a colorful backdrop of PetSolution Wee Wee Pads.
The ones you tinkle on.
I'll just go on record as saying that the puppy they show on the classic Wee Wee Pad How-To youtube video is sooo freaking cute that if the Humane Society was open this late at night I would be down there right now grabbing anything that didn't already know how to pee outside.
Yes.  I Googled Italian dirty words and the aromatic placemats that baby dogs unload on, just for you people.
I said I did it.  I didn't say I was proud.
At least not as proud as Carla was when she hit the boardwalk with Big Ang and Drita, dressed in whatever the f*** that sheer thing was that she found in her costume closet.
It was like Cher took one of her back-up dancers and one of her favorite drag queens down to the waterfront for cocktails to celebrate selling out the San Francisco Pride Parade closing ceremonies in under 25 minutes.
I can't.  I just can't.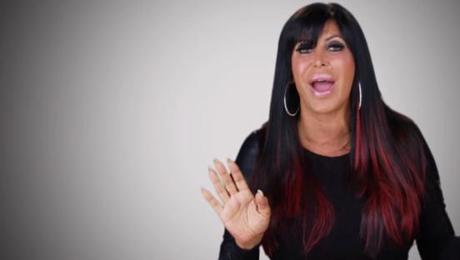 It wasn't even the butt-less Turn Back Time outfit.  I don't know what it was.  And I certainly don't have any idea where you would go to find it, much less find it and then decide you want to own it.
And Drita was there, dripping in what appeared to be one of Liberace's gold chainlink hairnets, if Liberace had been allowed anywhere near a boy's prep school cafeteria and needed a hairnet while he plopped wieners on a tray.
Even Big Ang seemed Big Angier than normal, with those googly eyed sunglasses and a dress made from the same fabric they hot glue to moccasins at those highway off-ramp souvenir joints.
The whole thing was such a hot mess that it made Karen's iParty wig seem pretty tame in comparison, and almost made me miss the part when Lee called Drita on her cell phone while the girls were tossing back funky martinis.
He is getting out of jail in 6 months and Drita wasn't sure what to do next.
I say return that chainlink thing, and then worry about Lee.
And I'm all set with the getting dirty on the phone visuals, too.  TMI.  I think I just figured out how Lucky Santangelo got his name, and why he never blinks.
Where's my Wee Wee Pad when I need it, Mama?
And don't prisoners have to make their calls from a public phone in the hallway with a guard watching them?  Let that one sit in your brain for a moment and then try to get some sleep tonight.
Back at Renee's, AJ had just returned from his grandfather's court hearing.  Thanks to Junior going all RatFace for the Feds last year, Renee's Dad had been caught in the fallout and carted off to jail right before she had that big meltdown.
Grandpa had spoken at the hearing, via a note, and told Renee and AJ that he didn't blame them for anything that had happened.  We then got our weekly awkward Mob Wives Moment when Renee spoke about how it's all AJ's Dad's fault that Grandpa got sent to jail.  It's all Junior's fault.
I'm thinking that maybe it also had something to do with all those years and years of breaking the law and doing Mob stuff, but maybe that's just me.  Every week there always has to be one head scratching comment that makes you go hmmmm and wonder whether anyone really knows if crime does or doesn't actually pay.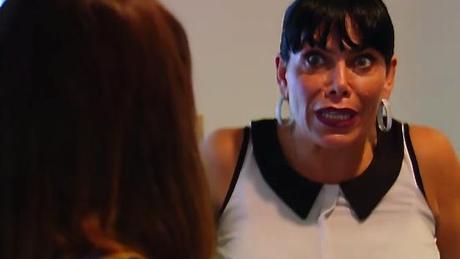 I leave that debate to somebody who went to law school while I was busy watching cartoons all those years.
While Grandpa was keeping busy on the inside, Joe Ferragamo was busy enjoying life on the outside.  And that included his new girl and that three story home.
After spending some time shooting hoops with Raquel, which gave me so many opportunities for jail jokes that my head almost exploded, Joe decided it was time to tell Carla that Raquel was going to move in with him.
Seriously.  Raquel asked Joe so many innocent questions about playing manly prison ball all night that I could have easily twisted every last one of them into HIGH-larious off color jokes that would have had you choking on your Starbucks.   But I was afraid your office Spam filter would block my site all week, and I know how you like to use me to kill time at work.  And you know I'm always thinking of others.
So I'll pass on this round.  Rewind the DVR and make your own R rated movie.  I guarantee it'll occupy the kids for hours on a snow day.
Speaking of kids.  Drita took her two little nuggets to the park, and then to meet with the realtor as she began the process of opening her own cosmetics store.  Turns out that before Lee went to the Big House the last time, Drita was a pretty big deal in the makeup industry.  Unfortunately, when Lee got sent away her stress level went up and her client list went down.  Way down.
But now she was looking to rebuild the Just Me Cosmetics Empire, if she could only find some decent store front property.
It couldn't be as difficult as finding Renee a new home.  Not even close.
After the break-in at her house and the whole Junior fiasco, Renee wasn't feeling safe anywhere.  Any.  Where.
So she was looking to get out of Dodge and find a new crib.  The only requirements were that it be safe, have no windows, no basement, no detached garage, bullet-proof siding, Bat Poles and a Star Trek force field bubble wrapping the entire building.
And no Dish Network.  That (bleep) never works when it rains.
Renee is scared of everything, and even Karen was at a loss as the realtor felt the color and commission drain from his own face.  To be continued.  And continued some more.
Drita had better luck, though, when Big Ang casually mentioned an open store across the street from The Drunken Monkey.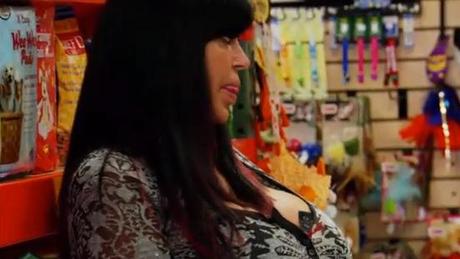 Boom.  Rented.  That was easy.
Not quite so easy, on the other hand, was telling Carla that Raquel was going to be moving in with him, which Joe quickly found out in the driveway.  Carla got all angry Butana or Butanna or Putana on his a** and then squealed off in her car, leaving a trail of dust and (bleeps) behind her as Joe went back inside to clean the house.  Because that's what the kids say he does all the time now.  I guess that being able to use a mop instead of a prison-issued tootbrush around the tile grout probably makes the process a little easier.
We finished off the night with a Botox Bash.
Big Ang brought all the Wives together for some poking and plumping and drinking.
Nothing major.  Just the usual fillers and such.
Newbie Love Majewski even made an appearance, all wrapped in fur with a champagne flute suction cupped to her face.  Love.  Her.
I'm pretty sure she was just holding the glass to be polite around the ladies, because with those new lips she could have easily just planted that thing on her mouth and kept both hands free for appetizers.
I hate to say it, but Big Ang better start ramping up the crazy, or Love may be my new TV girlfriend.  She is whackadoodle.  And I eat that kind of shizzle up with a spoon.
Along with the lip shots and the liquid shots, the Wives also had the opportunity to have any annoying spots laser tagged off their persons if they so desired.  I assumed the Doctor meant little freckles on their necks, but before I knew what was happening Love had pulled her top off, lifted up a pair of breathtakingly ginormous jugs to the ceiling and then Jimmy Hoffa fell out onto the floor, all dazed and sweaty, clutching his throat and gasping for air.
As a little preview for next time, Renee was back home where she received a note in Junior's handwriting, which caused her to tear off down the highway in her car.
Because that's what they say you should do when you're emotionally at your breaking point and about to lose your nutty.
Get behind the wheel of a car.
Bad Boys.  Bad Boys.  Good luck with that one.