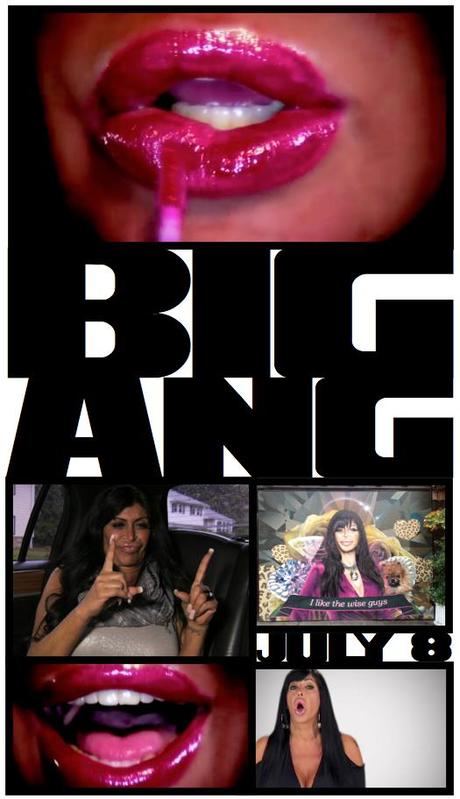 It's Summer in da City, and it's gonna be a scorcher.
As you're packing that leopard print beach bag for your trip to Staten Island next month, please do make certain that it's filled to the brim with snacks, trashy magazines, wine coolers and greasy spf 50.
…and Chapstick.
Lots and lots of Chapstick, because this summer it's all about the lips.
And the nails.  And the boobs.
And that voice.
That beautiful, gravely, gut busting voice.
Big Ang is back, bitches.
We've barely had time to wrap our little minds around the fact that Toddlers & Tiaras is unleashing their glorious Honey Boo-Boo Child spin off on us this summer, and now we are about to get slapped with so much injected Gangsta Goodness that my head may just explode.
Or at the least, inflate like an oversized silicone balloon.
Dat's rite.  Set your DVR and take the phone off the hook.
Everyone's favorite Mob Wives breakout star Angela "Big Ang" Raiola is back with her own spin-off show on July 8.
National Big Ang Day, as I like to call it.
Since there is no such thing as too much Big Ang, injectable Botox or elective plastic surgery (…the trifecta of Reality TV Gold, by the way…) her new show is pretty much guaranteed to give us all plenty of opportunities to chill out at the Drunken Monkey and absorb her Wise Guy wisdom like thirsty young Jedi Mob Knights.
I loooove me some Big Ang.  When I found out that VH1 had commissioned Big Ang murals to be painted all around the city to promote her show, for a few moments I actually considered moving to New York so I could stare out my penthouse window at a 4 story tall Big Ang every night before I went to sleep.
I know, right?  Best.  Apartment.  Ever.
Then I remembered that I couldn't afford a penthouse.
But if I sit really, really close to my television set it's almost the same thing.
I just wonder what the long term effects of combining Mob Wives and Toddlers & Tiaras in this hot summer sun could turn out to be….
Maybe it will come to me after a few Go Go Juice Red Wine shooters.
Plump 'em if you got 'em, right?