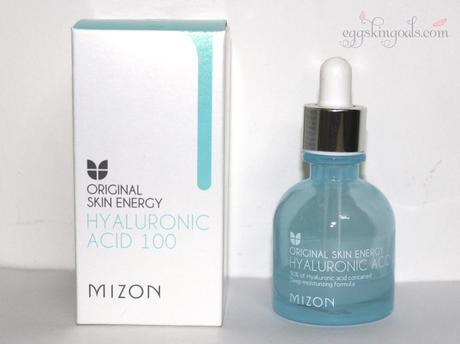 After using my beloved Hada Labo Gokujyun Hyaluronic Acid Lotion for over a year, I started looking for other options. I stumbled upon this Mizon Original Skin Energy Hyaluronic Acid 100 product one day in a online shopping site. I read the claims, and was impressed. So I bought it immediately. I have been using this from 2 months, and I almost emptied it now. Let's see what it claims, ingredients, and performance.
Claims:
Highly enriched hyaluronic acid extract supplies moisture immediately and balance moisture content to make your skin glossy without stickiness. Mizon Hyaluronic Acid 100 claims to have 50% hyaluronic acid.
Volume: 30ml
Directions:
After skin control using toner, drop small amount of it into the skin and tap it for absorption.

Image taken from eBay.com
Ingredients: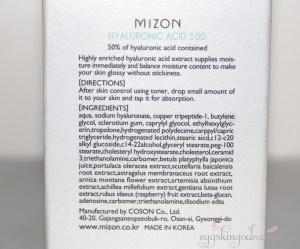 Aqua, Sodium Hyaluronate, copper tripeptide-I, Butylene Glycol, Sclerotium gum, Caprylyl Glyocol, Ethylhexylglycerin, Tropolone, Hydrogenated polydecene, carppyl/capric triglyceride, hydrogenated lecithin, Stearic Acid, C12-C20 Alkyl Glucoside, C14-22 Alcohol, Glyceryl Stearate, Peg-100 Stearate, Cholesteryl Hyroxystearate, Cholesterol, Ceramid 3, Triethanolamine, Carbomer, Betula PPlatyphylla Japonica Juice, Portulaca Oleracea Extract, Scutellaria Baicalensis Root Extract, Astragalus Membranaceus Root Extract, Arnica Montana Flower Extract, Artemisia Absinthium Extract, Achillea Millefolium Extract, Gentiana Lutea Root Extract, Rubus Idaeus (raspberry) fruit extract, Beta-Glucan, Adenosine, Carbomer, Triethanlamine, Disodium EDTA
Main ingredient in this product is obviously Sodium Hyaluronate, which is a form of Hyaluronic acid. But I don't understand why it is listed as second most ingredient when this product contains 50% of it.
Hyaluronic acid is known to have great capacity to hold moisture in the skin. One gram of hyaluronic acid has the ability to hold up to six liters of water, and thus helps in preventing in wrinkles, and fine lines by retaining moisture between the skin tissues.
It also contains copper tripeptide-I which works as an anti-aging ingredient by thickening skin, reducing fine lines and blemishes, and by improving elasticity.
Other ingredients that are worth mentioning in this product are Hydrogenated Lecithin, Cholesterol, and Ceramide 3.
Hydrogenated Lecithin helps in reducing dry flakes on the skin and restores suppleness by acting as an emollient on the skin.
Ceramide in skin care products works best when combine with cholesterol. They both reduced the water loss by forming a barrier on the outer layer of the skin. They also helps in preventing bacteria, and other environmental pollutants entering the skin layers.
Here is the cosDNA analysis. There are no major acne or irritant triggers in it. Butylene Glycol, Stearic acid, PEG-100 Stearate, and Triethanolamine are listed as acne triggers. Carbomer are listed as irritants.
Mizon Original Skin Energy Hyaluronic Acid 100 Review: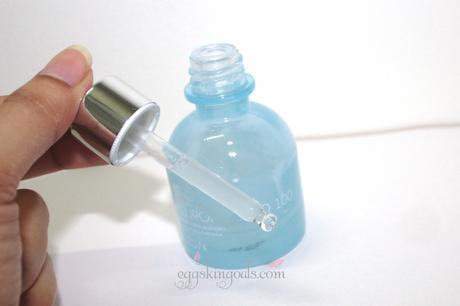 Mizon Hyaluronic Acid 100 comes in a light blue glass dropper bottle. The texture of the Hyaluroninc acid is in between essence and serum - neither too runny nor too thick. It looks like thin milky serum when you see in bottle or dropper but it looks clear when you pour it on your hands. I use it on my cleansed face when it is still damp. I like to dispense the liquid directly on face through the dropper-1 drop on each cheek, 1 drop on my forehead, and 2 drops on my chin as it is prone to eczema frequently. It absorbs really fast into the skin without leaving any stickiness. It does not moisturize or hydrate your skin immediately. Actually, the magic starts when you apply other products on top of it. It helps boost your skin to absorb all the serums and ampoules you apply after it. You can clearly see the difference in your skin with and without using this serum. As most of the Mizon products, Hyaluronic Acid 100 also has no added fragrance.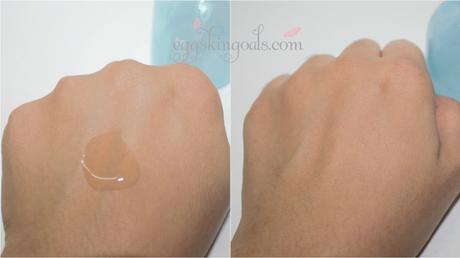 You can also use this between other steps to get maximum effect. Using this before and after a sheet mask makes my skin plumpy, and soft.
But only thing I did not like is the dropper. It is too short to get the serum that is at the bottom of the bottle.
Otherwise I loved the way it boosted my skin, and my skin looks soft, and healthy when I include this in my skincare routine. I would love to repurchase this product again.
You can buy Mizon Original Skin Energy Hyaluronic Acid 100 from roseroseshop for $9.60 (approx).
Do you have any favorite hyaluronic acid products?
Do share with me in the comments.
**Disclaimer: This product is bought with my own hard earned money, and all opinions are entirely my own. There are NO affiliate links in this post**