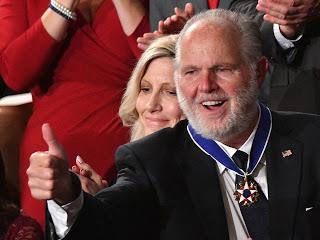 Rush Limbaugh

A Missouri lawmaker is proposing the state designate a day to honor native son Rush Limbaugh, who left a large, right-wing mark over a 32-year career in broadcasting and died last week of lung cancer. State Rep. Hardy Billington (R-Poplar Bluff) is leading the effort to honor Limbaugh in Jefferson City, the state capital. From a report at KMOV.com:
There's a push in Jefferson City by Republican lawmakers to make a "Rush Limbaugh Day" an annual celebration in the State of Missouri.

Cape Girardeau native, Rush Limbaugh, 70, passed away Wednesday after fighting lung cancer. He worked for 32 years in the radio industry as a conservative radio host.

Rep. Hardy Billington, R-Poplar Bluff, filed HB 1200 Friday that would designate January 12, Limbaugh's birthday, as "Rush Limbaugh Day" in the state. 

"Rush Limbaugh's contributions to broadcasting and the conservative movement cannot be overstated. He was, simply put, a legend who cannot be replaced," said Rep. Billington. "This is one way we can recognize the outstanding impact Rush Limbaugh has had on our state and country."

Limbaugh had an outstanding impact on the entire state -- and the country? You might want to ask a black resident of metro St. Louis or Kansas City or a gay resident of Columbia. I doubt they would agree, and the notion that Limbaugh was a positive force for society-- aside from generating a lot of income for himself -- is highly debatable. (We will examine this issue further in an upcoming post.)

I give Limbaugh credit for being an effective communicator and for being different by trying to bring humor to conservative ideas, which isn't easy. In his heyday, it was hard to ignore him when that bombastic voice came over the airwaves. But for me, once I realized his humor often came at the expense of others, and his message appealed to his listeners' most base instincts -- attacking women, people of color, gays, the ill and impoverished -- I found it easy to change channels, quickly.

Let's consider the words of Stephen Tilley, former Missouri House Speaker: "Being from southeast Missouri, he was somebody that we all considered one of our own and was glad to see how successful he became. And him being a conservative made it even better," Tilley says.

Based on the words of Tilley and  Byington, there seem to be two primary reasons for honoring Limbaugh: He gained a certain level of notoriety  in his field, and he was conservative. Is that really the standard for statewide celebrations in Missouri?

If so, why not honor Jesse James? The bank robber and outlaw is from Missouri, and he was good at what he did, earning him notoriety. Let's consider this background info about Jesse James, from his Wikipedia entry:
Jesse Woodson James (September 5, 1847 – April 3, 1882) was an American outlaw, bank and            train robber, guerrilla, and leader of the James–Younger Gang. Raised in the "Little Dixie" area of         western Missouri, James and his family maintained strong Southern sympathies. He and his                     brother Frank James joined pro-Confederate guerrillas known as "bushwhackers" operating in                 Missouri and Kansas during the American Civil War. As followers of William Quantrill and                     "Bloody Bill" Anderson, they were accused of committing atrocities against Union soldiers and             civilian abolitionists, including the Centralia Massacre in 1864.

        After the war, as members of various gangs of outlaws, Jesse and Frank robbed banks,                        stagecoaches, and trains across the Midwest, gaining national fame and often popular sympathy            despite the brutality of their crimes. The James brothers were most active as members of their own         gang from about 1866 until 1876, when as a result of their attempted robbery of a bank in                     Northfield, Minnesota, several members of the gang were captured or killed. They continued in crime for several years afterward, recruiting new members, but came under increasing pressure from law enforcement seeking to bring them to justice. On April 3, 1882, Jesse James was shot and killed by Robert Ford, a new recruit to the gang who hoped to collect a reward on James' head and a promised amnesty for his previous crimes. Already a celebrity in life, James became a legendary figure of the Wild West after his death.

Today, we would call Jesse James a "domestic terrorist." But he was "a celebrity in life and a legendary figure in death." And as a Confedeate sympathizer and product of "little Dixie," he almost certainly was a conservative -- likely a racist. Heck, sounds like he needs to be honored in his home state.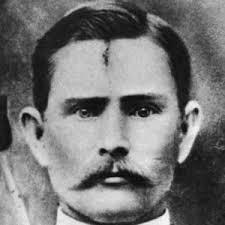 Jesse James

It's not like Missouri has a shortage of people to honor. The state has produced Harry Truman,             Walter Cronkite, Mark Twain, Walt Disney, Chuck Berry, Brad Pitt, Sheryl Crow, John                             Goodman, Dick Van Dyke, Kathleen Turner, T.S. Eliot, Burt Bacharach, and many others. All of             these people were talented (as was Limbaugh, in his way), but these folks generally served to               enlighten, to engender respect for others, to act with dignity, to advance society. Limbaugh fell way short in that                 category.
        Back to that question: Was Rush Limbaugh good for America? We'll take a closer look shortly.

        As for me, I would like to see an honor for the Doobie Brothers' Michael McDonald, who is from St.                Louis. For one, I've long loved the Doobies' music --from "Listen to the Music," to "Long Train              Running" and "China Grove," to "Black Water," and "What a Fool Believes." But I consider                    McDonald's "Takin it to        the Streets" to be one of the best songs of the past 40 years or so.
We'll honor McDonald in our own way. Here are the Doobie Brothes and a live version of "Takin it         to the Streets."