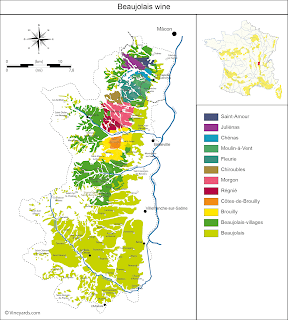 After a hiatus, we are continuing our Hopwine series from samples received over the summer and highlighting excellent Gamay wines made at Château des Moriers in Fleurie, Beaujolais and branded as Miss Vicky Wine.
Beaujolais is located in eastern France, immediately south of Burgundy, and is best known for its Gamay wines through Beaujolais Villages, Beaujolais Nouveau, and the ten Beaujolais crus - subregions recognized as the finest in Beaujolais. One of these outstanding areas is Fleurie often referred to as "The Queen of Beaujolais".  
"Fleurie is in the center of the ten Beaujolais crus. It lies just south of Moulin-à-Vent and Chénas and to the north of Morgon. Chiroubles lies just to the west. Vineyards face south and southeast overlooking the Saone River valley and are shielded from cold northwesterly weather systems by the hills to the west of the Beaujolais region. The region receives abundant sunshine hours as the grapes are slowly cooled by gentle influences from the Mediterranean Sea in the south. This ensures that ripening is slow and steady, leading to a balance of acidity and flavor in the grapes.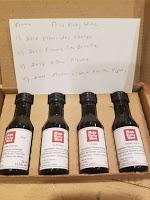 Fleurie vineyards are generally planted on pink granite soil. But variations in textures and additional soil components give rise to different styles of wine. On the higher slopes within the appellation, the soils are made up of coarse, dry sand. This absorbs and reflects heat, aiding the ripening process. Wines produced from these vineyards are known for their delicate aromas. Vineyards lower down the slopes tend to have a higher proportion of water-retaining clay. This gives wines from these sites a slightly denser, more-structured style of wine." (1) 
Vines were first planted in Fleurie by Benedictine monks during the early Middle Ages. More recently, in 2005, Gilles Monrozier took over the nine-hectare family vineyard  -- a plot of sand and pink granite first planted with grapes by his ancestors 200 years ago and located in far northern Fleurie bordering Moulin-à-Vent.  More recently Gilles' daughter Anne-Victoire, a wine blogger, developed the Miss Vicky Wine brand in order to first highlight her family's wines and eventually other French winemakers and regions.  
Fleurie o Joie 2018The wine is 100% Gamay from grown in different lots in the vineyard in front of the château.  Floral and fruit-forward.
Fleurie Fleurs des Champs 2018The wine is 100% Gamay from grown in different lots in the vineyard in front of the château. It contains bright floral notes with earthy cherries with a dose of minerality.  One easy-drinking, delicious wine. 
Fleurie La Brirette 2015The grapes derive from a one-hectare lot called La Brirette which is within the  Les Moriers sub-region. These wines are known for their bigger structure, depth, and spiciness and the La Brirette 2015 does not disappoint. It is dense with a plethora of spices which somehow lead to an elegant wine. 
Moulin-à-Vent Vielles Vignes 2014This is a blend of two vineyard sites just over the border into Moulin-à-Vent. One sits on granitic soils, the other on sandy clay. The juice is fermented and aged in 400L barrels for about one year leading to complexity and a velvety texture. This wine melts in the mouth. Exceptional.
(1) Wine-searcher.com