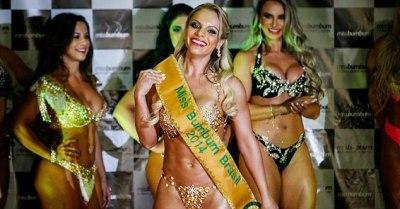 Indianara Carvalho, 22, who calls herself "a model" but looks more like a silicon-injected post-op transgender to me, is Miss Bum Bum 2014.
What's Miss Bum Bum? It's a beauty contest in Brazil to select the "woman" with the best butt among 27 women — one from each state.
But being Brazil's Miss Bum Bum of 2014 isn't enough for Ms. Carvalho. She wants to garner some respect for her Miss Bum Bum title by becoming a virgin, again!
Ruth Styles reports for the Daily Mail, Dec. 9, 2014, that Carvalho has had "vaginal rejuvenation surgery" which includes a hymenoplasty so she can use her newly virginal status to find love and, once again, enjoy her "first time" with "someone special".
The procedure, which is not available in the UK, can be done by using surgical gel to create a new temporary hymen that lasts a few days before dissolving, or a new more permanent hymen by using a flap of skin cut from the vaginal wall. Women undergoing the latter treatment must abstain from sex for at least three months after undergoing the procedure.
Speaking about her surgical plans, Carvalho said: "I wanted to undergo surgery to reconstruct my virginity before I have new photographs done. I wouldn't feel good about appearing naked if I wasn't exactly as I came into the world if you know what I mean. I think I also want to give a bit of respect and new concept to the Miss Bum Bum title by being a virgin."
Miss Bum Bum intends to keep her new post-surgery photos under wraps until Christmas.
The Miss Bum Bum contest began four years ago, but is not without controversy. The 2014 contest was marred by scandal after it was alleged that Carvalho had bribed the judges with over £70,000 (about $100k) in cash to make sure she won. In 2013, a pair of contestants, Mari Sousa, 25, and Eliana Amaral, 24, were also accused of paying bribes, although the 2013 title was eventually won by Dai Macedo.
†
Message to Ms. Carvalho:
The hymen is "A membranous fold of tissue that partly or completely occludes the external vaginal orifice."

The Medical Dictionary defines "virginity" as "Sexual naivté: Never having engaged in sexual congress, intercourse; the classic finding in female virgins is an intact hymen." Note that the emphasis is on "sexual naivté: Never having engaged in sexual intercourse," not the presence or absence of hymen because many virgins don't have intact hymens.

All of which means your undergoing expensive and tortuous surgical mutilation to "reconstruct" an artificial hymen does not and cannot "restore" your virginity. Once it's gone, it's gone FOREVER.
Speaking of bums, big butts seem to be all the rage these days because of "celebrities" like Kim Kardashian and Jennifer Lopez. About a month ago, Kim, who became a celebrity gained notoriety with a "leaked" sex video, vowed "to break the Internet" with pics of her naked HUGE butt in the hitherto unheard-of magazine Paper.
Yet another sign that humans are reverting to primitivism, or don't you know that female chimps present their swollen red butts when they're rutting?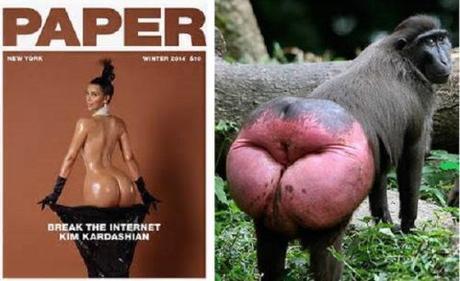 For an alternate view, I recommend blogger Isaiah 53:5 Project's excellent "Here are 10 things real men love more than your butt."
~Eowyn