Are you looking for an eggplant recipe that's bursting with Japanese flavor?
If you're after a quick and simple recipe, you're in luck. You don't need a ton of ingredients, and there's barely any prep required.
That's why I'm sharing a delicious traditional Japanese eggplant recipe with a sweet and savory miso glaze. It's so tender and juicy that it melts in your mouth.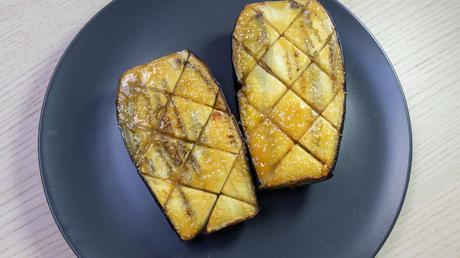 Miso eggplant is a popular side dish, but you can have it as your main course, that's how delicious it is!
During those hot summer days, it's a refreshing alternative to meat. You can make it with any type of eggplant, all-year-round, using your stove-top and oven.
What's the origin of Miso Eggplant?
The traditional miso eggplant recipe is called Nasu Dengaku, which translates to something along the lines of 'fire-grilled eggplant.'
The word Dengaku is used to describe foods that have a miso glaze. This dish was popularized in Japan during the spring planting season, and it's usually served alongside white rice as a side dish.
Japanese eggplants "Kome Nasu" are generally much smaller than American, European, or Australian eggplants. However, you can use any type of eggplant you can find at your grocery store or farmer's market.
In Japan, the most popular way to make Nasu Dengaku is to grill the eggplants.
Luckily, there's an easy way to make this dish without going outside and grilling. I know that not everyone feels like firing up the grill for a few eggplants.
That's why today, I'm sharing a healthy low-fat version you can make by pan-frying and broiling.
This recipe is a healthy vegan dish you can cook up in less than 20 minutes.
All you need to do is pan fry the eggplant for a few minutes on each side, season with miso glaze, and then broil in the oven for a few more minutes.
So, turn on your oven, and get the frying pan out!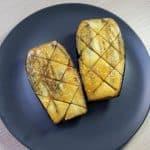 Print
Miso Eggplant (Nasu Dengaku)
I love this recipe because you don't need a whole lot of ingredients. You want to make sure you've got some fresh eggplant ready. I recommend getting American Eggplant because this variety is usually bigger and has thick meaty flesh, making for a juicy and creamy miso eggplant. If you can find small Japanese eggplants, make 3, so there's enough to satisfy your hunger. The smaller the eggplant, the less bitter it tastes. However, choose medium-sized, so it still has enough succulent flesh.
Course
Side Dish
Cuisine
Japanese
Keyword
Eggplant
Servings
2
people
Author
Joost Nusselder
Ingredients
2

medium-sized eggplants (or three small ones)

2

tablespoons

of vegetable or canola oil

¼

cup

of miso

preferably awase, which is a combination of white and red miso

2

tablespoons

of mirin

2

tablespoons

of sake

1

tablespoon

of sugar

1

scallion

finely chopped

sesame seeds

for garnishing
Instructions
The first step is to slice your eggplant in half. Take each piece and score the insides into small square shapes using a knife.
Grab a non-stick pan with a lid and add your cooking oil. Once the oil is hot, place your eggplants with the skin facing down. Let it cook for a few minutes. Turn the eggplant around with skin facing upwards.
Put the lid on and let it fry until the eggplant browns. This usually takes about 3 or 4 minutes.
Take a bowl and add your mirin, sake, miso paste, and sugar. Mix well until you get a fine paste.
On a baking tray, add tin foil and place your cooked eggplant pieces on the tray.
Brush your miso dengaku mix on each piece of eggplant, coating generously.
Place the eggplant into the oven and let it broil on high heat for approximately 3 or 4 minutes.
Check to see that the miso paste is bubbling before you take it out. It should be caramelized.
Sprinkle sesame seeds and garnish with finely chopped scallion.
Miso Eggplant: Cooking Tips
If you want the eggplant to be extra soft and tender, soak it in water for a few minutes.
This process also removes the tangy or astringent and often bitter taste. You can even remove some of the big seeds because they taste bitter.
Did you know that there are male and female eggplants?
The males are better for the recipe because they contain fewer seeds and have a sweeter taste.
To check for a male eggplant, look for slimmer, longer plants with a round indentation mark on the bottom.
The traditional recipe calls for red miso or awase, a mix of white and red miso. It has a strong savory flavor.
If you prefer a more subtle taste, use white miso, which also has a lower sodium content.
Miso Eggplant: Nutritional Information
Each serving of this miso eggplant has about 290 calories, 16 grams of fat, 27 grams of carbohydrates, and 94 mg of sodium.
Awase miso has high salt content, so substitute it with white miso if you can't have too much salt.
Eggplant is a good source of vitamin A, vitamin C, calcium, and magnesium.
By the way, this recipe is gluten-free and vegan.
What to Serve with Miso Eggplant?
As I mentioned before, it's perfectly fine to have this dish as a main course, but some delicious pairings complement the savory miso flavors.
If you want an easy side dish, you can pair it with plain boiled white rice or jasmine rice.
Alternatively, you can serve the eggplant with curry or various chicken dishes, like baked crispy chicken or grilled chicken.
You can also try it with some fried tofu or konnyaku (konjac plant) if you prefer vegan food.
Don't forget to drink a cup of genmai tea to soothe and aid digestion.
There are more additional toppings you can add besides sesame seeds and scallions.
You can garnish your eggplant with yummy toppings. To add a pop of color and flavor, add grated ginger, micro herbs, and even spicy sauces.
It's up to you to add flavors you like, but the traditional recipe calls for simple sesame and spring onion/scallion topping.
Now, it's time to fire up the pan and get that miso paste bubbling.