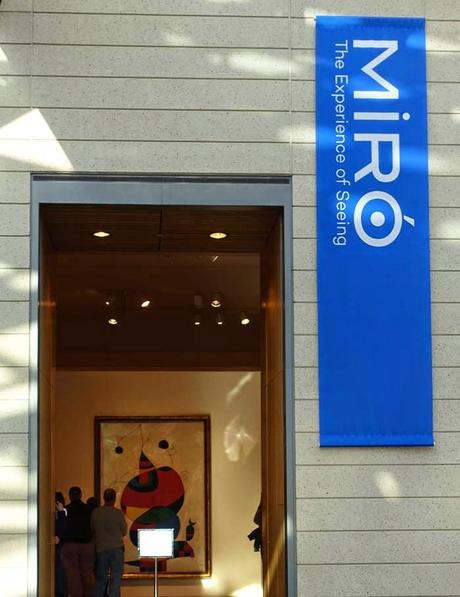 Miro Exhibit, Nasher Museum of Art, Durham, North Carolina
Brilliantly playful, graphic paintings in bright primary colors are the hallmark of Joan Miro, the great innovative Spanish painter of the twentieth century. Fifty-one of his late works–from 1963 to 1981- are currently on exhibit at the Nasher Museum of Art on the campus of Duke University in Durham, North Carolina. The exhibit,
Miro: The Experience of Seeing
, are from the Reina Sofia Museum in Madrid. It includes paintings, both big and small, and sculptures, many made from found materials such as rakes and toasting forks, and others cast from molds made of sand. A recurring theme in both the paintings and the sculptures is a woman with a bird, but there are also landscapes and other figurative compositions, although greatly abstracted and dreamlike in effect. In all of them, the viewer is invited to engage in the art and interpret it individually.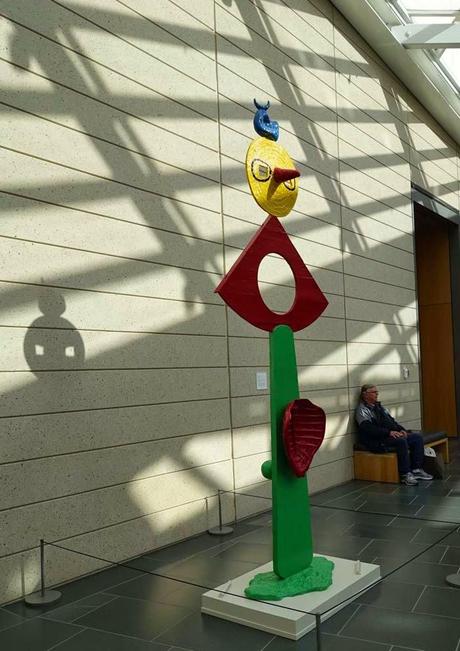 A tall figurative sculpture stands outside the entrance to the Miro Exhibit.
I recently had a chance to see the Miro exhibit with my family while visiting in North Carolina.  The Nasher museum sits on a wooded hill and is organized around a large covered atrium whose geometric glass ceiling allows the open space to fill with warmth and light. Around the courtyard are three galleries, a gift shop, café (where we ate a delicious lunch, choosing from items with a Catalan theme) and an auditorium.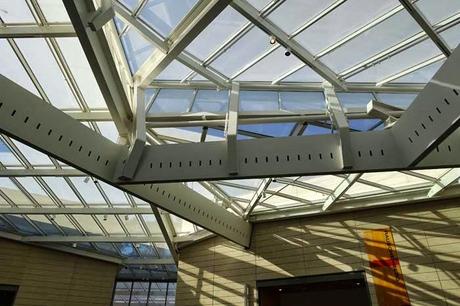 Skylights allow light and shadows to move across the walls of the museum
Miro was a contemporary of Picasso and the Surrealists, and his work spans a broad period from the 1920's to his death in 1983 at the age of 90. Born in Barcelona, he lived for a long time in France before returning to Spain during World War II. In 1956 he moved permanently to the island of Mallorca, which is where the works in this exhibit were created. Click
HERE
for a timeline of Miro's life.
The Miro exhibit will be on view through February 22, 2015. Click
HERE
for examples of some of the art in the exhibition.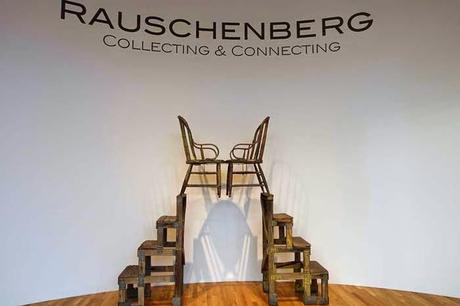 Entrance to the Rauschenberg Exhibit
The Miro exhibit fills one gallery of the museum. In the other galleries are exhibits of works from the collection of Robert Rauschenberg and selected works from the permanent collection of the museum. The combination of the Miro art and the Rauschenberg collection makes an interesting pair. In both exhibits the viewer is asked to consider similar questions:  what is art? what is the meaning of art? how do we see? what is my relationship to this piece of art?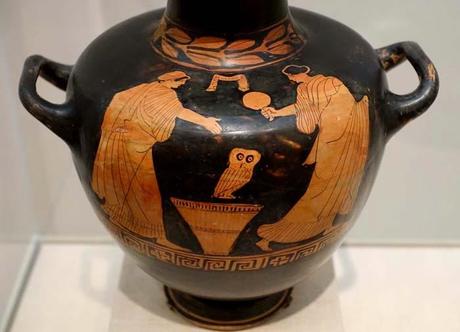 Ancient Greek Vase
In the gallery with items from the permanent collection we focused on the area devoted to antiquities, especially some amazing Greek vases decorated with incredibly realistic and beautifully drawn figures. Altogether, our trip to the Nasher Museum of Art made for a very stimulating and thought provoking family outing. Our imagination was definitely fertilized.
"Two and two do not make four. Only accountants think that. But that is not enough: a painting must make this clear; it must fertilize the imagination." Joan Miro, 1959