Late last fall we had the opportunity to visit a brand new city and enjoy a weekend getaway in Minneapolis, MN. Lauren and I weren't really sure what to expect and were pleasantly surprised to find a warm and inviting city that has lots to do. From lovely public art, to fine dining, to an international marketplace, there was definitely lots to do whether you are visiting during the week on business, or taking a short weekend getaway.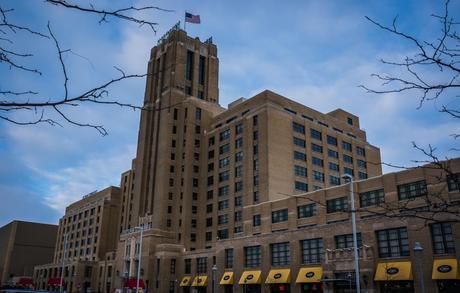 We decided to book a hotel in the Midtown area of South Minneapolis so that we could be centrally located while still enjoying the urban feel of the city. Upon check-in at the Sheraton Midtown, we found a lovely hotel with lots of comfortable amenities. The staff was nice and friendly to our dog Zoe (which honestly, matters more than how they treat me :-) ), the property was warm, inviting and it had all the amenities you'd expect. One of the cool unexpected amenities though, was that the Sheraton sits right along the citie's Greenway and offers bike rentals to all of it's guests. It was too chilly for a ride on our visit, but I imagine it would be an awesome way to enjoy and explore the area.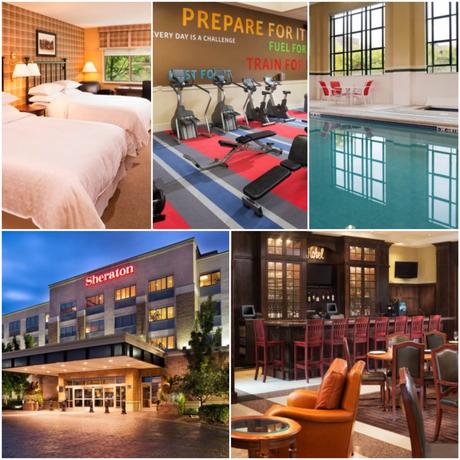 Once we got Zoe all settled in to the hotel, we decided to wander out and explore the area for a snack. We didn't have to travel far though. Lucky for us, there's the Midtown Global Market found in the building right next door to our hotel. Located in the bottom floor of an old Sears building that was abandoned in 1994, the Midtown Global Market has over 50 vendors dedicated to hot foods and groceries as well as arts & crafts. It was a neat place to explore and snack our way through meal time.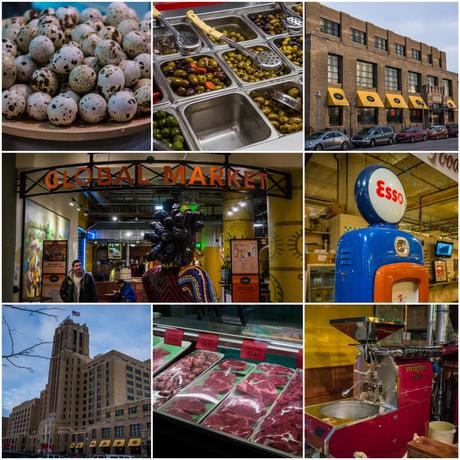 After a late lunch and some time back at the hotel to rest, we decided to wander into downtown for a night out and enjoy a romantic dinner under the stars. Unfortunately, it was way to cold to eat outside, but a smart restauranteur in Minneapolis had us covered. We found a perfect spot at The Union Rooftop . Union is a rooftop restaurant with a glass ceiling that allows you to enjoy a stunning view of the city below as well as a look at the night sky above. We enjoyed a lovely evening of creatively assembled cocktails and entrees that would please any foodie. If you're a fan of rare meats, try the Beef Carpaccio. It's presentation and preparation were nothing less than inspiring.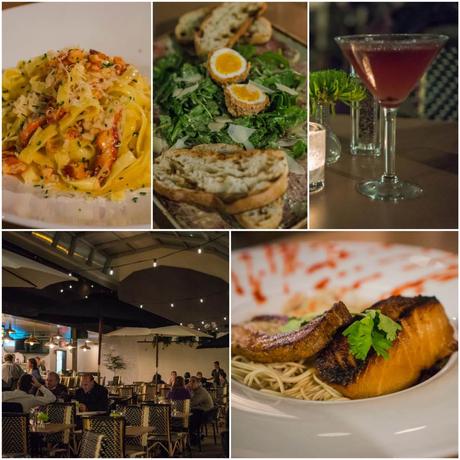 After a long day of travel and a fantastic meal, we decided to head back to our hotel and get some rest. The next morning we set out to explore and discover the local museums in the area and ended up making 2 stops. We began at the Weisman Art Museum located on the campus of the University of Minnesota. The Wiesman was originally opened in 1934 and was then moved into it's new building, designed by Frank Gehry, in the early 1990's. The museum's collection is varied and well curated and describes it's mission as on that "creates art experiences that spark discovery, critical thinking, and transformation". We enjoyed our time there, and definitely recommend a visit.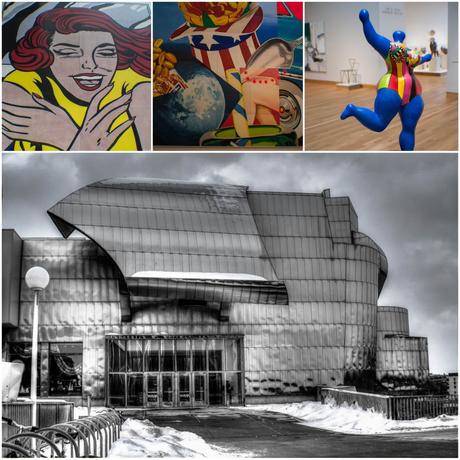 After a morning of art appreciation we found ourselves with quite the appetite so we made our way into downtown Minneapolis for a late lunch and decided to dine at Hell's Kitchen (completely unaffiliated with the cooking show). While the fantastic decor and art work make the restaurant a must-see destination, there's much more to Hell's Kitchen than flair. The menu features a wide selection that includes breakfast all day served along side lunch and dinner entrees. The eclectic mix includes everything from a wild rice porridge made from an old Native American recipe to bison burgers and everything in between.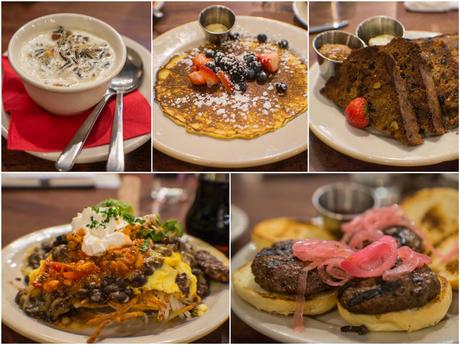 After lunch we decided to continue on our arts & culture tour and make a stop at the Walker Art Center. The Walker houses a large collection of works that focuses on the visual, performing, and media arts. With such a deep collection it was easy to get lost for a few hours taking it all in. The Walker is also home to the outdoor Minneapolis Sculpture Garden which is free to visit and features 40 unique works of art from their collection.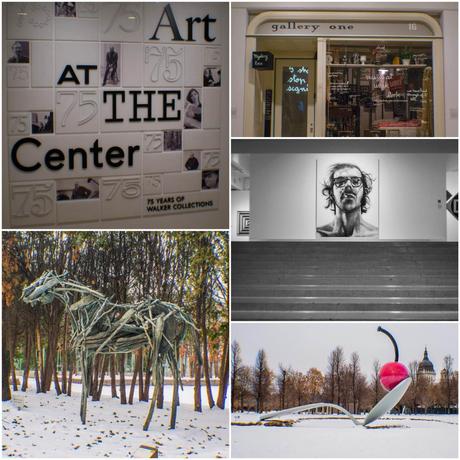 We finished up our art appreciation day with a celebration of a different kind of art, craft brewing! What? You didn't expect us Ramblers to visit a new city and not scrounge up a good brewery did ya? After some light digging we found a brewery that has been serving award winning craft beers since it's opening in 1997. The Town Hall Brewery has an impressively wide selection of craft beer in a relaxed and comfortable environment. It's the kind of place that makes you want to stop in for a drink and then end up spending the rest of the evening enjoying well executed pub fare and sampling every brew they've got. If you're up for a visit, they have 3 locations including a tap room and a bowling alley, so they're definitely worth a trip.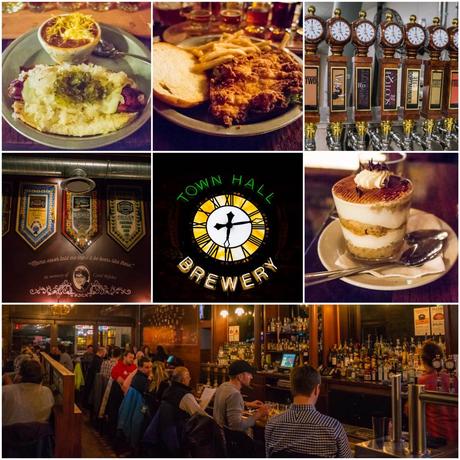 Sadly, after just a couple nights in Minneapolis, it was time for us to wrap up our stay and keep ramblin'. Luckily for us, our way out of town took us right by the last attraction on our list: Mall of America. While Mall of America is technically a shopping mall, we went there for everything else they offer. That includes a Movie Theater, Aquarium, Mini Theme Park, and some of the best people watching in the state. You could easily spend a day or two exploring the whole mall (heck some people come to the area just for the mall!) and it's certainly worth stopping for a couple of hours just to take in the enormity of it all.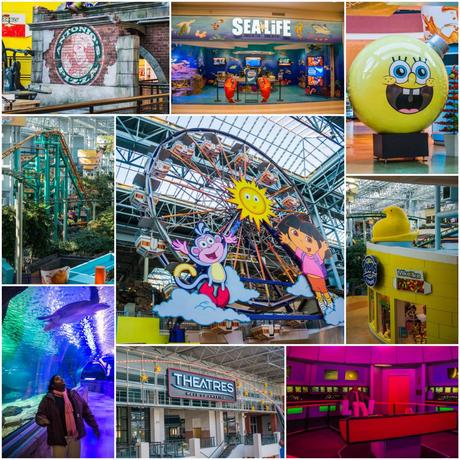 Lauren and I truly enjoyed our time in one of the Twin Cities. With a casual and relaxed vibe, and lots to do, it was a great destination for a weekend break. It should definitely be on your list as a fun stopover to make while crossing through that part of the country. Next time we head back that way, we'll have to give St. Paul a visit and see if it can live up to the standard set by it's twin  :-)
Have you been to Minneapolis? If so, tell us about your favorite spots in the comments below!