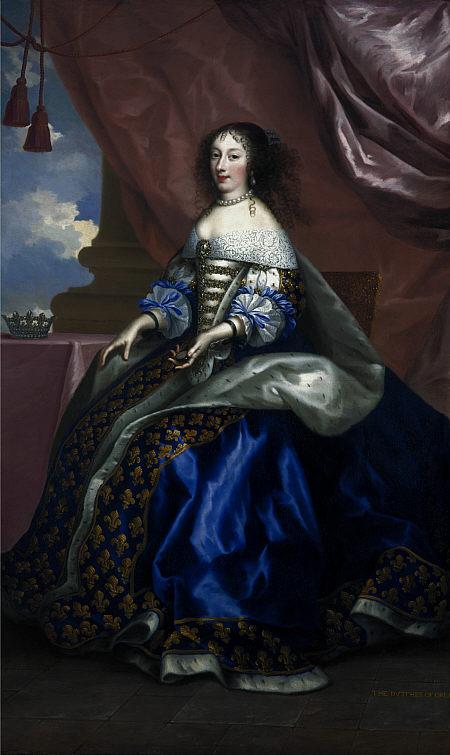 Henrietta Anne, Duchesse d'Orléans, Nocret. Photo: National Gallery of Scotland.
Ah, blessed serendipity! You may recall that I recently threatened to burst into abject hysterics if Nocret's splendid portrait of Henrietta Anne Stuart, Duchesse d'Orléans isn't on display at the Scottish National Portrait Gallery when Dave and I go up to Edinburgh later this year to see the Mary, Queen of Scots exhibition at the National Museum of Scotland – well, imagine my JOY when I found out that not only is out on display but there's also a small exhibition focussing on the piece!
'Explore the fascinating life of an often overlooked figure in history, Henriette Anne Stuart (1644-1670), the youngest sister of Charles II whom he affectionately called 'Minette'.
Smuggled from England at the age of two, Henriette Anne was brought up at the French court where she married Philippe, Duke of Orléans, the brother of Louis XIV. Famed for her charming nature, impeccable manners and keen interest in the arts, she also possessed a flair for politics and played a key role in negotiating a secret alliance between the French and English monarchs.
This exhibit centres around a magnificent full-length portrait of Henriette Anne by the French artist Jean Nocret (1615-1672) and explores Minette's short life within a court riven with power struggles, scandal and intrigue.'
Brilliant. The exhibition is running until the 5th of January next year and is free.
In additional Henrietta Anne news, I've almost finished my polish of Minette, the first of my two novels about her. I've agreed to show it to an agent but to be honest I think I'm too attached to self publishing now to hand it over to a publisher and relinquish control over the whole shebang, plus I kind of need the money so that I can buy a Kitchenaid mixer for my rather fancy new kitchen and I'll make more self publishing than trade publishing. Sad but true.