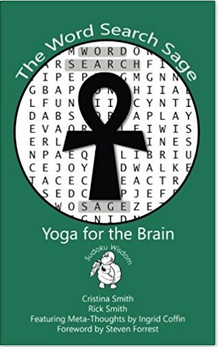 The Word Search Sage is the second book in the series of word puzzles, known as Yoga for the Brain, that offer a creative, fun, meditative respite from the busy chatter of the mind… while flexing your brain.
You can read my review of The Word Search Oracle, which won the 2017 Pinnacle Book Achievement Award, and download a sample puzzle here.
The Word Search Sage takes you a little deeper into your thoughts and spirit, as the solutions to these word puzzles are called Meta-Thoughts, providing insights and deep wisdom.
I like to open the pages at random, and undoubtedly, Cristina Smith's introductory comments on the topic of the puzzle and mystic Ingrid Coffin's Meta-Thoughts are always relevant to my life at that moment in time. In fact, each word in each of the clever puzzles put together by Rick Smith relate to the Meta-Thought and help you discover your own truth, your own purpose in life.
For example, the puzzle on Love is introduced with a note that includes:
"Affirm your love for yourself. Shed all of the self-negatives that life has draped over you. When we fear criticism, we are not free to be ourselves. If we feel less than, our lives reflect that."
The Love puzzle on page 30 is a little harder than those in the beginning of the book. You'll see that after you've found all the applicable words in the puzzle, the letters remaining make up this Meta-Thought:
"Be thankful for being yourself."
These puzzles sound magical and mystical and they are. I'm amazed at how they are both relaxing and good exercise for the mind, while providing inspiration and profound introspection for the soul.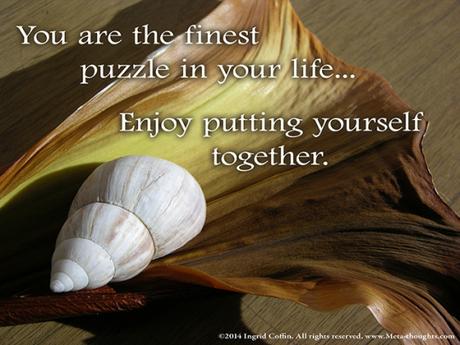 Strewn throughout the book are also beautiful photos with words of wisdom from Ingrid Coffin, life the one above, "You are the finest puzzle in your life…. Enjoy putting yourself together."

Enjoy this book whenever you need a little time to yourself, a break from work, to keep entertained while waiting for someone or something, or as a daily ritual to give you food for thought and inspiration.

INTERVIEW with Ingrid Coffin, author of the inspirational Meta-Thoughts you reach at the end of each puzzle in The Word Search Sage…

The solutions to the word searches in these puzzles are called Meta-Thoughts. Can you explain that term?

Meta-Thoughts are broader, more abstract thoughts that address life from a higher level than the thoughts we might have about what to have for lunch.  They are intended to be a bit cheeky.  Kind of like a sassy Jiminy Cricket reminding us that we create our own world and that much of what we create begins with our thoughts.

Where do you get the inspiration for the Meta-Thoughts?

I communicate a lot and hear myself saying Meta-Thoughts almost every day while working with other people. The trick is to catch them before they float away. I'm finally getting pretty good at that after more than 15 years of practice.

How can the reader best use these Meta-Thoughts?

I use Meta-Thoughts in a variety of ways.  Often I write them in my journal. Sometimes I just print them from my computer and post them in strategic places in my home and office. Of course, they are also there every Monday waiting for me on my phone.  The secret is to place them as a constant reminder of what I am working on.

For instance, if I am starting a new venture, I might post "First Feet. Then Wings" to encourage myself to start at the beginning and carefully navigate my way to successful completion.  Or I might choose "Have I left myself out of my schedule?" to remind me of my priorities.

The way you can use them is limited only by your imagination.

What do you think is the most important benefit of the Yoga for the Brain puzzle books?

Keeping your brain sharp and active is crucial to enjoying a long life.

Exercising the mind is the way to do that, and Yoga for the Brain provides the exercise it needs.

Personally, I use the word puzzles to help me relax at night and get to sleep, to keep me occupied in waiting rooms and on airplanes and just generally to enjoy a pause that refreshes.

Cristina Smith, author of The Word Search Sage, describes you as a "mystic." What does the description mean to you?

Everyone is part mystical and part magical. The right-brained people are more mystical. The left-brained more magical. I am a right-brained, mystical person, which means I create the image of the result I desire in my own imagination, using my intuition as a drawing board.

Fortunately, I have been trained to work magically as well as mystically. I am able to take the vision from within my imagination and craft it in the physical world. In my opinion, a cooperative relationship between mystical and magical is what works best for everyone in all aspects of life. This is what I teach to those who work with me.

How can readers learn more about Meta-Thoughts?

It's easy to subscribe to my weekly Meta-Thoughts.  Just go to http://www.Meta-Thoughts.com and provide your name and email address.

What other ways can readers connect with you and learn about your work?

In addition to my love of Meta-Thoughts and The Word Search Sage, I am an evolutionary astrologer, a teacher in the western esoteric tradition and the founding director of Blue Sky Ranch in Lakeside, California.  More information is available at http://www.ingridcoffin.com.

The Word Search Sage and The Word Search Oracle are both available on Amazon.

Namaste!

Becca Chopra, author of The Chakra Diaries, Chakra Secrets, Balance Your Chakras-Balance Your Life, and The Chakra Energy Diet
www.theChakras.org

Advertisements

&b; &b;