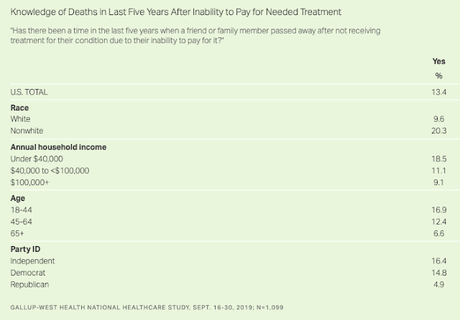 These charts are from a recent Gallup Poll. It was done between September 16th and 30th of a national sample of 1,099 adults, and has a margin of error of 3.7 points.
The poll highlights the shameful state of the United States health care system. Note that 13.4% of United States citizens know someone who has died in the last five years because they could not afford to pay for medical care they needed. (NOTE -- 13.4% of the population is about 43.8 million people.)
No other developed nation has this problem. That's because they all cover all of their citizens with decent health insurance or medical care. It's only the United States that leaves millions of its citizens without any kind of health insurance (and many of them with no way to access life-saving preventative medical care).
This is why there's currently a majority of Americans that want health care changed. They want every citizen to have decent and affordable health insurance.
Many would like to see a single-payer government-run health insurance system (something like a Medicare-For-All system). Others would like to see a public option available for those who want to buy into it or who can't afford to buy private insurance.
I like the idea of Medicare-For-All, but I doubt the country is ready yet for that. Too many people like their company-provided private insurance. But it is obvious that most Americans are ready to support a public option for health insurance which would provide coverage for all citizens. It needs to be done.
More also needs to be done to make prescribed drugs more affordable. The sad fact is that even some with health insurance cannot afford all their prescribed drugs (and those without insurance are in real trouble trying to afford the drugs they need).
The charts below are from the same poll. It shows that too many people are going without the drugs they need because of the cost, and a huge majority believes the cost of drugs is much higher than it should be. Most also don't believe the Trump administration has done enough to lower the cost of prescription drugs.
This must change. The cost of drugs must be lowered and controlled, and all citizens must be covered with decent health insurance. But it will not happen as long as Republicans retain power in our government. They view health care and drugs as products to be sold to those who can afford it -- not the right of every citizen to protect their good health.
They are wrong and they must be voted out of power.