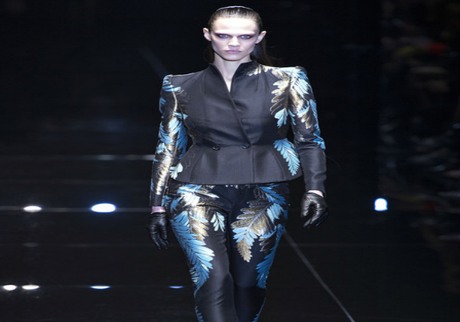 Hello Fabs !! I hope all is well and that you are staying stylish as usual !!! Soooooo London Fashion Week has ended and Milan Fashion Week begins . Don't you just love this time of year. I wanted to do something different this fashion season and not overload you Fabs with every single show and look ...not to worry we have Style.com and several others that's doing that. I wanted to bring my Fabs all the chic and sleek fashion from these weeks so you can get the first hand look of what's to come for Fall 2013. So lets talk fashion shall we.........
Gucci Fall 2013 : #MilanFashionWeek
per style.com
For Spring, Frida Giannini went all in with color: azalea pink, fuchsia, and a Riviera blue that conjured sun-soaked images of the Italian jet set circa the seventies. Clearly, the Gucci designer prefers the dark side, because she's back in black for Fall . She may be a couple weeks shy of giving birth to her first baby, but she isn't oblivious to the power of sex, that's for sure. This collection will never quite qualify as demure. How could it, with all the shiny black python she used for little numbers like a fitted skirtsuit with a slit up to there in back or a second-skin dress? Body-con and sexy, the python pieces were hands down the strongest thing about the show. The forties by way of the seventies is a look that's gaining traction this season, and the cabans, the peplum jackets, and the hourglass dresses with exaggerated hips here put Gucci in the middle of that dialog.