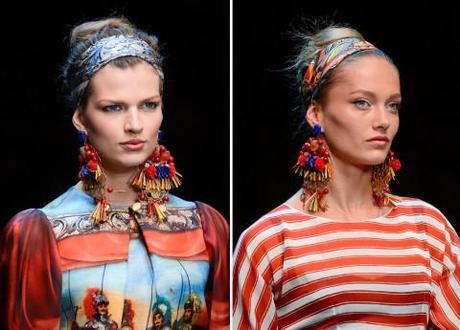 Dolce & Gabbana Spring Summer 2013. Photo Credit: Flickr.
The background
Milan Fashion Week took a lead from London and New York and cemented emerging trends from monochrome stripes to floral, as well as producing some signature styles from the Italian heavyweights. Fashion commentators also noted a move away from brash styles and towards a more ladylike aesthetic. Other highlights included the much lauded return of Jil Sander and a heavily pregnant Rafaella Fico on the catwalk. Oh, and Jedward were there. Yes. Really.
Informed by Italian politics?
The Telegraph's Luke Leitch noted that Italian fashion seems to be mirroring Italian politics, declaring, "[T]here are signs that the big-boobed, small-brained, bunga bunga female archetype of the Berlusconi years is in decline." Indeed, Roberto Cavalli, who Leitch associates with "unabashedly groin-led fashion," presented a collection in Milan this week that was "a significant shift towards Mario Monti-style, controlled austerity." The designer told The Telegraph: "This for a sensual woman who is sophisticated too. Italian women are sexy, yes, and beautiful. And they are sophisticated – very much so." Vogue described the collection as peppered with "sexy-but not too brash" styles and dresses; with relaxed silhouettes and dropped waists that were "wispy and layered, pretty even." The move taken by Cavalli towards a more demure aesthetic was acknowledged: "this did feel fresher, lighter and more modern and less aggressive than we have seen before – and that was a pleasing move."
Colour is the new black
Dolce & Gabbana also made a move away from their iconic sexy black dresses and towards a celebration of a 1950s Sicilian domestic goddess. Like the kitsch fruit and vegetables of their last collection, this was a vibrant celebration of colour, local artistry and Italy itself. The Times' Carolyn Asome says: "I counted only six black dresses, the rest of the collection comprising a bright assortment of outfits that shared similarities with costumes worn to a Mediterranean pageant on saint's day." She also noted that the show was: "what a Sicilian beach might be like on The Talented Mr Ripley film set as opposed to the gritty reality of southern Italy post Second World War." The collection was another step towards a ladylike, wholesome look.  The Telegraph concurs: "Set alongside the Berlusconi bimbo-esque aesthetics of some of Italy's other big labels, the Dolce woman seemed almost chaste….If demure romance doesn't make a major comeback, it won't be because Dolce & Gabbana didn't try."
Naïve flowers and jewel shades
Vogue, rather helpfully, announced: "Where Prada goes, so others follow." So what did celebrated, and oft-imitated, Miuccia Prada have to offer for Spring Summer 2013? The answer is, apparently, a "22nd century geisha" according to Vogue, noting Prada's cohort of woodblock-shoed models in origami folds.  There was also a strong floral motif running throughout. But these were not chintz offerings but bold "naïve flowers" as The Guardian points out. The designer, who also included fur for summer; told The Independent that the inclusion of these flowers was about the "impossibilities" of being judged by your appearance if you are a woman: "if you go out with flowers on, people laugh at you," she said. "The same with pink and with fur."
At Gucci it was all about color. It was an offering of sweet wrappers and jewel shades, transfused into, according to Vogue's Francesca Burns; "Sixties shapes… natty double-breasted jackets, loose little shifts in either block color or feather prints, elegant flared trousers and long lithe gowns aplenty." It was a sophisticated collection, with column gowns and tunic and trouser combinations that also meant that, as Style.com notes:  "Silhouette was a big story." Indeed, The Guardian observed the emergence of flared trousers, noting: "Gucci's sexy kick flared trousers in bright colours worn with tunic tops were easily the show's highlight. Creative director Frida Giannini also took her catwalk bow in a pair of flared jeans."
The return of Jil Sander
"Sander, lest anyone forget, was one of the first women designers to inject a minimalist code to her clothes" says The Times. Now, after a seven year hiatus, during which now-Dior-frontman Raf Simons took the lead, Sander has reclaimed her eponymous label. It was one of the most anticipated shows of Milan. The Independent praised her return collection for its "slick tailoring and elegant separates" and The Telegraph noted she was still "ahead of much of the competition." Vogue's Francesca Burns declared: "It was so modern, imaginative, intelligent, clean and beautiful. She's a purist and the fact that there was only one orange skirt in the show – so considered. It's great to have her back."
High-fashion pregnancy
Meanwhile, Mario Balotelli's unborn love-child got a head start in fashion at Milan. Raffaella Fico, the ex of "football-ace-cum-social-lunatic" (according to The Telegraph's Phong Luu) Mario Balotelli, is allegedly carrying his child. She paraded her six month bump down the catwalk for the Pin-Up Stars swimwear show in Milan this week. It was a catwalk first, as The Telegraph noted: "Posing with your pregnancy bump on the cover of a magazine is so Nineties Demi."
And Finally…
The Times says: "Jedward, the gruesome Irish twosome, had more front-row attention at Dsquared2 than anyone else — proof that those 15 minutes can last a lifetime."