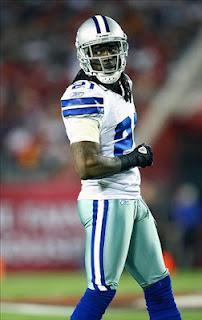 Photo: US Presswire
- Troy Ballard
It doesn't happen much to the Cowboys, but cornerback Mike Jenkins wants to be traded out of Dallas.
When news rolled onto Jerry Jones' desk that a player wanted to be moved 
out of Big D
, he must have passed out cold. The Cowboys are America's team, and most players clamor to get a shot on such a big stage, but Jenkins is ready to bail.
The former USF corner's wishy-washy play has finally caught up to him, and after Dallas was torched for nearly 250 yards a game through the air last season, the Cowboys made moves to upgrade the secondary.
Following the big cash-out on free agent corner Brandon Carr, and a trade-up in the draft to snag Morris Claiborne, Jenkins saw the writing on the wall -- he was getting bumped down the depth chart.
And Jenkins isn't interested in playing third string, Cowboys or no Cowboys.
It seems that when a player is disgruntled in the NFL, teams take one of two approaches: trade the said player away for whatever the best offer on the table is, or keep said player and essentially tell them to suck it up.
The Cowboys, to this point, appear to be doing the latter. Head coach Jason Garrett has said that the team has no interest in trading Jenkins, despite his request, and that he will be with the team next season. Even after reports surfaced that the 
Indianapolis Colts had sent Dallas several offers
for Jenkins, the team has still remained set on keeping him.
But here's the thing -- Dallas doesn't
need
Jenkins. The secondary would be able to muddle through a season without him, and although the depth wouldn't be anywhere near as strong, the Cowboys could make it work.
The reason the Cowboys aren't trading Jenkins is really straightforward (and it has nothing to do with ol' Papa Jerry trying to bond with his players) -- the value just isn't there.
More than likely all the Colts offered was a very late-round pick and not much else in exchange for Jenkins. His play over the past few years has been average, and although he is a huge upgrade over who Indy currently has on the roster, he's not worth overpaying for.
For Dallas, even a moody and upset Jenkins is worth more than that late-round pick, and it makes more sense to keep him on the team and let his contract expire after the season. He can be frustrated as much as he wants, and if wanted to, he could even sit out the entire season. But if he were to sit out, the Cowboys could simply fine him until it stings bad enough for him to make an appearance with the team again.
As perfect as it would be for a team like the Colts to acquire Jenkins, his value isn't worth giving up a high selection, and Dallas has no interest in moving him for a garbage pick. The two sides are stuck in a total stalemate, and as much as Jenkins wants to leave, the Cowboys aren't going to receive any offers compelling enough to trade him.
What it comes down to is this -- Jenkins can accept his role as the third corner behind Carr and Claiborne, play out this season, and leave via free agency after the year, or he can sit out and take a heavy set of fines and still end up not being traded.
Whatever ends up happening, it's a good bet to assume it will only add to the Dallas Cowboys media juggernaut.
Be sure to follow Beard and Stache on Twitter @BeardAndStache, and also Troy @TroyBallards, Like our Facebook page HERE!