Mika Brzezinski And Joe Scarborough Said That Trump Used The National Enquirer As A Weapon Against Them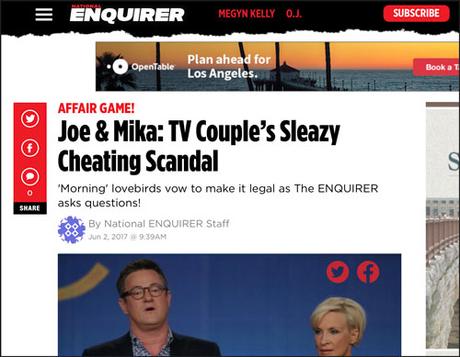 Morning Joe co-hosts, Mika Brzezinski and Joe Scarborough, were supposed to have today off for the long Fourth of July weekend, but they put their vacation off after the Overlord of the United States did what many respectable presidents have done before him: he dragged the looks of a news anchor on Twitter. I mean, we all learned in U.S. history class about the moment when George Washington took to the town square (the Twitter of its time) to talk about how the town crier got a shit face-lift. In an op-ed piece for the Washington Post and on Morning Joe, Mika and Joe responded to Trump saying that they're both crazy and that he saw her at his New Year's party and "she was she was bleeding badly from a face-lift."
Mika and Joe didn't really write or say anything that the people haven't known for a while. Joe said that he's called Trump racist and has hit at Trump about the Muslim ban, but yet it's Mika who gets attacked personally. Joe went on to say that Trump is obviously scared of women which is why he gets personal when he attacks one. Mika and Joe said that Trump is losing it emotionally and mentally in the White House and is getting worse and worse and worse. They have heard stories from the inside about how his skin is thinner than a newborn ladybug's wing and how any little thing makes his flame broiled b-hole shoot out steam.
Mika also told their side of the Mar-a-Lago story. Trump tweeted that they practically begged to join him at his New Year's party and he turned them down after seeing Mika's bloody face. Mika said that Trump got it twisted all the way around. Trump was the one who begged them to come to Mar-a-Lago and they finally gave in and went for around 20 minutes. Mika also said that she had a little chin work around that time. via Jezebel
"It was amazing how many lies he packed into two tweets. We did not want to go to Mar-a-Lago. Donald kept calling Joe. Joe went and he stayed for about 30 minutes. And then [Trump's] like, 'Where's Mika? Where's Mika?' He seemed to want me to go—I didn't want to go. And so the next night, we went. I think I was in jeans. We walked through this—we thought, okay, let's try it again. Try to get an interview, talk to Melania—who I like very much—and we were like shuffled into a side room. It was actually a bedroom. Talked for 20 minutes, and we left through this party of people dressed to the nines. Talk about face-lifts, whoa! Palm Beach, ok, hello! It was amazing. And speaking of my face…I had my chin tweaked. The skin under my chin, I believed I FaceTimed you [motions to anchor]. We talked about it. Called Nicole, called all my friends. Had a lot of fun with it. I'm pretty transparent about what I do and I think it looks awesome."
Joe added that the Trump of today is not the Trump they knew two years ago. "Is that so, girl?" said everyone who remembers the Obama birth certificate fuckery and more.
As for The National Enquirer shit. Mika and Joe, who are engaged now, said that they heard from higher-ups in the White House that The National Enquirer was going to run an ESCANDALO story about them. They alleged that highers-up promised the story would go away and not see the light of public eyes if they simply called Trump, sucked his ass and apologized for their coverage of him. Trump is friends with David Pecker, the owner of The National Enquirer, UsWeekly, Star and Radar.
The National Enquirer said in a statement that their story about Mika and Joe cheating with each other was true, but they didn't threaten their children and know nothing about Trump allegedly blackmailing them.
"At the beginning of June, we accurately reported a story that recounted the relationship between Joe Scarborough and Mika Brzezinski, the truth of which is not in dispute.  At no time did we threaten either Joe or Mika or their children in connection with our reporting on the story.  We have no knowledge of any discussions between the White House and Joe and Mika about our story, and absolutely no involvement in those discussions."
Trump responded by calling Joe a liar:
Watched low rated @Morning_Joe for first time in long time. FAKE NEWS. He called me to stop a National Enquirer article. I said no! Bad show

— Donald J. Trump (@realDonaldTrump) June 30, 2017
And Joe responded to that by saying he's got receipts:
Yet another lie. I have texts from your top aides and phone records. Also, those records show I haven't spoken with you in many months. https://t.co/TZWiElo6Gs

— Joe Scarborough (@JoeNBC) June 30, 2017
While doing research for this sad wreck of a saga, I learned that David Pecker (lol Pecker) used to own The Weekly World News. He doesn't anymore and I'm farting out a cloud of relief over that. If Pecker still owned the WWN, I wouldn't be able to read a well-researched expose about Bat Boy without thinking that maybe Trump ordered that story after he heard Bat Boy talking shit about him. Thankfully there's publications I can still trust!
Screenshot: National Enquirer
Source: Mika Brzezinski And Joe Scarborough Said That Trump Used The National Enquirer As A Weapon Against Them
2 total views, 2 views today