Dusan Stojanovic reports for the AP that earlier today, Sept. 16, 2015, hundreds of migrants invaders broke through a razor-wire fence on Hungary's border with Serbia. They threw plastic water bottles and rocks at helmeted Hungarian riot police and chanted demands that the border be re-opened. Police responded with tear gas and water cannons.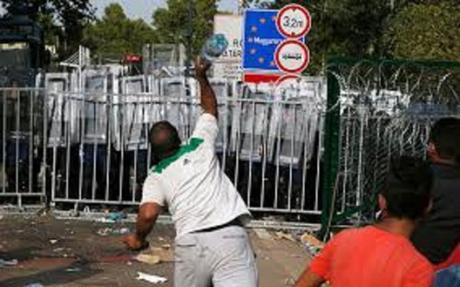 Amir Hassan, an Iraqi who was soaking wet from the water cannon and trying to wash tear gas from his eyes, shouted in the direction of the shielded Hungarian police who were firing volleys of tear gas canisters directly into the crow: "We fled wars and violence and did not expect such brutality and inhumane treatment in Europe. Shame on you, Hungarians!"
The clashes took place at a small border crossing in the Serbian village Horgos, a short distance from the main border crossing into Hungary.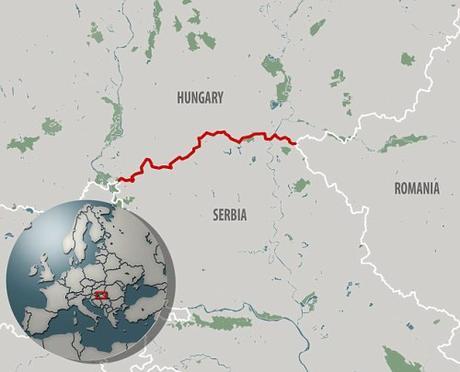 Before the tensions escalated, some women had pushed to the front of the crowd and held small babies and children above their heads as they faced police in an obvious appeal for mercy, but no one made it through.
In the past few months, Hungary has become a main entry point into the European Union for migrants, many of them war refugees from Syria and Iraq, with more than 200,000 entering the country so far this year. Almost all entered from the southern border with Serbia and passed through Hungary quickly on their way to Germany or other wealthy Western European nations.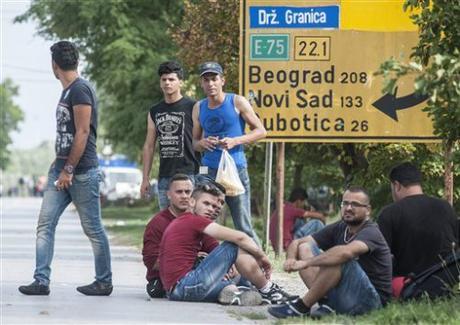 Refugees rest near the border station between Serbia and Hungary in Horgos, Serbia. (Sandor Ujvari/MTI via AP)
Hungarian authorities said today that they have arrested a total of 519 migrants who tried to cross the border since tough new laws went into effect yesterday that make it a crime to cross from Serbia anywhere other than at legal checkpoints. Authorities launched 46 criminal prosecutions and found two Iraqi men guilty, the first convictions based on the new laws.
Meanwhile, Syrian President Bashar Assad is blaming Europe for the crisis, saying it's a direct result of the West's support for extremists in Syria over the past four years. In an interview with Russian media, Assad accused Europe of supporting "terrorism" and providing "protection for terrorists, calling them moderates. How can one be indignant about a drowned child and remain silent about the deaths of thousands of children, elderly people, women and men killed by terrorists in Syria?"
Hungary's foreign minister Peter Szijjarto denied that closed borders and tough new laws signal callousness toward refugees, repeating the government's claim that most of those entering Hungary are actually economic migrants. Szijjarto told the AP, "Based on our history, we are always in solidarity with the refugees. What we're saying is that we cannot accept economic migrants because we cannot bear the burden of that."
Croatian Prime Minister Zoran Milanovic criticized Hungary's decision to seal its border with Serbia for migrants and said Croatia will not do the same: "We are ready to accept these people, regardless of their religion and the color of their skin, and direct them to the destinations where they wish to go, Germany and Scandinavia. Barbed wire in Europe in the 21st century is not an answer, it's a threat."
See also:
Hungary builds 100-mi razor-wire border to keep out 'migrants'
Obama to let in 10,000 Syrian refugees despite no way of identifying terrorists
~Éowyn