I today received the link to the trailer of the film MIDWAY by Chris Jordan. Very impressive and touching pictures – beautiful, but shocking. I already had blogged about the work of Chris before. Here you find more about this work – a short extract:
"Midway Atoll is a collection of three small islands in the North Pacific, and one of the most remote places on earth. In many ways, this film could be shot in many places on the planet where we find tragedy and despair, but here- about halfway between the U.S. and Asia- on an island teeming with life and wonder, it is the proverbial canary in the coal mine."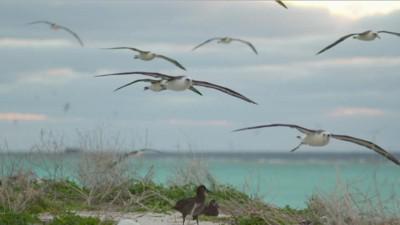 Picture of the film Midway by Chris Jordan (c)
The next video has just a tourism message, but is beautiful- a video done by Alberta, Canada: "Remember to breathe" !!