Hope all of you blog followers are having a good week so far.  Mine has been pretty decent so far.  I'm enjoying only working one job at the moment, it's nice all the free time I seem to have so I'm trying to make the best of it until the second job starts and I wonder how I managed it all.  I was hoping to have gotten a start on the "big project" but my cloth won't even be shipped until Friday, so the start date seems to have been pushed back yet another week.  Oh well.  Hopefully things will be getting started soon.  I'm really looking forward to this project.
In the meantime I've been working on a bookmark for myself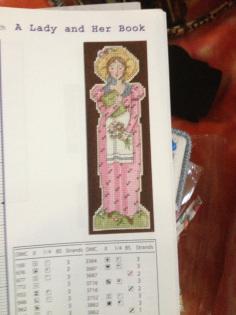 This is the pattern I'm working from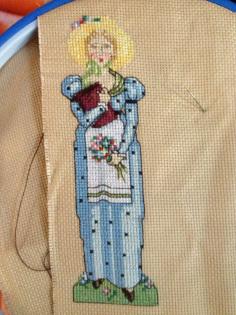 This is the bookmark I'm making. I've made some changes to the color scheme because I like blue much better than pink. I'm liking this one much better than the pattern in the book.
What do you think of the "lady and her book" bookmark? Its very detailed and I'm looking forward to being able to use it (and show it off). I might try making a couple more with different colored dresses  hats, hair, etc.. while I'm waiting for the cloth for the big project to get here. Any suggestions?
I'm also in the middle of reading two books. I've been very impressed with The Help so far. It's a quick and interesting read that is (at least right now) living up to all the hype surrounding it, but as I'm only 120 pages into it that could change. I did see the movie so I know how it ends, but so far it seems the movie did a good job of living up to the spirit of the book. Even now I think I can safely say this is one I'd recommend. The other is a reviewer copy of Simon and Hiroko a refreshing change from some of the techno-dystopias I've been reading but it is starting slowly and I'm having some trouble getting into it. But at only 20% I've got plenty of time to see it improve.
So what are the rest of you reading this week? Anything you'd recommend? Hope all you blog followers have a fantastic rest of your week. And remember to follow the twitter @xstitchurheart or add me as a friend on goodreads (/p>