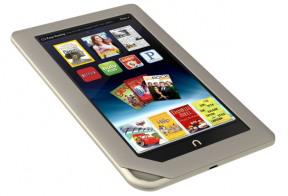 Microsoft has teamed up with Barnes and Noble, a new strategic alliance that allows the big titan of OS to fight in a new battlefield: ebooks and e-readers. This new alliance allows Microsoft and B&N to fight to get an edge over Amazon and Apple in the market for e-books and e-readers/tablets.
This venture venture will come in the form of a new subsidiary of B&N that will include all of its Nook business and also its educational College business. With Microsoft is investment of $300 million investment in the subsidiary, valuing the company at $1.7 billion in exchange for around 18% equity in the subsidiary.
Microsoft is not only getting a considerable equity in this venture but also is making sure that a decent amount of content will be available on to the Microsoft platform.
Why is Microsoft interested in content now?
This is due to the upcoming Windows 8 tablets. Microsoft needs to make sure that their new tablet devices will be able to compete against to the main players in this field: The iPad and the Kindle Fire. The Kindle Fire had an amazing starting positioning itself on top of many Android tablets not only on price wise ($199) but also content wise, which is well supported by Amazon's diverse e-book offerings.
B&N made a good move by moving their College division into this subsidiary just to be able to focus on a huge emerging target: Educational content. For Apple, this is also a matter of great importance. There are more than 20,000 educational apps for iOS and more than 1.5 million devices deployed in schools in United States. This numbers will increase due to the launch of the new iPad and numerous initiatives to spread the tablet in the educational sector making this sector very attractive to Apple.
So, What does this alliance means for Microsoft and B&N?
The alliance will accelerate the transition to the digital readout that is revolutionizing the way consumers read and share digital content
Similarly, indicated that one of the first benefits for customers will be the digital reading application for Windows 8 Nook, the new operating system from Microsoft that will ship in the third quarter and to be integrated into laptops and tablets.
Users of Windows 8 both in the U.S. and ininternational markets will have access to digital library Barnes & Noble, which has one of the largest libraries of ebooks and magazines
Michael Glickstein, head of investment G Asset Management, told Bloomberg that:
The partnership with Microsoft could give the kind of content Nook and expansion potential to make you a great actor in the business of tablets
In any case, both partners look for a good place in a business that is dominated by Amazon and Apple. These two companies have long been starring in a tough battle that ended in court and jumped to the front pages of many newspapers in mid-April. At that time, the Justice Department filed a U.S. lawsuit against Apple and five of the leading publishers in the country by setting the price of electronic books and to establish a clause requiring the other platforms (Barnes & Noble, among them) to accept the agency model (where the publisher sets the price and point of sale can not touch and in return receives 30%), thus leading to unfair competition. Apple, which broke into the ebook market in 2010 when she appeared in her first scene iPad, refused to have closed a deal with publishers and argued that the launch of the iBookstore in 2010, "fostered innovation and competition , breaking the monopoly of Amazon in the industry. "
Either way, the movements of these companies (Amazon has been accused of lowering the price of the famous $ 9.99 ebooks and sell books at a loss, when he charged for almost $ 400 Kindle to dominate this industry) have a target: Dominate the ebook market, which moved $3,000 million in 2011, and according to Juniper Research, in 2016 will move more than $10,000 million. Today, between 15% and 20% of sales of large U.S. publishers are in digital format.
The strong commitment between Microsoft and Barnes & Noble removes, according to some analysts, the fear of a duopoly (Apple-Amazon) that penalize final consumers worldwide. So let's see how this new player changes the  current market.
Below you can find the full press release:
New York, NY and Redmond, WA (April 30, 2012) – Barnes & Noble Inc. (NYSE: BKS) and Microsoft (NASDAQ: MSFT) today announced the formation of a strategic partnership in a new Barnes & Noble subsidiary, which will build upon the history of strong innovation in digital reading technologies from both companies. The partnership will accelerate the transition to e-reading, which is revolutionizing the way people consume, create, share and enjoy digital content.

The new subsidiary, referred to in this release as Newco, will bring together the digital and College businesses of Barnes & Noble. Microsoft will make a $300 million investment in Newco at a post-money valuation of $1.7 billion in exchange for an approximately 17.6% equity stake. Barnes & Noble will own approximately 82.4% of the new subsidiary, which will have an ongoing relationship with the company's retail stores. Barnes & Noble has not yet decided on the name of Newco.

One of the first benefits for customers will be a NOOK application for Windows 8, which will extend the reach of Barnes & Noble's digital bookstore by providing one of the world's largest digital catalogues of e-Books, magazines and newspapers to hundreds of millions of Windows customers in the U.S. and internationally.

The inclusion of Barnes & Noble's College business is an important component of Newco's strategic vision. Through the newly formed Newco, Barnes & Noble's industry leading NOOK Study software will provide students and educators the preeminent technology platform for the distribution and management of digital education materials in the market.

"The formation of Newco and our relationship with Microsoft are important parts of our strategy to capitalize on the rapid growth of the NOOK business, and to solidify our position as a leader in the exploding market for digital content in the consumer and education segments," said William Lynch, CEO of Barnes & Noble. "Microsoft's investment in Newco, and our exciting collaboration to bring world-class digital reading technologies and content to the Windows platform and its hundreds of millions of users, will allow us to significantly expand the business."

"The shift to digital is putting the world's libraries and newsstands in the palm of every person's hand, and is the beginning of a journey that will impact how people read, interact with, and enjoy new forms of content," said Andy Lees, President at Microsoft. "Our complementary assets will accelerate e-reading innovation across a broad range of Windows devices, enabling people to not just read stories, but to be part of them. We're at the cusp of a revolution in reading."

Barnes & Noble and Microsoft have settled their patent litigation, and moving forward, Barnes & Noble and Newco will have a royalty-bearing license under Microsoft's patents for its NOOK eReader and Tablet products. This paves the way for both companies to collaborate and reach a broader set of customers.

Newco,

On January 5, Barnes & Noble announced that it was exploring the strategic separation of its digital business in order to maximize shareholder value. Barnes & Noble is actively engaged in the formation of Newco, which will include Barnes & Noble's digital and College businesses. The company intends to explore all alternatives for how a strategic separation of Newco may occur. There can be no assurance that the review will result in a strategic separation or the creation of a stand-alone public company, and there is no set timetable for this review. Barnes & Noble does not intend to comment further regarding the review unless and until a decision is made.

Additional information will be contained in a Current Report on Form 8-K to be filed by Barnes & Noble.

Barnes & Noble and Microsoft will host an investor call and webcast beginning at 8:30 A.M. ET on Monday, April 30, 2012. To join the webcast, please visit:www.barnesandnobleinc.com/webcasts.