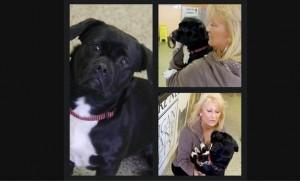 On Friday, the Michigan Humane Society released information about one very, special dog from their Detroit, Mich., Center for Animal Care, who is being hailed a hero after she helped save her foster mom's life.
The dog is a two-year-old beagle/pug mix named "Joleen," and earlier this month she helped save the life of Mary-Louise Klatt, who had suffered a heart attack.
On the day that Klatt had the heart attack, Joleen began a frantic attempt to find help, barking and running back-and-forth in the house until Klatt's step-son realized that there was a problem.
Klatt stated that Joleen tried to help her as well, saying:
"And she kept licking my face, trying to wake me up,"
"She's my angel!"
Joleen had been fostered by Klatt since November, but that is no longer the case.
After the little dog saved Klatt's life, it became clear that she was meant to remain a permanent part of the family.
On March 25, the adoption became official.
Jamahl Scott, MHS Volunteer Programs Manager, stated:
"We always talk about how pets give back more than they take, but this is an even more dramatic example of how pets affect our lives,"
"We are so glad Joleen was there when she was needed."
~ Courtesy of The Examiner
Tags: dog alerts family, dog alerts to heart attack, dog finds permanent home, dog saves woman, rescue saves woman