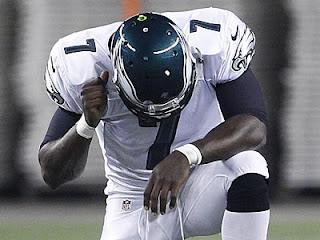 Photo: Yong Kim - Philly Inquirer
- Troy Ballard
Same old song and dance — Michael Vick getting injured.
Against the Steelers, there was a scare when the thumb of his throwing hand connected with the back of a helmet — x-rays came back negative.
Then most recently against the Patriots, Vick was rocked by a linebacker and he was thought to have broken ribs — x-rays came back negative.
While neither injury has or will keep Vick sidelined for any extended period of time, the Philadelphia Eagles are sweating bullets. With every drop-back and scramble, the entire organization is frozen with baited breath — hoping to avoid the worst-case-scenario that V7 misses any playing time at all.
And that's where the red-flags begin.
The entire success of Philadelphia's 2012-2013 campaign relies entirely on Vick staying healthy and on the field. Without him, this team is not going to flail, let alone even think about seriously contending for a Super Bowl.
Without Vick, Philly is done.
Yet, in just two pre-season games, Vick has managed to be injured twice. Both times, when the injury occurred, it seemed deathly serious. Experts began firing-off what Philadelphia could do if he missed the start of the regular season and how it may be time to move on and look elsewhere for a quarterback.
And when it turned out that he is in fact generally healthy, and the talks quieted back down.
But it seems that the reality of the situation is that Vick is only one serious injury away from not only ruining the Eagles season, but also ending his career in Philadelphia. His massive $100 million deal is beginning to look like a mistake by the very second, and if he is hurt again this season, there's no telling what the front-office would be willing to do.
The only bright-spot on an otherwise dim pre-season for the Eagles' quarterbacks is that rookie Nick Foles has been dominating when given his chances. For a player that was expected to possibly not even make the roster or be nothing more than a project player — Foles has delivered. That's something.
However, Vick's injuries have taken center stage. And with good reason.
I was listening to an interview with Vick's old high school coach, and basically, he said that he would never change his playing style. It doesn't matter how many injuries he suffers or how many times he is told he is far too small to be doing what he does, he's just going to keep playing the same way.
That playing style is simple — make plays at the risk of personal health.
The alarming thing is that this coach said that if Philly even gets a mere 12-games out of Vick this season, then it should be considered a success. If that number is correct, that leaves four-games without V7 under center, and more than likely a similar situation to what happened last season with Vince Young.
The only thing Philly fans can do at this point is hope and pray that Vick can stay on the field and off the sideline. Reid did him a solid by benching him throughout the remainder of the pre-season, but once the season starts, it's back to holding breath on every snap.
The consensus was that Vick is not only a changed person, but also a changed player. Despite obvious public disagreements about his past, his play has seemed to have generally improved. However, his injury tolerance hasn't seemed to budge — and at 32, don't expect that to change either.
Be Sure to follow Beard and Stache on Twitter @BeardAndStache, and also Troy @TroyBallards, like our Facebook page HERE!