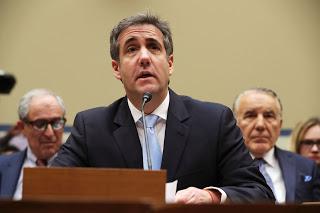 Michael Cohen
One sentence from
Michael Cohen's Congressional testimony
last week suggests the man in the White House is more dark and depraved than most Americans probably can imagine, according to a report from a D.C.-based investigative journalist. Specifically, Cohen's words hint that Donald Trump is a child molester and has been for years.
Wayne Madsen Report (WMR),
a subscription Web site, has written extensively about payments to settle allegations of child-sex complaints against Trump, dating to 1989 -- with Cohen, as Trump's "fixer," apparently at the heart of several negotiations. Most recently, in mid January of this year, Madsen published an article titled "Why is Trump so afraid of Cohen's testimony?" (We have followed Madsen's reporting with several posts here at
Legal Schnauzer
-- from
Jan. 16, 2019
; 
May 3, 2018
; Dec. 13, 2017.) Writes Madsen:
Donald Trump's former personal lawyer and "fixer" Michael Cohen had a rather poignant response to a focused question during his testimony before the House Government Oversight Committee on February 27.
Cohen responding to a question from Representative Jamie Raskin (D-MD) about the "catch and kill" operations that were conducted by National Enquirer publisher David Pecker on individuals bringing sexual-assault allegations against Trump. Cohen revealed that Pecker "spent money" to hide alleged affairs during the 2016 campaign.


Raskin specifically asked, "So David Pecker had done this in other cases of other mistresses or women?" Cohen replied, "Other circumstances, yes," adding, "Not all of them had to do with women."

Cohen appeared to add the final statement to emphasize the matter of allegations against Trump not merely being limited to women. WMR has reported on Trump's past sexual allegations involving underage girls -- involving him and convicted child sex assaulter Jeffrey Epstein -- and boys.
WMR is aware that during the 2016 campaign, pressure was brought by legal representatives for Trump on two women who alleged that Trump raped them when they were 13- and 12-years old, respectively.
It appears no one asked a followup question during the public portion of Cohen's testimony. But Madsen reports that the subject of Trump and child molestation is ripe for investigation:
Cohen's reference to the catch and kill tactics involving Pecker and Trump, some of which predated Cohen's hiring by Trump in 2007, and Cohen's comment that "not all of them had to do with women" may be a reference to the following list of out-of-court settlements reached by Trump with minors:
Madsen then lists six cases where Trump allegedly reached out-of-court settlements with minors. We have reported on those cases here. They involve three girls and three boys, all 10 to 13 years old at the time of the alleged assaults. From a Madsen preview of Cohen's testimony, published in January 2019:
While Cohen will avoid certain subjects still under investigation by Department of Justice special counsel Robert Mueller, he may provide some insight into the types of embarrassing things he "fixed" for Trump, before they ended up in scandalous court trials. This may include Cohen assisting Trump in paying off victims of Trump's sexual assaults over the years.


In addition to Stephanie Clifford, aka porn actress "Stormy Daniels," and former Playboy model Karen McDougal,

Cohen reportedly helped settle a number of rape cases involving Trump

. WMR received a list from a reputable Republican source of these settlement claims, all of which involve male and female minors.