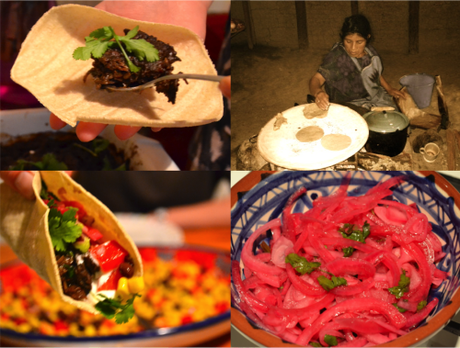 Taco Fiesta
One of my clearest memories of traveling in Central America was an incredible understated breakfast that I had on the side of a sandy dusty road in Honduras.  Up at the crack of dawn to get a boat in Guatemala to Puerto Barrios, followed by a 'colectivo' bus to the border, we crossed into Honduras scratchy with tiredness, hot and bothered, and most definitely, ravenous for our first bite of the day.  With only half an hour before the next bus onwards left the border, we needed some speedy sustenance.  On the side of the road, from a rackety white van, an old, sun-leathered woman was pressing tortillas methodically to use as the base for a typical 'trucker's' breakfast.  The Latin American equivalent of an early-morning truck stop to grab an Egg McMuffin.  Unsurprisingly though, a whole lot better.  On a grubby white plate, we were given a tower of steaming, corn tortillas, with a pile of sunny scrambled eggs, queso fresco (fresh cheese), refried beans and sour cream.  Fresh.  Simple.  On.  The.  Money.  One of those meals that flashes on like a lightbulb in your memory at surprising moments, captivating your senses and transporting you eerily back to that exact place and time.  The memory still lingers of sitting on the dry bank of the road, with the other Honduran early-risers, listening to the country waking up, the cows stretching and jangling their bells, and feeling utterly content as I loaded up my tortillas and scoffed the lot.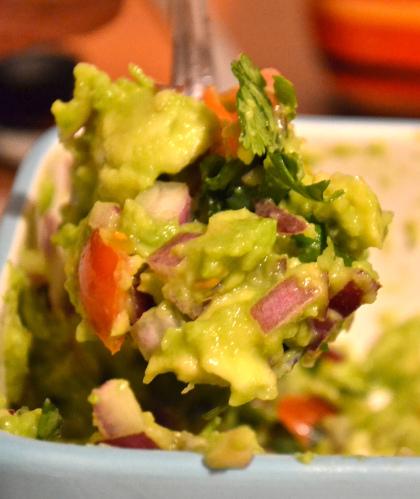 Some serious guacamole
This taco party was a world away from the simplicity of that breakfast.  I couldn't stuff a tortilla with more if I tried.  If Mexico had been warily watching over us, it would have been shocked and disgusted at the sight of their native corn tortillas straining with more filling than you could shake a sombrero at.  Restraint is not my strong point.  Obviously.  The Mexican beef was made unctuous and meltingly gelatinous by using the often-marginilised beef cheek – marinated in a medley of authentically Mexican spices, and braised slowly in beef stock and lime juice, the meat became dark and deeply savoury, developing an umami-like quality.  The Barbie pink pickled onions were sharp and tangy, and much needed to lift the taco from being overly rich.  Whack on some homemade, chunky guacamole, a scattering of crispy corn and red pepper salsa, a dollop of refreshing sour cream and a few leaves of sprightly coriander and you've got a damn fine taco.  Understated – absolutely not.  Beautiful and delicious – hell yeah.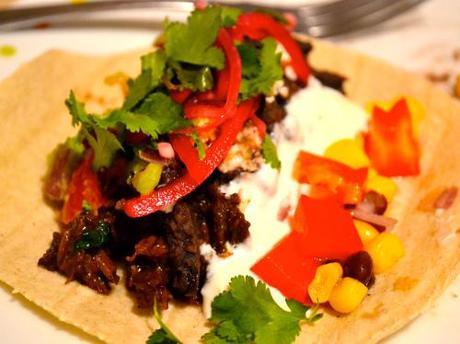 A pretty fine taco
Mexican Braised Beef Tacos
(Adapted from The Huffington Post and Food 52)
Serves 6
Ingredients
1.2 kg beef cheeks
1 dried red chilli
4 garlic cloves
1 tsp unsweetened cocoa powder
1½ tsps instant espresso powder
½ tsp cinnamon
2 tsps ground cumin
1½ tbsps natural peanut butter
4 tbsps olive oil (2 tbsps for the marinade, 2 tbsps for frying the beef cheeks)
1½ tbsps honey
1 tsp salt
1 handful fresh coriander, plus more for serving
1 cup beef stock
3 limes
Clean and trim the beef cheeks.  Cut them into large (2 inch) chunks.  Put them in a container in which you can marinate them.
Rehydrate the dried red chilli in a little hot water, just enough to cover it.  Combine all (including the chilli and it's water) the ingredients apart from the beef stock and limes in a food processor, and whizz until you have a paste.  Pour the paste all over the cheeks and mix so that they are completely coated.  Leave to marinate in the refrigerator for several hours or, better yet, overnight.
When it is time to cook, heat the oven to 140°C and heat 2 tablespoons of olive oil in a heavy bottomed casserole over a medium heat. Brown the chunks on all sides. Use the stock to rinse the rest of the marinade into the casserole, then squeeze in the juice of the limes.
Braise for about 3½ hours, giving the cheeks a stir once or twice while they cook. If the liquid dries up, add a bit more stock.
When the cheeks are fall-apart tender, use two forks to pull the meat apart in the pan so that it mixes in with all the fatty juicy goodness.
Pink Pickled Onions
1 red onion, peeled
¼ beetroot
1 handful coriander leaves
1 tbsp salt
2 tbsps sugar
Cider vinegar
Slice the onion very thinly and put it in a microwaveable container. Add the beetroot, coriander, salt, and sugar. Cover everything with 1 part water to 2 parts vinegar.
Microwave for 1 minute, stir, and microwave for another minute. Cool, then refrigerate overnight.  Remove the beetroot before serving.
Not-quite Guacamole
Ingredients
3 avocados
1 lime
¼ red onion
Handful of cherry tomatoes
Bunch of coriander
Salt
Finely dice the red onion and put in a nice bowl.   Cut the avocados in half, remove the stone, and scoop the flesh into the bowl.  Squeeze in the juice of the lime and mash the avocados with a fork until they start to look like guacamole.  Quarter the cherry tomatoes and add to the bowl along with a good handful of chopped coriander.  Add salt to season and give the guacamole a final stir.
To make a mega taco, serve the Mexican beef, pink pickled onions and guacamole with warmed corn tortillas, sour cream, salsa and fresh coriander.