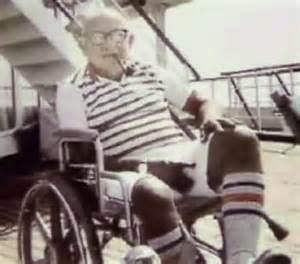 Leon Klinghoffer
FoxNews: When the Metropolitan Opera announced in February that it would present John Adams' "The Death of Klinghoffer" this fall, there was, as Peter Gelb recalls it, "absolutely no reaction" at first. Then the firestorm erupted.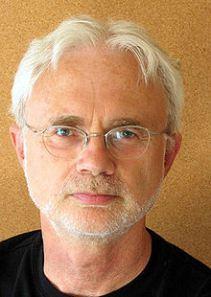 Composer John Adams
Starting in May, the company's general manager said he and board members began getting "hundreds of emails and phone calls in an organized campaign" demanding they cancel the production. Those objecting to the opera, which recounts the murder of a disabled Jewish American passenger by Palestinian hijackers on the cruise ship Achille Lauro in 1985, claim it is anti-Semitic and glorifies terrorists.
"I've been attacked as a self-hating Jew, a fascist, a Nazi and members of the cast have gotten emails telling them their names will be stained forever," Gelb said in an interview in his office last week.
The Met is going ahead with the production — the first of eight performances was on Monday, Oct. 20. But the attacks have had their effect: The company pulled the plug on planned HD and radio broadcasts, canceled a panel discussion out of safety concerns, agreed to include a note in the program from Leon Klinghoffer's daughters denouncing the opera and arranged for stepped-up security to deal with likely protests both outside and inside the house.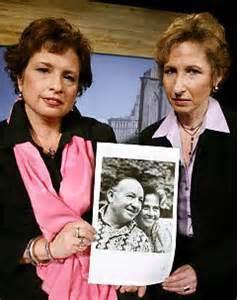 Klinghoffer's daughters
"Klinghoffer," which Gelb and many music critics consider Adams' finest work, has provoked controversy from the time of its premiere in 1991 in Brussels, Belgium. Some later productions were canceled and others were picketed, though the Met clearly hoped that after 23 years the furor had died down.
Many opponents single out a few lines in the libretto by Alice Goodman, who also collaborated with Adams on the earlier "Nixon in China." In Act 2, one of the terrorists, Rambo, delivers a diatribe that includes the words: "Wherever poor men are gathered they can find Jews getting fat," and "America is one big Jew."
What these critics often fail to note is that Rambo's speech comes directly after an aria in which Klinghoffer excoriates the hijackers for terrorist atrocities: "You pour gasoline over women passengers on the bus to Tel Aviv and burn them alive. … You just want to see people die."
Gelb said those attacking the opera are "taking some of the words from the text which are obviously anti-Semitic because they're the words of the terrorists.
"I believe an audience can filter and understand the story, which is clearly not sympathetic to murdering this poor Jewish victim," he said. In the opera, as in real life, Klinghoffer is shot in the head and his body is thrown overboard in his wheelchair.
A broader objection focuses on the way the opera humanizes the terrorists and shows the historical and emotional background of their actions. Lisa and Ilsa Klinghoffer write in their program note that the work "presents false moral equivalencies without context and offers no real insight into the historical reality and the senseless murder of an American Jew. It rationalizes, romanticizes, and legitimizes the terrorist murder of our father."
Tom Morris, who directed "Klinghoffer" at the English National Opera in 2012 (where it met with almost no opposition) and is supervising a restaging of his production at the Met, takes issue with that argument.
"It's an opera with a hideous crime at its center, the murder of an innocent man," Morris said. "While representing that crime and that violence, you need to animate what might be motivating the people who committed it. … It's the job of dramatic art to allow us to understand why people might do terrible things."
While taking heat on one side for going ahead with the opera, Gelb has also been accused of cowardice for his decision to cancel the HD simulcast of a live matinee performance to movie theaters worldwide. Gelb said that was especially "painful," since the HDs are "something I invented and am very proud of."
But he said, "There is a huge sensitivity on the part of the Jewish community here and abroad about growing anti-Semitism in Europe. So the argument that was presented to me was how can you present this opera with its message outside the U.S.?"
He clearly doesn't buy the notion that an HD broadcast might foment more anti-Semitism. "The audience for that are not going to be terrorists," he said. "They're not going to be Le Pen followers," referring to a right-wing French political party.
Still, Gelb said, "I needed to make some kind of compromise gesture that would appease a very concerned faction" that included some donors and the Anti-Defamation League. His more extreme opponents have not been placated, however, and several hundred picketed the season's opening night.
Morris remains convinced that those protesting the production represent "a comparatively small group of people who feel very strongly. "For me," he said, "any piece of opera programming which connects with a wider conversation in society is a good thing." And then, in what may be wishful thinking, Morris added: "I hope some of them will see the opera."
Feel free to contact the Met: @MetOpera or (212) 799-3100 or drop them an email.
DCG