Each month I promise myself that I will be more regular with my posts and upload them on time. In fact it was one of my new year's resolutions. But invariably something or the other happens and derails my plans. As per my schedule, I was supposed to upload this post on Thursday i.e. 5
th
 and here I am posting it on 9
th
. I know I am way off the mark! But this one time, I am not too disappointed with the delay. 'Reason' you ask? Well, I was away to Surat, the diamond hub of India for a weekend break and a promise from my hubby to buy me a diamond ring. But fate had other plans...the diamond merchants across the country went on a nation-wide strike! Can you believe that! Absolutely unfair
L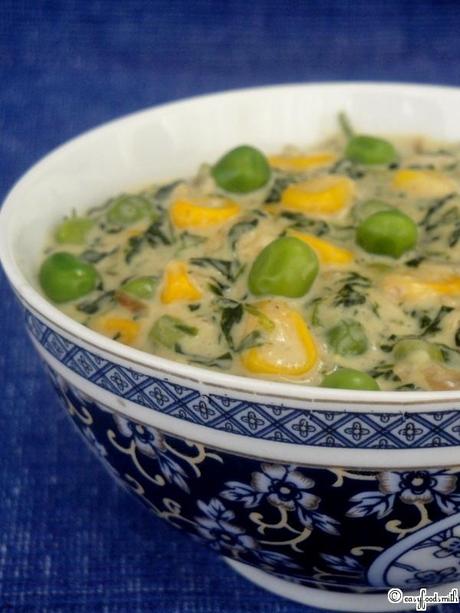 Back home, I was still nursing my unfulfilled mission, when a friend called up to say while going through my blog she noticed that I had not posted many vegetarian dishes. She had wanted to make a few veg dishes for her hard core non vegetarian family during Lent but could only manage to procure a few. I had to agree with her that a vegetarian dish was indeed due. So here I am with an absolutely delicious, mild and creamy vegetarian dish that can be enjoyed as a side dish/main course or as a filling for your sandwich.
I love the intricate flavours of this dish – the sweetness of the peas and sweet corn, a mild bitter hint from the fenugreek, slight nuttiness of the cashews and of course there is the creaminess from the cream (which I used judiciously) and milk. The marriage of these flavours works beautifully and will leave you wanting for more. Though fenugreek can be replaced by greens of your choice such as spinach, yet I would recommend this dish to even those who are not too excited about fenugreek in their meals. Try this preparation and you will fall in love with it! I cooked, clicked and uploaded the dish in a such a hurry that I could not do justice to its 

appearance

 presentation. 
Here is what you will need:
2 cups fresh green fenugreek (washed, finely chopped)
¾ cup green peas (shelled & boiled)
¼ to ½ cup corn kernels (boiled)
1 tbsp cashew nuts
1 tbsp cream
½ cup milk+ ½ cup for making cashew nut paste
1½ tbsp olive oil (or refined oil)
1 generous pinch cumin seeds
1 small onion (finely chopped)
½ tsp ginger paste
½ tsp garlic paste
3-4 green chillies (split)
½ tsp coriander powder
½ tsp garam masala powder
¼ tsp white pepper powder (+/- to taste)
½ tsp dry mango powder (+/- to taste)
Salt to taste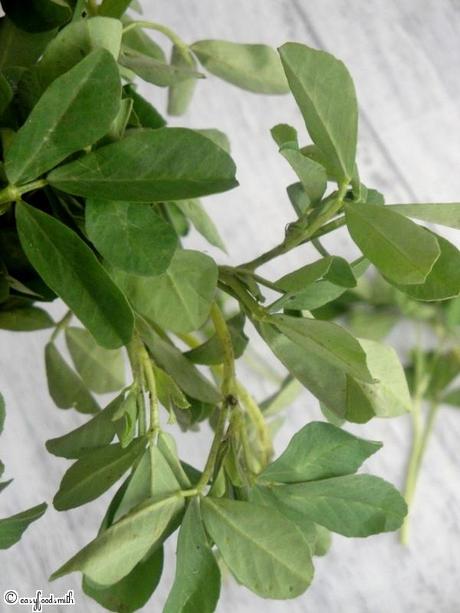 Sprinkle about ¼ tsp salt to the fenugreek leaves and mix them well.
Keep them aside for approximately half an hour. Squeeze out the water and keep it aside.
Make cashew nuts paste by adding milk. Add milk gradually till you have the desired consistency.
Heat oil in a pan and add cumin seeds. Once they crackle, add onions, ginger garlic paste and fry till the ginger and garlic become fragrant and the onions become translucent.
Add fenugreek leaves and sauté for five minutes on medium heat. Add peas, corn & split green chillies and sauté for another minute or two.
Add cashew paste, cream, salt, dry mango powder, white pepper powder, coriander powder and garam masala and cook for half a minute. Add milk now and cook for further 3-4 minutes.
Serve with chapatti or as filling for sandwich.
Note: Boil the green peas till they are done but firm.
Note: I have reduced the amount of cream to 1 tbsp from 3 tbsp. For rich gravy use this amount. Also, feel free to adjust the amount of milk, if using.
Note: The addition of dry mango powder is optional but I like the hint of tang it adds to the creamy flavours.
Note: Since the fenugreek leaves were marinated in salt, be watchful with the amount of salt you add to the dish.
Note: I used split green chillies but you can add finely chopped if you want more heat in the dish.
Note: Reduce the gravy so that you have a nice thick creamy filling for your sandwich

Serves 2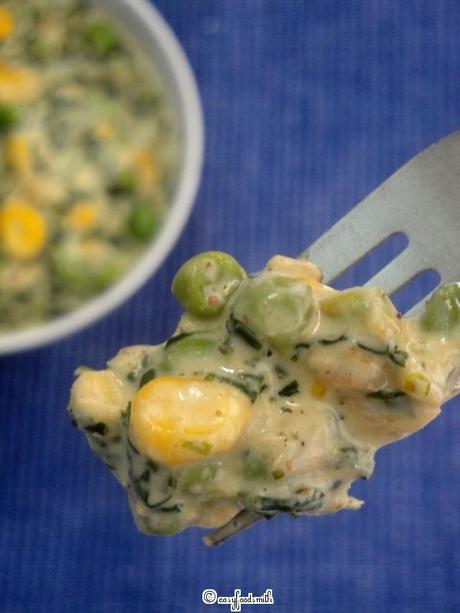 A special mention here...
Kirsten of 'The Foreign Domestic' blog featured my Oregano Chicken dish on her From Your Kitchen to Mine event where she is show casing 100 recipes from various blogs. Check out

her blog

for more details.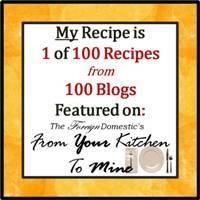 Also, the Asian Inspired Pineapple Cucumber Salad was  amongst three recipes featured on 

Any One Can Cook - Series 45

, an event run by Ayeesha of 

Taste of Pearl City

blog. Hop over to her blog and check out her lovely creations.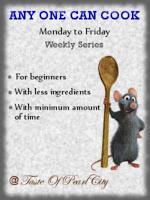 Thank you ladies for the honor. I really appreciate it 
J
Thanks for visiting and see you again!
IT IS ALWAYS ENCOURAGING TO HEAR FROM FRIENDS AND READERS. I CAN ALSO BE REACHED AT:
[email protected]