New Album 'World In Decay' Produced By Michael Rosen Due Out August 4th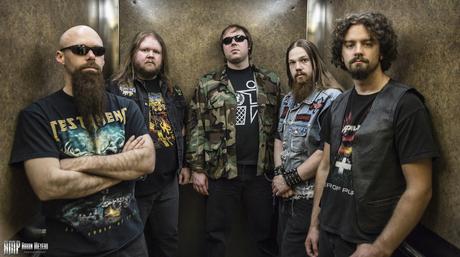 L- R - Steve Spitzbart - Drums, Bradzilla - Vocals, Erik Hanson - Guitars, Carl Larsson - Bass, Matt Be Roth - Guitars (Photo Credit - Aaron Meyers)
Video - Nightmare - Watch here + Free Song Download here.
  Seattle, WA thrashers FALLEN ANGELS have teamed up with Metal-Rules.com for the song premiere of 'Forsaken Existence', which is off the 
band's upcoming third studio release
'World In Decay'
 produced by Grammy award winning metal producer/engineer Michael Rosen
 (Forbidden, Testament, Death Angel, Flotsam and Jetsam, Tesla, Vicious Rumors). 
To listen to 'Forsaken Existence', please visit the following link: 
http://www.metal-rules.com/metalnews/2015/07/14/fallen-angels-forsaken-existence-metal-rules-com-exclusive-premiere/
'World In Decay' is set to be released on August 4, 2015 via their indie label Cyberdyne Records to follow 2010's 'Engines of Oppression' and 2008 debut 'Rise From Ashes' released on Metal On Metal Records.  The band also plans
 to tour extensively this fall, bringing their explosive live show full of thrash and shred, which they are known for as a local favorite in the Pacific Northwest.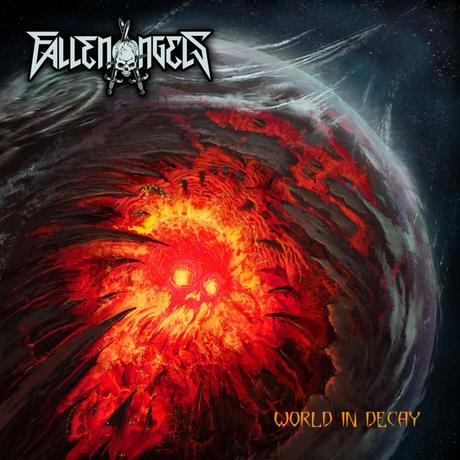 Track Listing - Fallen Angels - World In Decay
1. The Hammer's Blow (4:25)
2. Nightmare (4:58)
3. Forsaken Existence (5:05)
4. Leading the Blind (4:36)
5. Fire At Eden's Gate (6:13)
6. Into The Abyss (5:39)
7. The Hour of the Time (5:40)
8. Mortis Ex Machina (4:28)
Album Length: 41:08
About:
Capturing the classic thrash sound of the Big Four in their prime; early Metallica, Testament, Slayer, and Megadeth as well as lesser known cult heroes Exodus, Annihilator, Forbidden and Havok.  FALLEN ANGELS is influenced by a wide range of 80's thrash as well as classic metal from the 70's and 80's. The band combines these elements in a fresh, modern sounding album with the explosive riffs and solos that one might have expected to hear on the radio around 1989.  FALLEN ANGELS is a band that thrash fans and more classic metal oriented fans can agree on because the music is catchy but also very aggressive.
For more info, please visit: http://www.fallenangelsthrashband.com.