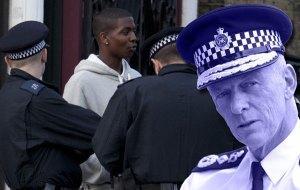 The number of Black youth arrested in London is set to shoot up following a pledge by the Metropolitan Police Commissioner to quadruple the proportion of arrests resulting from stop and search.
Black youth are already 28 times more likely to be stopped and searched than white youth in the capital.
Now Scotland Yard boss Bernard Hogan-Howe (pictured) has committed his force to a 20 percent arrest rate target which represents a three-fold rise from the current arrest rate of six percent.
With Black youth already being disproportionate targeted through stop and search this new quota is bound to cause a dramatic rise in the numbers of Black youth arrested on the streets of London.
The Met boss has ushered in the new arrest rate target under the guise of "scaling back" stop and search by halving the use of 'Section 60′ stops, where officers can search members of the public without having reasonable suspicion of a crime having been committed – effectively the new 'sus laws'.
Although the reduction in the random use of s.60 powers is welcome it does not go nearly far enough. Hogan-Howe has also failed to introduce any measures to reduce the shocking disproportionality of Black youth being stopped.
Police constables, faced with meeting the new 20 percent arrest rate target and not having any incentive to stop singling out Black Londoners, will face the temptation to arrest more Black youth even if there is no evidence to charge or caution them.
Last night I challenged the Met's Assistant Commissioner Simon Byrne over this issue at a policing consultation event at the Secombe Theatre in Sutton. I expressed fears that far greater numbers of innocent Black youth could be arrested and released with no further action in order to bolster officers' arrest targets.
Such a scenario would further damage the Black community's confidence in the police and plug the stream of intelligence officers need in order to target criminals instead of randomly searching innocent young people.
More youth arrested and released without charge would lead to increased tensions and make it even harder for police to use stop and search effectively creating a catch-22 situation.
Byrne acknowledged the disproportionality in the figures and that it damaged relations with the Black community and repeated Hogan-Howe's intention to reduce s.60. However he sidestepped the question over whether more innocent youths would be arrested as a result of the arrests target.
Scotland Yard seem to believe that cutting back s.60 stop and searches will automatically nullify the issue and I am far from convinced that will be the case. If officers are to exercise the stop and search tool more effectively they will need a far higher level of intelligence-led stops while at the same time dramatically cutting back on random stops. This requires a complete sea-change in their approach.
Hogan-Howe clearly wants to reduce the controversy caused by stop and search but will need to do more than simply call for borough forces to reduce s.60 to make it happen.
At the same time the new 20 percent arrest quotas risk making the problem worse with more arrests of innocent Black youths in order to meet the target.
By Lester Holloway @brolezholloway