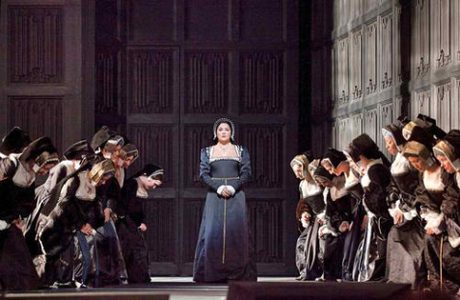 Anna Netrebko in the Met's
Anna Bolena
What an odd title for a piece about radio and HD broadcasts of obscure or rarely performed works by the Metropolitan Opera. Well, of course I couldn't miss them! What kind of an opera buff do you think I am? But a brush with fate or an unforeseen set of circumstances often forces one to forego that cherished dream of hearing a treasured piece that may never come our way again.
I don't want to go too far back into the Met Opera's annals, only far enough to satisfy my curiosity that the works I happened to have missed the first time round were worth their revival. Along with this notion are the operas that, through poor staging, inadequate conducting, or even poorer singing, I hope to never encounter again.
Off With Their Heads!
Let's start with Donizetti's Anna Bolena which kicked off the 2011-12 season with a new production. This was the first of three works in a planned Tudor Trilogy, directed by Scotsman David McVicar, to include in later seasons the same composer's Maria Stuarda and Roberto Devereux. In the title role was the company's newly crowned queen of opening nights, Russian diva Anna Netrebko, who had previously excelled as Mimì in La Bohème and Lucia in Lucia di Lammermoor.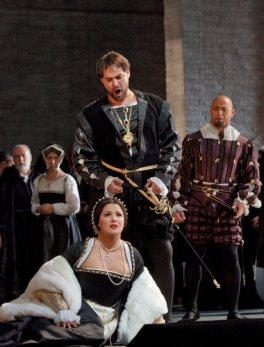 Anna Netrebko as Anne Boleyn, with Ildar Abdrazakov as Henry VIII in
Anna Bolena
As the first to be composed, Anna Bolena premiered in Milan on December 26, 1830. The second, Maria Stuarda, made its debut four years later in Naples, followed in 1837 by Roberto Devereux. Along those lines, the composer wrote their scores in more or less strict adherence to the historical chronology of the three Tudor queens.
According to Opera on Record: Volume 3 (edited by Alan Blyth), the most successful was Anna Bolena, but all three vanished from the European repertoire after the mid-1880s, that is until the bel canto revival of the 1950s brought renewed interest in producing them. The late Maria Callas was a strong proponent of Anna Bolena, revived for her by La Scala in 1957 in the fabulous Luchino Visconti production.
Today, there is no singer of Callas' stature to do the part justice — period. But we do have Anna Netrebko, which is about as close as we're going to get. I hadn't seen her in many a year, so I was unprepared for Netrebko's more (ahem) matronly form as Anne Boleyn. No matter what she looked like, though, Anna fully incorporated (no pun intended) the part of Henry VIII's tragic second wife. What struck me as significant for her future Met career were her sterling vocalization and the fullness of voice she brought to the role's extensive range. However, she received little help from McVicar's drab production.
Along with Netrebko, some of the other participants, including bass Ildar Abdrazakov as King Henry and mezzo Ekaterina Gubanova, were basically marking time; they also must have been singing in a language other than Italian, so mushy and garbled was their diction. Nevertheless, as ill-suited to bel canto flourishes as they may have sounded, all three Slavic artists acquitted themselves well as actors, but without the ease and comfort in fast or florid runs called for in Donizetti's score.
It was left to American tenor Stephen Costello to make something out of Lord Percy's music, which he did his best to convey despite a smallish voice and demeanor. The conductor was Marco Armiliato, a strange choice indeed for such an important assignment as this Donizetti work, which was receiving its first major performance at the Met. Gone are the days when a Carlo Maria Giulini or a Tullio Serafin could be relied upon to deliver the bel canto goods.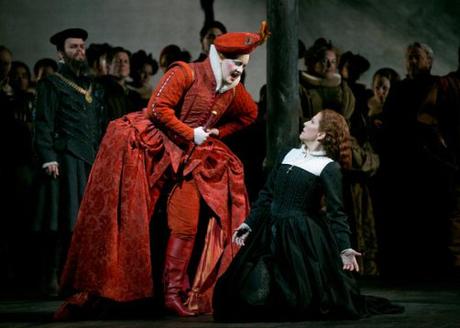 Elza van den Heever as Elizabeth I, with Joyce DiDonato as Mary Stuart in
Maria Stuarda
I missed the Maria Stuarda revival of the 2012-13 season. This time, the Met contracted mezzo Joyce DiDonato, a bel canto specialist, to take on the title role. South African soprano Elza van den Heever made her Met debut as neurotic Queen Elizabeth I. Unlike the earlier Anna Bolena, Maria Stuarda faced considerable difficulty, not only with the censors but musically as well. The original autograph score no longer exists; therefore, many subsequent productions of the work have had to rely on secondary sources and refurbished material to pull it off. Both DiDonato and van den Heever triumphed in the Met's production, with the critics inclined to single out Polenzani for special praise as the Earl of Leicester.
As for Roberto Devereux, tenor Matthew Polenzani is set to star as the title character with a Met Opera premiere in March 2016, wherein American soprano Sandra Radvanovsky is scheduled to play all three of Donizetti's queens in this opera and in the other two works cited above. They will be partnered in Devereux by Latvian mezzo Elina Garanča and Polish baritone Mariusz Kwiecen. Elza van den Heever will return as the finicky Elizabeth in Maria Stuarda, with Radvanovsky taking on Anne Boleyn to Garanča's Jane Seymour. The battle of the bel canto divas will begin in a moment…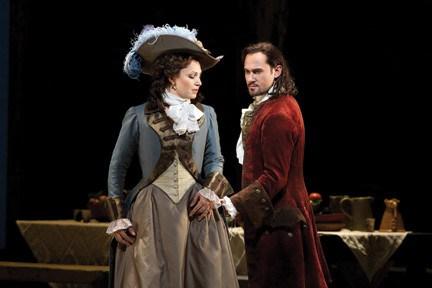 Barbara Frittoli as Donna Elvira & Mariusz Kwiecien as the Don
Tenor Polenzani took the honors as Don Ottavio in the second new production of Mozart's Don Giovanni, directed by Michael Grandage. Unfortunately, he wasn't in the cast of the Saturday broadcast that season, but Mexican tenor Ramón Vargas was. Vargas shone in the role; his then-sweet sounding tone easily encompassed the long lines with impressive breath control in "Il mio tesoro."
In more recent seasons, Vargas has not sounded nearly as seamless: his forced high notes in Verdi's Don Carlo and in the San Francisco Opera revival of Boito's Mefistofele were cause for concern. Perhaps he's been meddling where he should not, i.e., in heavier spinto territory. Mariusz Kwiecen made for a rough-and-ready Don Giovanni with little of the litheness of spirit and vocal sheen demanded of the roguish part. Physically, however, he was one sexy beast but the part demands much more than that. Again, he and the rest of the cast, including a stunningly dressed Barbara Frittoli as Donna Elvira, were left at sea by the multi-tiered production.
Then we had the horrendously misconceived Faust by director Des McAnuff. Now, as much as I've admired Jonas Kaufmann's fine voice and superior acting skills in just about anything, and as much as fellow German René Pape enjoys a splendid reputation as one of the opera world's premier bass-baritones, neither artist overcame the plain fact that they were unsuited to this most delicate of works. Perhaps Faust's time has come and gone; I like to think it hasn't.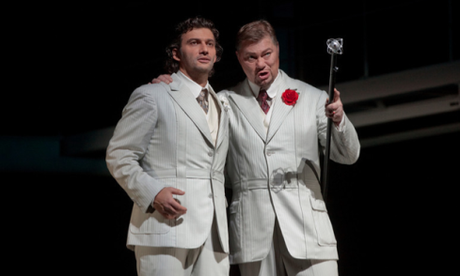 Jonas Kaufmann (Faust) & Rene Pape (Mephistopheles) in
Faust
In the 1950s, there was many a poor performance by the Met of this noble creation, usually cut to shreds. True, Gounod's parlor music for his French adaptation of poet Goethe's two-part play may have done away with the inherent philosophical arguments. Still, it's one of the most sublimely written pieces in the entire French opera canon (or should I say opéra-comique). It needs a director with enough care and love for this kind of music-making to bring out its scented fragrance, not trample on its blossoms. What it doesn't need are singers who, despite their acknowledged prowess in Wagner, fail to realize the work's potential.
What we also need are less of the kind of nonsensical productions foisted upon unsuspecting audiences that this travesty of a Faust purportedly showed.
Last but not least, the bowdlerized pastiche of Baroque opera, The Enchanted Island, with arias and ensembles culled from disparate elements of Handel, Vivaldi, Rameau, André Campra, Sir Henry Purcell, Giovanni Battista Ferrandini, and Jean-Féry Rebel, written and devised by Jeremy Sams, while providing a dramatic framework of sorts in a fabricated plot (talk about Deus ex machina!), was tough sledding all the way.
The singing was spot on, however, thanks to such talents as countertenor David Daniels, mezzo Joyce DiDonato (always a joy to listen to), soprano Danielle de Niese, and bass-baritone Luca Pisaroni. Plácido Domingo, in one of his rare forays away from Verdi, sang the role of King Neptune, which for me turned the whole underwater sequence into a live-action version of The Little Mermaid, sans Alan Mencken and Howard Ashman's tuneful score.
Sebastian the Crab must have been rolling over in his shell for this one! And, indeed, it looked about as silly as it sounded. If it wasn't for the singing, I'd chalk this work up to the D.O.A. files.
Copyright © 2015 by Josmar F. Lopes