I found a message in a bottle on the beach that is very much opposite to the Queen's Palace in Den Haag. The name of the beach is Scheveningen Beach. Another name for Den Haag is The Hague. The Hague is a calm and beautiful city on the North Sea coast of the western Netherlands. The life stops here after 7.30pm. Its Gothic-style Binnenhof (or Inner Court) complex is the seat of the Dutch parliament. 16th-century Noordeinde Palace here is the king's workplace. The city is also home to the U.N.'s International Court of Justice, headquartered in the Peace Palace, and the International Criminal Court. I was staying at Tulip Hotel that was quite close by to this beach. You can go by walk or take a tram. It's around 2 kilometers from that hotel. It is very interesting to know why is it called Den Haag.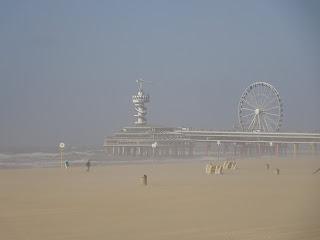 Photo credit: 
harry_nl
 on 
Visualhunt.com
The official name Den Haag from Des Graven Hage, which means "the counts' hedge" and refers to the fact that Dutch noblemen once used the land for hunting. Well, that was my first visit to tht beach. A number of people of various ages were sitting in a row on the wall adjacent to the beach with their fishing nets dropped in the sea waters hunting for fish for their dinners. Before getting myself into the waters for a quick swim, I climbed up the huge tower situated on the beach. From the top, it was a great panoramic view of the city. After coming down, I jumped into the sea and while swimming, I found a bottle that was coming towards me. Curiosity sake, I came back on the beach holding that bottle with a tight cork on it.
Inside, I could see a rolled paper and I eagerly pulled out that paper ensuring it doesn't get torn. Unfolding it showed me a wonderful message, "Discrimination due to age is one of the great tragedies of modern life. The desire to work and be useful is what makes life worth living, and to be told your efforts are not needed because you are the wrong age is a crime." - Johnny Ball. That was amazing and so insightful. Life stops only when we stop flowing with its dynamics. It happens only if we surrender or other's discrimination towards it makes it happen when we start aging. That was my golden period of youth and I was there in Netherlands on an official project. This quote just settled smoothly in my heart and mind immediately and that's when I decided I will never let anybody narrate me, or rather dictate me at my later years what I am capable of doing and what I'm not capable of doing.
I promised myself nobody will be able to play with my knowledge or emotions by means of any kind of discrimination. I started planning accordingly to ensure I stay my boss all the time, especially during those later years when age discrimination begins. That's why I can say very confidently whatever you do in your profession, wherever you are in you growth journey, never surrender to any kind of discrimination or similar kind of pressures from others, be it anybody. Don't allow anybody to drift you away from your mainstream life and its charms and challenges. 
This post is part of Blogchatter's CauseAChatter
This post is a part of Blogchatter Blog Hop