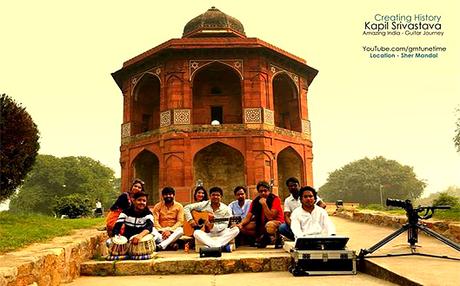 Let the rain fall upon you and kiss you, let the rain beat your head and make your feet dance, making pools at the sidewalks and give your dreams of love, romance and life. Let you become rain.
Kapil Srivastava, popularly known as the guitarmonk of India, the founder of Largest Chain of Guitar Schools and a veteran guitarist composes Merry Love Rain, a beautiful rain music with Grammy Winner Pt. Vishwa Mohan Bhatt.
The two maestros and amazing Indian guitar talents, creates a magnificent Guitar duet with Kapil playing the standard acoustic guitarwhile VM Bhatt embellishes it with the mohanveena slide guitar.
Duet with Grammy Winner
Kapil is an entrepreneur, author, artist from New Delhi, India. He successfully partnered Guinness Award in 2016 at Surat for Tallest Pyramid Cake and now doing an Amazing India Guitar Journey, which is also a world record initiative. He is touring Indian Heritage and creating a dedicated Raga on Guitar composition for each Heritage of India.
Raga on Guitar – https://www.youtube.com/watch?v=e8qITErpKg0