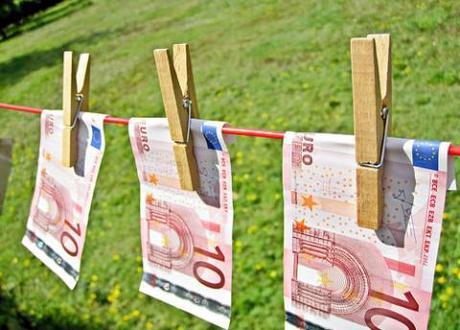 Euro: will it be hung out to dry? Photocredit: Images of Money http://www.flickr.com/photos/[email protected]/5857336815/sizes/m/in/photostream/
Problems appear to be nigh in the eurozone once more. Growth in the economic engines of the continent is faltering: in Germany and the Netherlands it fell to 0.1 percent in the last quarter, whilst in France it has all but stalled.  The risk of a double-dip recession is growing.
The Chancellor of Germany, Angela Merkel, and French President Nicolas Sarkozy, discussed the situation in a  summit in Paris yesterday. They wanted to restore confidence in the eurozone and in the markets. However, they failed to do so, refusing eurobonds (which would pool government debts, reducing the overall risk) and not increasing the eurozone bailout fund by more than £386 billion. This would not be enough to rescue one of the larger eurozone economies if it got into trouble.
Whilst claiming that they had an "absolute will to defend the euro" and that they wanted to "shore up investor confidence," what Merkel and Sarkozy did agree was hardly concrete: eurozone states should include a "debt-brake" in their constitutions; they also went ahead with plans for a tax on financial transactions (known as a "Tobin tax") in order to raise funds.
Other plans included  "a real economic government" in the Eurozone, which would meet twice a year and would be headed by a single appointed leader , starting with current European Council president, Herman van Rompuy.  The Guardian took the line that eurosceptics would see Merkel and Sarkozy's plans as "a political power grab for Europe."  And sure enough, The Daily Express quoted Nigel Farage, the leader of the UK Independence Party: "This is simply a monstrous constitutional power grab that will do nothing to solve the real economic crisis."
The final two suggestions were common tax policies for Germany and France; and to make sure that all European countries balance their books, paving the way for greater financial integration.
"What they say is not going to work," said Marchel Alexandrovich, an economist at Jefferies International Ltd. in London. "We could easily be back in September with them discussing either expanding the fund to 1.5 to 2 trillion or committing to a euro bond by 2013 or facing breakup. The politicians have their heads in the sand again."
No such thing as a panacea. Merkel and Sarkozy's meeting has come at a difficult time, said Bernd Reigert in Deutsche Welle. The leaders have been "unable to offer a panacea." The idea of eurobonds – which the markets "allegedly would like to see introduced" – is a hot topic in Germany, where both the ministers for finance and economics have "rejected calls" for them. Experts can't even decide about the effects of eurobonds.  Will they make Germany's costs rise, or will they actually solve the eurozone's debt troubles? Nobody knows. Even the chief economist of Deutsche Bank "judged that eurobonds quite simply were not the answer."
Europe needs to be strong. Britain needs to stick to its guns. The Times leader said there'll be "staunch resistance" to the "strong words" of Merkel and Sarkozy – electorates already feel they've given enough power to the EU. But, currency union necessitates control from the centre (an "overwhelming" argument against Britain's membership of the euro.) We need something to stabilise the eurozone, but it's just not happening. Eurobonds have been refused. The indebted eurozone countries are doing their bit, austerity-wise, but they can't "devalue their currencies," so can't make a change in living standards. Unless debts are restructured – and maybe some written off – there will only be "great hardship." Britain's 0.2 per cent rise in GDP now looks favourable, but everywhere else it is "feeble and fitful." The eurozone economies are facing a "lost decade of economic stagnation" – just what happened in Japan in the early 1990s. The UK, meanwhile, faces high levels of inflation. Cutting the budget deficit has "impressed the financial markets." We can't afford to lose that credibility. The government "needs to stick to the task it has set itself."