(Mendeleyev, Editor) I am grateful that one of my photos has been accepted for entry into a contest by Russia Beyond The Headlines magazine.
The photo showcases the beautiful blue domes of the Kazan Cathedral at Kolomenskoe Park, an outdoor museum/reserve created around the ancestral summer home of the grandparents of Peter the Great. This beautiful church took 5 years to build, 1649-1653, and is breathtaking both inside and out.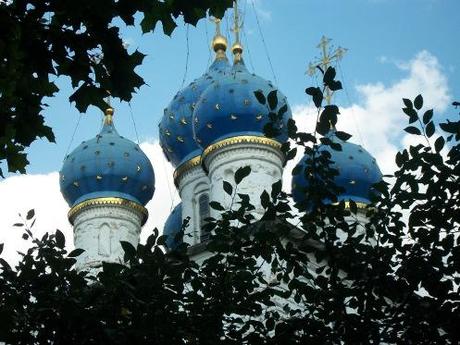 The young Peter (the Great) hunted in the woods which are now covered by sprawling shops and tall apartment buildings. Catherine the Great brought her grandchildren here to spend summers with her family. As one walks the grounds of this beautiful place it is hard to comprehend that Ivan the Terrible spend his childhood summers here at Kolomenskoe.
Daughter Kseniya took some time off to assist me the day I took a series of photos here and not only was she a competent assistant, but it was enjoyable to spend the afternoon with just the two of us. Later that evening we sat down inside one of the outdoor museum's little village cafes to drink tea and relax.