Every guy wants to look sharp and fashionable no matter what season. While it's easy to look good during the fall and winter, men's summer fashion can be quite tricky. With the temperatures rising up to 100 degrees, dressing well in the summer heat becomes almost impossible.
Under the unrelenting glare of the oppressive sun, personal styles get brushed aside. Men are forced to shed their layers and choose a more relaxed outfit just to get through the next 12 hours without looking dishevelled. The summer months call for men's casual style. In fact, many of them are seen wearing crew neck t-shirts, sleeveless shirts, shorts and flip flops in summer months. While these pieces of clothing will keep you comfortable during the dog days of summer, they're not the best outfit of choice if you want to look cool in hot weather.
Men's summer fashion is constantly evolving, and so should your style. Now is the best time to go out of your comfort zone and try something different. Here are some summer men's fashion trends to keep this season. This men's style guide will go a long way in updating your summer look.
Cuban collar shirt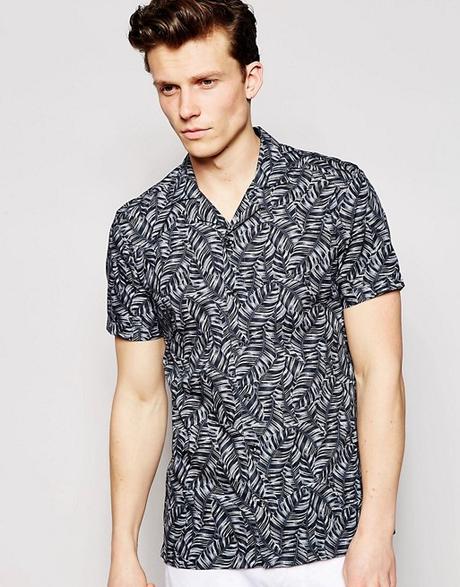 Image Source: http://us.asos.com
Cuban collar shirt is defined by an open, almost notch lapel-like collar. The earliest version of this particular shirt appeared in South Africa sometime during the 18 th century. It is a classic staple, and it's making a major comeback. In fact, they began resurging in 2014.
Relaxed, breathable and seriously on trend this season, nothing adds a summer vibe to your style than a Cuban collar shirt. This type of shirt is commonly made out of linen or cotton, which makes it perfect for summer. It is a style that will make you stand out from the crowd in a chic and subtle way. Ditch your everyday button down shirt and opt for a Cuban collar shirt.
To help you truly embrace summer, try pairing a bold-colored or printed shirt with neutral-colored pants or shorts. This will help keep the focus on your shirt. If you wish to wear it work, pair it with a lightweight blazer to keep things smart.
Printed t-shirts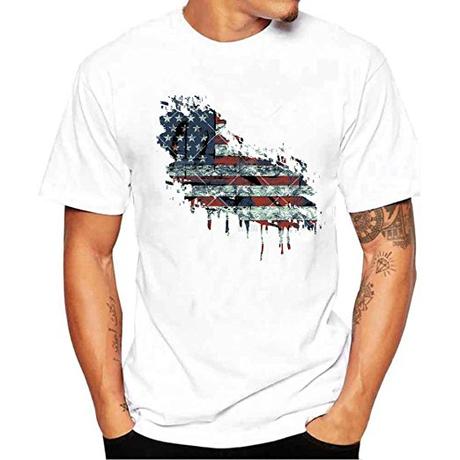 Image Source: https://www.amazon.com
It isn't just the Cuban collar shirts that have been making their way back into men's style. Printed t-shirts are one of the most surprising comeback trends. The more relaxed way of dressing encouraged designers and retailers to incorporate fun and youthful prints into casual pieces like t-shirts, dress shirts jackets, caps, and even socks.
Side stripe trousers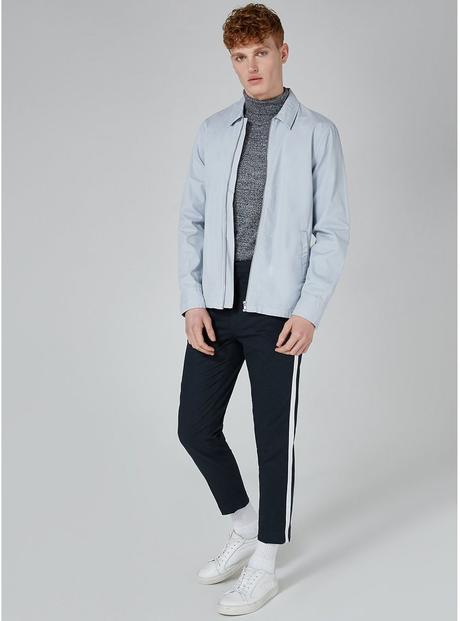 Image Source: http://www.topman.com
Side stripe trousers are a huge menswear trend right now. These pants are a cross between dress pants and joggers. They are doing the rounds on the men's wear circuit these days, and it looks like they're here for the haul. In fact, luxury designers like Dior Homme and Gucci have featured these pants in their collections.
If you want to keep up with men's summer fashion, we suggest that you add side stripe trousers to your legwear rotation. Not only are they comfortable to wear, they bridge the gap between formal and sporty. You can wear these pants when you're off to the gym, hanging out with friends or to work. There's a wide selection of side stripe trousers out there, you can even get suit trousers with a side stripe.
Balance is key to making side stripe trousers work without looking like you'll be running the marathon. You can wear your favorite sneakers or trainers with them, but make sure that you pair them with a slim fit shirt or a smart knit.
A good graphic t-shirt can add interest and contrast to an otherwise plain look. It can even pull an outfit together. To incorporate this men's summer fashion into your everyday wear, simply pair it with a pair of black jeans and a pair of trainers. This offers a versatile and stylish look instantly.
Printed shirts can be a bit tricky to wear, but are actually one of the most versatile pieces of clothing any man can own.
Canvas sneakers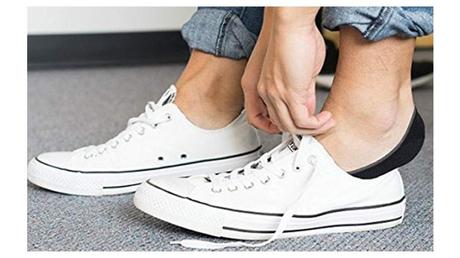 Image Source: https://heavy.com
The shoes are one aspect that is often overlooked in men's summer fashion. Canvas sneakers are perfect for the hot weather, and look great with a variety of outfits. They work well with shorts, chinos as well as jeans. The woven fabric lets your sweaty feet breathe in 100-degree weather; thus, keeping your insoles from resembling a petri dish at the end of the day. It's never too late to get some canvas sneakers into your footwear rotation.
Boat shoes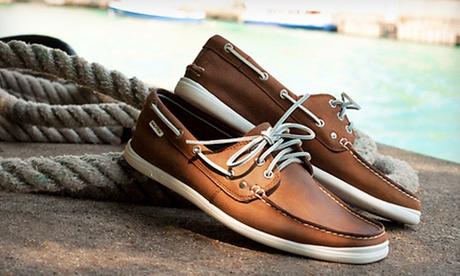 Image Source: https://www.groupon.com
The boat shoes rose into prominence during the 1960s, during the nation's obsession with New England prep style. These shoes were originally used to keep sailors safe and prevent them from slipping while navigating the slippery boat deck. Today, however, they are considered as classic summer footwear. They are a great addition to your summer arsenal.
For the perfect summer vibe, we recommend pairing them with a pair of jeans shorts or Bermuda shorts. Boat shoes can be paired with pants as well, but they look best when worn bare ankle. Try rolling up the hem of your pants, and make sure that you leave the socks at home.
Sunglasses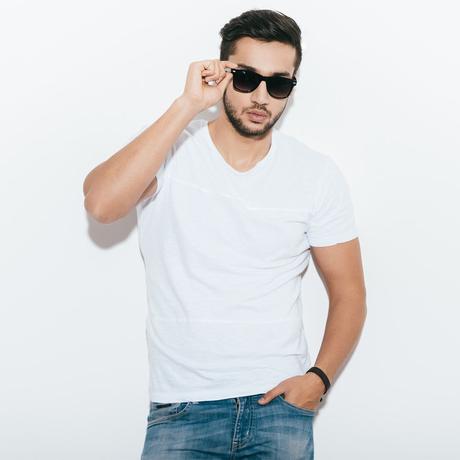 Image Source: www.pinterest.com
Unlike women, men's summer fashion can get boring. Often, they are limited to shirts, shorts or pants. One way to spice up your outfit is through the use of accessories, and we think sunglasses are the perfect accessory for summer. They add an air of mystery to even the most boring schlump, make your face seem more chiselled and strong, and they also keep your eyes protected from the sun's glare.
Sunglasses are bolder than ever this year, with so many different men's sunglasses styles to choose from. From wayfarer to aviator to round-framed sunglasses, choose a style that suits your face shape and you'll look pretty damn good.
Weekend Bag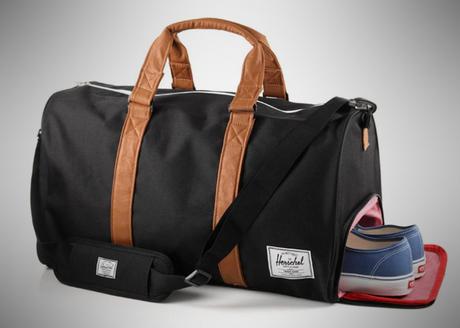 Image Source: http://www.thecoolist.com
By the time summer rolls around, almost everyone is ready to hit the road. Whether you're heading to the gym, beach or the other side of the world, you want to make sure that you have a great weekend bag that would carry all your essentials.
A weekend bag is more of a necessity than a luxury. That said, we highly recommend that you invest in a product that is long-lasting, visually appealing and of high quality. From weekenders to stylish backpacks to totes, it's time to start thinking about the right bag to carry your stuff.
Men's summer fashion trends are making a huge comeback
History repeats itself, they say. This old saying seems to be applicable with the fashion world. We are creatures of habits and tend to revert back to what we're used to. In fact, we've been seeing a renaissance in men's summer fashion trends in the past few years.
Last time, we wrote about Men's Fashion and Style Through the Years, where we talked about men's casual style and the different fashion trends over the past century. This article is recommended for fashionable men, who try to keep up with the latest fashion trends. If you haven't read it yet, we recommend that you do so.