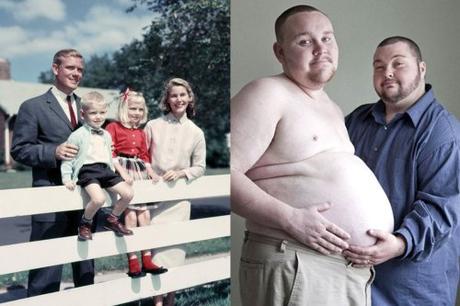 The old, boring, lame straight way versus the new, cool, groovy gay way. Be cool! Be groovy! Turn gay or bi or pan or sapio or whatever! Turn into the opposite sex or both sexes or neither sex or whatever! Who cares! Do whatever you want! We don't care as long as you are having fun!
The old way versus the new way. The old way was lame and boring. They had these fake things called men and women and boys and girls and pretended that everyone got born that way! Stupid! Everyone knows a boy can turn into a girl or vice versa. A man can turn into a woman or vice versa. We can decide to be anything we want! Soon we will even decide whether we are humans or nonhuman animals! Isn't that cool! I want to be a snake! Hell I've been one most of my life anyway, so why not?
In the photo above, that transman is actually pregnant. Transmen are men! They're not woman pretending to be men or anything like that! They're real men, as real as the dick in my pants, boys and girls! That person next to the transman is it's husband I guess. I don't know if that's a man or a woman or another transman or what. Probably another transman! Now the kid can have two Daddies! One Daddy is no fun. Two are better! Better yet if both Daddies used to be Mommies. That's even more fun, kids! Don't all you kids with you had two Daddies who used to be Mommies too? Some kids have all the fun!
If transmen are really men and that transmen is really pregnant (and he is for sure pregnant, trust me), that means we men can get preggers now! Yeah! Morning sickness, weight gain, days of painful labor, the whole nine yards. Maybe even C-sections! Wouldn't it be cool if guys could get one of those cool x-mark scars in their guts? What I'd love more than anything else though is stretch marks. It's so sad that we men can't get stretch marks and C-sections.
Men want babies! We want babies now! Give us babies, dammit!