I've been wanting to do this for some time. Love and food are inexorably linked with each other and I've been so blessed by my interactions with the people around me, most of the time through food. It's a strange thing in Asian culture. I think we are by nature shy with words and tend to express ourselves better through food.
I've been wanting to carve out a space where I can preserve all these wonderful food I've had the privilege of someone taking the time and effort to make for me. I didn't just want to sit down with pen and paper and ask for the recipe. I wanted to be there when the cooking was taking place. To ask about the different ingredients, to help wash, to watch the water boiling and knowing just when to place that slice of ginger. More than anything, I wanted to preserve the memories of my (and other's) culture and heritage- my mother's cooking, my grandmother's cooking, my malay neighbour's cooking, my foreign friends who have stepped onto Singapore soil and taken the time to bless me with the tales of their land and the food they have made with their own hands. I wanted to share in the pride so evident in their voice as they showed me the food unique to their countries. These people have taught me so much (both of food and of life) and all I want to do now is keep these memories near and close to me so that one day when I'm feeling nostalgic and want to taste something of the past, I wouldn't just be tasting something from a random recipe book but the taste of much love and memories from people I've been so richly blessed with.
I have been incredibly fortunate. Every request I have made of their time has been met with nothing but enthusiasm and sheer generosity.  I made no special restriction on the recipes. I told them it's for this space which they knew to be something about vegetables but insisted they kept the recipe as true to what they usually prepare as possible. As always, they have gone ahead and surprised me. The recipes they have offered are all ones I have delightedly enjoyed in the past yet they have gone out of their way to make healthier tweaks to it to indulge me. Same taste, just slightly healthier. I'm a very lucky girl.
So first up in the series, I present to you a hot Singaporean (okay, mine!) favourite- Nasi Briyani! This was made by a woman who is matriarch of a family that I have had a privilege of knowing for only a little more than a year but I absolutely adore and love already.  The head of the household is non other than the very brilliant Yusnof Ef who really, can be considered the 'grandfather' of Malay songs in SEA and is definitely a pioneer in the Malay cultural scene here. I love hearing him share because his passion for the arts, heritage and community is so evident. This nasi briyani was made by his wife who is an amazing woman in her own right and I've often been so inspired by her patience and her sharings as well. We made this just before puasa started so I learnt (as I've been learning through the year) a lot on malay culture and of Islam. ( I must admit, I find the dedication and discipline wonderfully admirable and can only aspire to be as such!)
Anyway, enough talk! On to the food! :)
Mutton Briyani lovingly prepared by Jamilah Jaan (otherwise affectionately known as "aunty").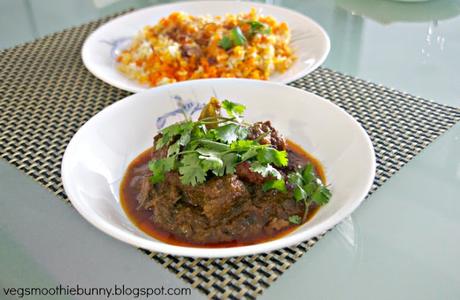 Recipe: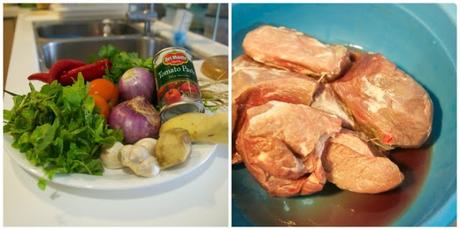 Ingredients for the Mutton Briyani: 
1 large bunch of coriander
Handful of mint leaves
2 large onions
2 bulbs garlic
2 large old ginger
3 large red chilis
3 large green chilis
2 tomatoes
1/4 cup chilli powder
1 can tomato paste
1/4 cup Sunflower oil
Steps for the Mutton Briyani: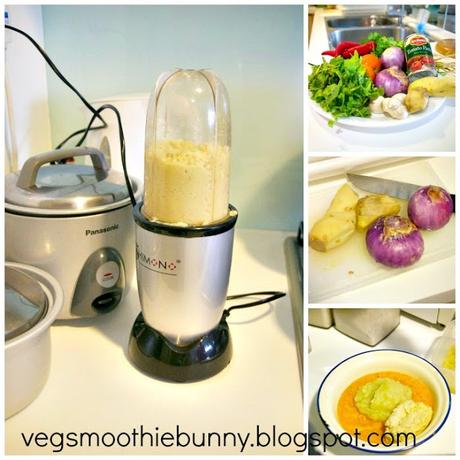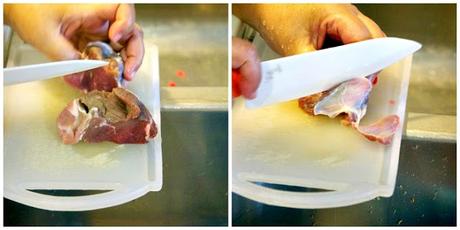 1. Blend the red and green chili into a paste
2. Blend the ginger into a paste
3. Blend the garlic into a paste
4. Set aside.
5. Cut meat into cubes and remove visible fat and skin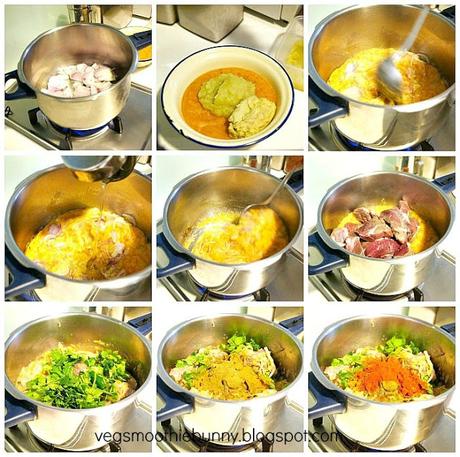 6. Sweat onions in a pressure cooker or normal pot
7. Pour ginger/garlic/ chili paste into the pot
8. Stir.
9. Add oil and stir
10. Add meat of choice and stir. Here we used mutton.
11. Add coriander and meat
12. Add briyani powder (Aunty told me she mixes the powder herself! but you can buy from mustafa)
13. Add chili powder and quartered tomatoes
14. Mix well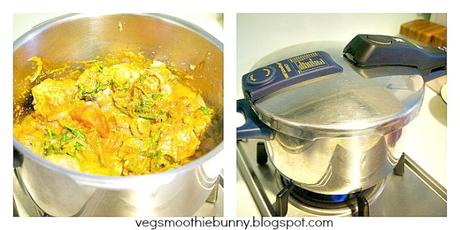 15. Cover with pressure cooker lid till indicator shows that it is done. Alternatively, if you are using a normal pot, simmer till meat is fork tender.
While the meat is cooking, you are prepare the rice.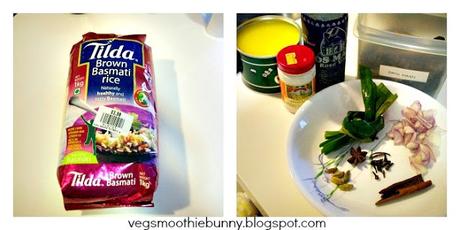 Ingredients for the Briyani Rice:
6 cups Basmati Rice
(Aunty was so sweet! She saw this brown basmati rice at mustafa and thought of me so although she has NEVER cooked this before, she decided to try for my sake! *touched* A healthier twist on traditional comfort food? I LIKE!)
12 cups water
Large spoonful of ghee
4 pandan leaves knotted
1 star anise
7 cardamons
2 cinnamon sticks
1/2 tsp cloves
2 bulbs of shallots sliced thinly
Colouring (optional)
1/2 tsp yellow powder colouring
mixed with
1 cup rose water till desired tone.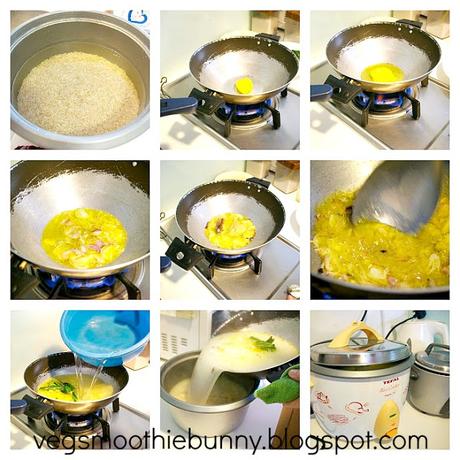 Steps:
1. Soak rice in water for 30 min
2. Drain rice and place in rice cooker
3. In a wok (big enough for the water needed for the rice), heat a generous pat of ghee (this is for 6 cups of rice so adjust accordingly)
4. Wait for ghee to melt and stirfry shallots in them till fragrant
5. Add all the spices and mix well till fragrant
6. Bring to a boil
7. When boiling, turn off heat and pour into rice cooker
8. Wait for rice to cook
While waiting for rice to cook, check on meat. When the indicator on the pressure cooker has gone off, add in tomato paste, extra chilies, half a large handful of fried shallots. Stir, bring to a boil and remove from heat. And you are done with the meat!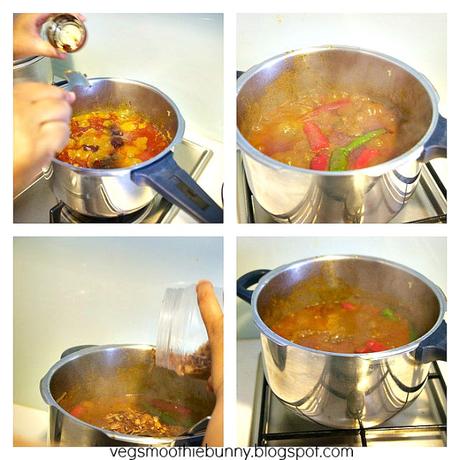 Back to the rice :)
Ta-dah! The smell when it is cooked is just AMAZING, seriously. I wish you could smell it!
If you are going for the healthier choice, I would just stop at this step but if you are going to impress your friends, why not just go all the way?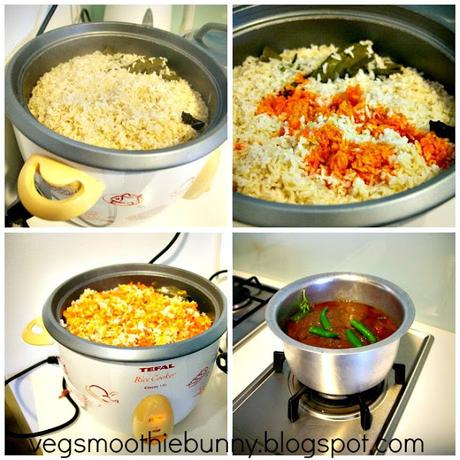 9. Poke holes in rice with a chopstick when done
10. Mix a little food colouring with rose water and pour into the rice.
11. Wait 30 sec and mix rice gently. Not all the rice has to be coated with the colouring
(Auntie did ask whether I wanted to learn how to make it the 'dum' briyani way where the rice is cooked with the chicken in a single pot and absorbs all the flavours but I opted for this method instead because it's easier to modify and make healthier since I would be able to control the amount of gravy to go with my rice and omitting the color should I make this myself :) )
12. Plate and serve!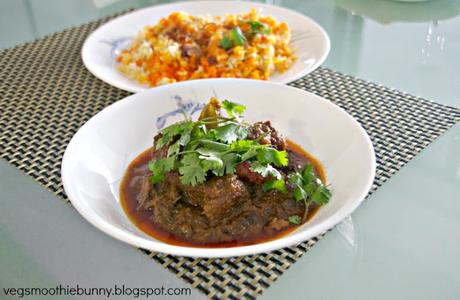 And there you have it, amazingly yummy (healthier?) brown rice mutton briyani! Don't be afraid of ghee because it's all natural! Better than magarine but this is not something I recommend on a daily basis! It's so so good though that when I brought it home it was gone in a few hours :/
Go try it today! Share the love with the people around you as well!
It's the weekend! Have fun everyone! :) Hope it's a weekend filled with love for you!
Enjoy! :)
P.s To not over indulge, Have a few pieces of meat with just a little gravy and a fistful amount of rice. It's really good though so some restraint is needed to try and not inhale the pot! ;)
Next up on the love series- Authentic dumplings from a dear friend from Tianjin, China! :D