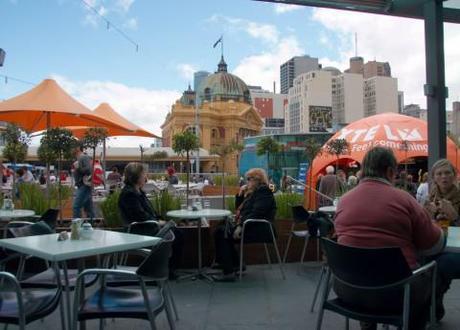 A cafe in Melbourne, Australia. Photo credit: F.d.W. http://www.flickr.com/photos/fransdewit/4051859661/sizes/l/in/photostream/
Vancouver's ranking as the most liveable top city in the world is over. The Canadian city, which has come out on top for almost a decade in the Economist Intelligence Unit's annual liveability index, has been usurped by Melbourne, Australia.
The respected annual ranking scores 140 cities from 0-100 on 30 factors spread across five areas: stability, health care, culture and environment, education, and infrastructure. These numbers are then weighted and combined to produce an overall figure.
Seven of the top ten scoring cities are in Australia and Canada. Harare, Zimbabwe, got the nod as the least liveable city of the 140 studied.You can buy the Global liveability survey here.
The Economist's Gulliver blog reported that Vancouver "can blame its fall from grace on raised congestion" and, given that the numbers were calculated before the riots that afflicted Vancouver in June, its total is "likely to head downward in subsequent iterations." The magazine argued that the top 63 cities "occupy the top tier of liveability. Thus the suggestion for HR managers is that employees posted to these cities require no extra remuneration to soften the blow." The cities that stand out in the ranking share certain features, noted the report: "Those that score best tend to be mid-sized cities in wealthier countries with a relatively low population density. This can foster a range of recreational activities without leading to high crime levels or overburdened infrastructure."
London and New York occupy 53rd and 56th places (the same as six months ago) and are let down by their scores for the perceived threat of terror and the rates of petty and violent crime.
Melbourne beaming with pride. A proud editorial in Melbourne's  The Herald Sun, expressed little surprise: "NO ONE needs to tell us that Melbourne is the world's most liveable city." The paper celebrated that the city "even topped Vienna in culture and environment"  and stressed that, "now that it has regained the title, the city has no intention of letting it slip away."
Vancouver Sun says EIU need to get their facts straight. Jeff Lee of The Vancouver Sun' s Civic Lee blog reacted angrily to the downgrading and suggested the EIU researchers goofed in their fact-finding mission by mistakenly thinking the (congested) Malahat highway impacts on Vancouver traffic: "For those who don't live here, the Malahat is on Vancouver Island … It's across Georgia Strait. As in, nowhere near Vancouver and its environs." Lee said the report "frankly discredit this kind of ranking business. I mean, goodness, if you can't realize that the Malahat has no more to do with Vancouver than the September 11, 2001 terrorist attacks had to do with Saddam Hussein and Iraq, then by all means buy a subscription to their report." In conclusion, Lee said "I'm happy we're No. 3. It takes pressure off us to be perfect. But watch out, Melbourne. At this rate The Economist may demote you because of traffic jams on the Sydney Harbour Bridge."