FirstLadyB| Black Christian Entertainment News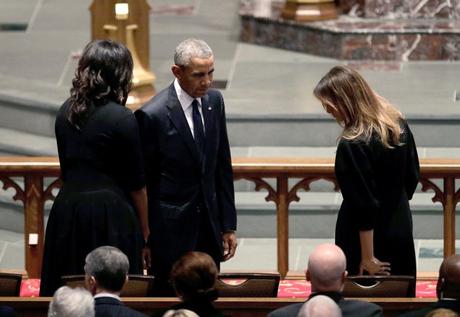 First Lady Melania Trump, Barack and Michelle Obama, along with the Clinton's attended the funeral of former First Lady Barbara Bush on Saturday.
Melania attended the funeral on behalf of President Donald Trump, who didn't attend the funeral services, but watched from the White House via livestream.
Trump spent the 2016 election cycle, mocking Jeb Bush, who ran for President on the Republican ticket.
Former Pres. George H. W. Bush attends the funeral of Barbara Bush, his wife of 73 years, at St. Martin's Episcopal Church in Texas. https://t.co/3UZhxBu1CT pic.twitter.com/bian5z8jBx

— ABC News (@ABC) April 21, 2018
First lady Melania Trump sits beside the Clintons and Obamas, attending the funeral of former first lady Barbara Bush. https://t.co/mCAWjSVdBS pic.twitter.com/D28cwdAfYS

— ABC News (@ABC) April 21, 2018
At the service, Melania Trump sat in the front pew of the church next to former President Barack Obama, who was seated next to wife and former First Lady Michelle Obama. To her left was former President Bill Clinton, who also sat next to wife, former First Lady and former Democratic presidential candidate Hillary Clinton.