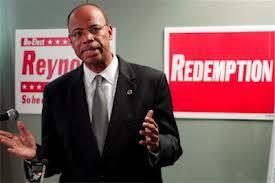 Last week Jessie Jackson Jr. resigned from his congressional position, in which he was just recently reelected to.  Jackson Jr. is reportedly making a plea deal with the FBI for his alleged use of campaign funds to furnish his Washington D.C. house as well as using funds to purchase a $40,000 Rolex for his mistress.  With his resignation many Democrats have surfaced clamoring for the coveted position.  One of those people is Former Congressman Mel Reynolds (the man Jessie Jackson Jr. unseated 17 years ago).
The only problem though is that Reynolds is a convicted child sex offender and a federal fraud felon.  According to the Chicago Tribune, Reynolds held the seat from 1993 until October 1995.  At that point a Cook County jury convicted him of several sex-related charges, including criminal sexual assault and solicitation of child pornography.  He then served 2½ years in state prison until Former President Bill Clinton commuted his sentence in 2001 with two years remaining to be served. 
According to state law, Reynolds no longer has to register as a sex offender (which is ridiculous in itself because there are occurrences of teenage boys labeled as 'sex offenders' the rest of their lives because they were caught sexting).  There also is no exclusion against a felon seeking federal elected office under the standards set by the U.S. Constitution.  Reynolds acknowledged he has made
"mistakes" (you think), yet refuses to admit any wrongdoing in the sex scandal.  So were his "mistakes" being caught?  Reynolds incredulously yet, hilariously reminded reporters that Chicago has elected corrupt politicians before.  Most recently, Congressman Derrick Smith who was expelled from the House because of bribery charges yet managed to be reelected.  It is also interesting to note that Reynolds had initially been elected by defeating Gus Savage.  Savage was a controversial and outspoken congressman (ala Joe Walsh) who was condemned by the House Ethics Committee amid allegations of sexual misconduct involving a Peace Corps volunteer while he was on an official congressional visit to Zaire.
The Tribune reports that a year after entering Congress, Reynolds was indicted on sex-related charges, including having sex with a 16-year-old girl.  During trial, it emerged that the girl informed Reynolds that he also could have sex with a 15-year-old Catholic schoolgirl.  Reynolds replied, "Did I win the Lotto?"  "Surprisingly" enough Reynolds was not accompanied by his wife, Marisol, in his announcement.  He said the two have a history of 'marital problems.'  You think!!!  I'd have a problem to if I was married to a sex offender.  What a creep.
The fact that practically anyone can win Congressional seats in Chicago, in so far as they deem themselves a Democrat is pathetic.  It is a sad reality of the nonchalant attitude voter's exhibit each election cycle.  I don't care if you vote for Republicans or for Democrats.  Pick the best candidate.  I don't think it's too much to expect that one would not elect a felon to office.  I hope Reynolds does not win.  At this point I'd rather have Jackson Jr. over Reynolds.
Reynolds should be ashamed of his actions and cease his disillusionment that somehow he is an innocent bystander in the scandal he created.
Here's hoping Chicago voters get it together.