Mel Gibson on Harvey Weinstein: 'It's painful, but I think pain is a precursor to change'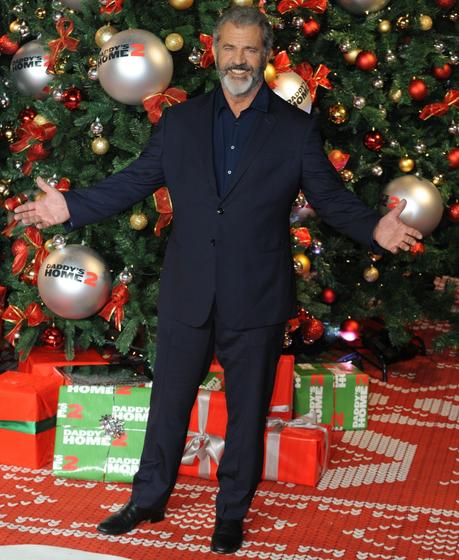 There's something very Peak 2017 about Mel Gibson's "comeback" and resurgence this year. This year is about men being outed as predatory monsters at every level, but Mel Gibson was outed as a racist, a bigot, an anti-Semite, a sexist, and an abuser of women years ago. He went away, working on low-key, barely publicized films for several years. He got quiet. Then he directed Hacksaw Ridge last year, and ended up getting a Best Director nomination at the 2017 Oscars. He's currently starring a financially successful family film, Daddy's Home 2, playing Mark Wahlberg's dad.
As Vox pointed out, Mel Gibson became the canary-in-the-coal-mine for abusers staging a comeback. He's laid out a blueprint for all of the men who were "canceled" this year – they'll simply wait it out, go dark for a year or two, then quietly reannounce themselves with some prestige project. They'll do one or two confessional interviews. Thinkpieces will be written about whether we should accept Louis CK or Harvey Weinstein back into the mainstream fold. And patriarchy will win again. With that in mind, Mel Gibson was asked about Weinstein in a recent Guardian interview. The way the Guardian frames his comments is… something special. Please enjoy.
Mel Gibson has spoken out about the sexual harassment scandal in Hollywood, saying the wave of accusations against Harvey Weinstein have been "painful" but will lead to change in the industry. The actor and Oscar-winning director, who has faced repeated damaging allegations of racist and misogynistic behaviour, said: "Things got shaken up a little bit and there is a lot of light being thrown into places where there were shadows and that is kind of healthy. It's painful, but I think pain is a precursor to change."
Gibson was speaking while promoting his latest film, Daddy's Home 2, his first family comedy in more than a decade after he was convicted of driving under the influence. He pleaded no contest to a misdemeanour battery charge in 2011 against his former girlfriend and mother of his child, Oksana Grigorieva. In 2010, it was reported that tapes had been submitted to the courts of Gibson allegedly using racist language and threatening to kill Grigorieva. He is also alleged to have said she deserved a beating.
In one of the most notorious incidents involving the actor and director, Gibson unleashed an antisemitic rant in 2006 against a police officer in Malibu, California, who had pulled him over for drunk driving. He accused Jews of being responsible for "all the wars in the world". He was convicted of driving under the influence.
[From The Guardian]
If you really parse what Mel Gibson is saying, it's really nothing you can pin down. It's just a piece of vague fluff, the equivalent of an antiseptic "thoughts and prayers" to people who experienced unspeakable tragedy. People like Mel Gibson expect to be forgiven, and they expect their misdeeds and criminal acts to be forgotten. They get away with it because why wouldn't they? It's not like anyone is really calling Mel Gibson out on his bullsh-t now.
Photos courtesy of WENN.
Source: Mel Gibson on Harvey Weinstein: 'It's painful, but I think pain is a precursor to change'
1 total views, 1 views today