Tonight, my friends M'Lou, Christy and I happened on another filming set of True Blood in Los Angeles. This time we were lucky enough to meet up with Todd Lowe (Terry Bellefleur), Carrie Preston (Arlene Fowler) and Chris Bauer (Andy Bellefleur). 
This shoot was taking place at the location that had been used in previous seasons as the Bellefleur Residence in Bon Temps. The first thing we saw was lots of trailers, guards, and equipment.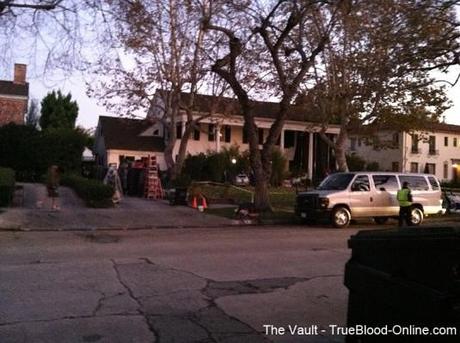 Home used as Bellefleur Residence
We immediately met up with Rob, the Motorcycle cop who was very entertaining as we waited to try and see some of the True Blood cast. We all knew Rob, but I had met Rob last year when I went to the set at the hotel in downtown LA.  At that time, True Blood was filming the now famous scene at the end of episode 4.09, the "Festival of Tolerance."
Tonight the crew was filming scenes for Season 5, Episode 1 and some of Episode 2. Also, we heard that even some scenes were being shot from later in the season, as well. I guess they need to take advantage of the location while they have it, because location shooting such as this is no small undertaking. Since the home is a private residence, and filming there causes a lot of disruption in the neighborhood, I think they shoot all potential scenes that take place there during the season, at one time, no matter how late in the season they may appear. While the street wasn't blocked off from traffic, it was full of trucks, vans, trailers and equipment, see below.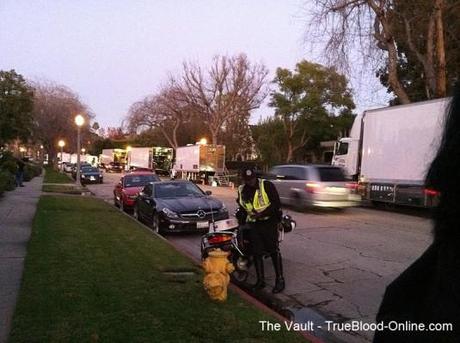 Rob, the Rad Motorcycle cop and all the trailers who entertained us during the downtime.
Once again, I don't have any spoilers to share here and have no interest in knowing or giving away any of the plot, but we did get some tidbits that I know you'll love.
The first tidbit is that Todd Lowe and Carrie Preston were in their jammies when we met them and we were told that Arlene and Terry and just woken up.
The second, and better tidbit was discovered when we were speaking to the actors. We mentioned to them about having been on the set last week and seeing the two primo vampires (Alexander Skarsgård and Stephen Moyer). We told them that our photos of Alex had started a huge discussion among the  fans as to whether Eric would be bearded this year on the show. When the photos of Alex were taken last week, he had a beard, (photo of Alex with beard). Well fans, I'm pleased to tell you that we were told by two of the cast members that Alex no longer has that beard.
The three actors all seemed genuinely happy to see us and chatted for a few minutes in addition to allowing photos to be taken. Chris Bauer mentioned that it was nice to see fans so early in the filming for Season 5 and he told me that he had seen my photo with Stephen, from last week's set, (the one with my eyes closed), so we laughed about that. Todd Lowe remembered M'Lou's name from when we went to see his play last fall and Christy commented on how tiny Carrie was. We each got photos with the three True Blood stars and they are below. First are Christy's, then M'Lou's and then, mine.












Thanks to Christy and M'Lou for sharing their photos and for providing me with another wonderful adventure.