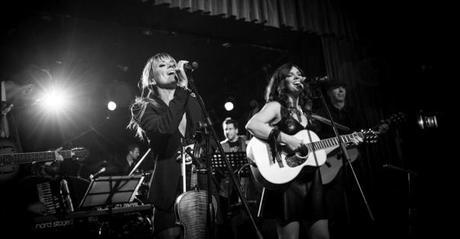 A few weeks ago I was gearing up for my birthday and talking a lot about country music on Twitter with friends who typically don't talk a lot about country music. And while that's always fun, there was an unexpected pay off when Ashley Gibson told me about her friend's band, The Lovelocks.
I was at the office when the tweet came in so I wasn't able to instantly go looking for the new to me music, but within a couple hours I was on The Lovelocks' YouTube channel and listening to covers of some songs I absolutely love (which can be a very satisfying or very awful experience depending on the quality of the cover) and much to the joy of my ears, I very much liked what Ali and Zoe had to offer.
After listening some more, and before picking up their self-titled EP at HMV, I reached out to the girls on Twitter and asked if they would be interested in answering some questions for a piece here on the blog.
I am quite excited that they said yes and to be able to share their answers with you all here today.
And in the spirit of Twitter and a little bit of back-and-forth in the interview, The Lovelocks asked me a question after I sent them a selfie of me and the album…
@HeyLovelocks teardrop tattoo is a lot of fun, but i'm also really digging 18 & 17. great job ladies!—
Joshua Murray (@phjoshua) March 08, 2014
Now, without further ado, I present to you, our feature and exclusive interview with Toronto's own, The Lovelocks.
Q. Your bio lists The Dixie Chicks, Lumineers and Mumford & Sons as comparables to your sound. But who influences your music when you're writing and performing?
A. We would definitely cite Alison Krauss and Union Station as a major influence in our approach to writing and performing. We are also very inspired by writers like Joni Mitchell, Kathleen Edwards, Dean Brody, Ashley Monroe, Kacey Musgraves, and Lindi Ortega.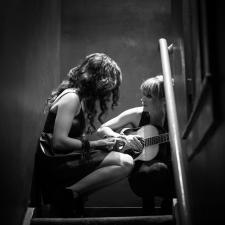 Q. It seemed for a lot of years that Toronto wasn't especially "country music friendly", but it feels like there has been a shift recently. Why do you think Toronto has opened its arms to country now?
A. We have artists like Mumford and Sons and The Lumineers, and even the crossover success of Taylor Swift, to thank for bringing banjos, fiddles and acoustic guitars back into the mainstream market. It makes sense that an urban center like Toronto wouldn't necessarily have country music as a main focus, but the city has always had a deeply committed country music fan base. Cadillac Lounge and the Dakota Tavern are great examples of that, as they have brought people together over the acoustic stylings of bluegrass and country twang for years. As city girls and country music lovers, we are happy to see this resurgence!
Q. There's a lot of talk, and justifiably so, about the lack of women on country radio and the country charts right now. Do you think we're just in a cycle, or is there something that needs to be done to bring balance back?
A. Something definitely needs to be done to bring the balance back. And to be honest, we hope we're part of the change. There are an incredible number of talented female artists whose stories and talent should be heard. It's important that we, as a progressive industry and nation, give a voice to these women.
Q. Before Little Big Town blew up with Tornado, they made some waves on YouTube with their off-genre covers (Scattered, Smothered and Covered). What makes you want to cover songs like Skinny Love (Bon Iver) and Part of Me (Katy Perry) to share with your fans?
A. Last year, we had the pleasure of partnering with our community to crowdfund $30 000 in order to support our project. As part of this crowdfunding campaign, we rewarded select fans with their favorite song and dedicated it to them on YouTube. Through this experience, we covered songs like Bon Iver's "Skinny Love", Johnny Cash's "Folsom Prison", Fleetwood Mac's "Landslide", Fleet Foxes "Meadowlarks", Katy Perry's "Part Of Me", and more! It was a fun experiment that introduced us to new songs and gave us lots of material to work into our live show.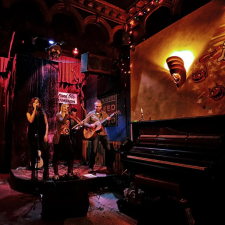 Q. We know that the music business isn't always easy or glamorous, and there's no such thing as an overnight success. What makes you want to keep doing what you're doing?
A. The answer is simple! We are dear friends who love to create, sing and play music together. We love the music, and we love pursuing our passion together.
Q. Wish List Time: You're building a dream line-up for a summer country festival and you'll be on the bill with 5 other country music acts, who are they?
A. Hmm…such a good question. It would be great to share the stage with Alison Krauss and Union Station, The Dixie Chicks, Kacey Musgraves, Johnny Cash and Dolly Parton. Now wouldn't that be a killer show!
Q. In 50 words or less, tell us all why we should pick up the EP and come and see The Lovelocks on stage

A. You should pick up The Lovelocks EP because it went to #2 on the iTunes country chart on Day 1, and it was the top selling country album in Canada last week! If you see us live, you'll never forget the soaring vocals, sweet harmonies and sultry strings. Oh, and the amazing hair. Need we say more?

Big thank you to both Ali and Zoe for taking the time to answer my questions. I really am digging the EP, and if you love country music with great voices and musicianship – pick it up. It's cheap and you won't be disappointed.
Check out their website, www.thelovelocksband.com
And if you have any awesome new country music recommendations, let me know!