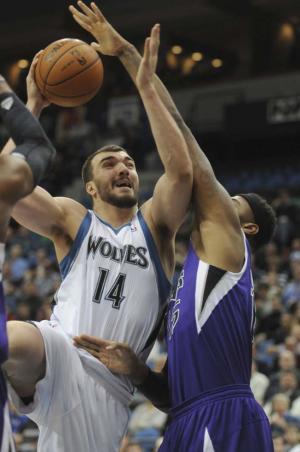 Photo: Pioneer Press, Scott Takushi
- Adam Parker
He arrived on the NBA scene without much of a fan club or entourage, slipping in without a David Stern draft day podium introduction accorded to the league's first-round draft picks. He didn't fit the demographics, exactly, or have scouts checking off all the most desirable boxes on the preferred list of skills on their evaluation sheets.
That being said,
Jeremy Lin
-- wait, no. That's not right. Let's try this again...
But
Nikola Pekovic
wasn't paying attention to other people's expectations of what he could become, instead, he focused becoming the player that he is. Very effective in his strengths, invaluable to his team and one of the happy surprises to come forth during this condensed NBA season.
While the rest of the league -- and even the most casual, barely-know-sports-existed Americans -- has been taken over by "Linsanity," the folks in the land of 10,000 lakes are watching the "Pek-tacular" unfold.
As the Minnesota Timberwolves' starting center, Pekovic, has had a breakout season arguably second only to the New York Knicks' new point guard.
He hasn't generated the same hype, he doesn't play in a media capital and the mecca of basketball or have the popularity to make the global impact that Lin has -- Pekovic hails from Bijelo Polje in tiny Montenegro. But lately, his individual performances have helped the Timberwolves to a 17-17 mark at the All-Star break, the first time in eight seasons they've made it so far with a .500 record or better.
Pekovic isn't all smoke and mirrors, either.
The Timberwolves are 8-6 since he took over as a starter for his friend Darko Milicic. The 31st pick in the 2008 NBA draft -- Pekovic has been playing professionally since 2005, sharpening his skills in Europe while Lin did his thing at Cambridge -- he is averaging 12.5 points and 7.3 rebounds, while shooting 58.3 percent. But he's been way better than that lately.
In a breakdown of the NBA centers in February -- the 30 players at that position most often for their teams -- Pekovic ranks fifth in efficiency, based on the PER (player's efficiency rating based on per-minute productivity) stat, at 24.1. The only players performing better are Utah's Al Jefferson (26.5), San Antonio's Tim Duncan (26.5), Orlando's Dwight Howard (25.0) and the Lakers' Andrew Bynum (24.4).
At 17.2 ppg and 10.4 rpg, Pekovic is one of nine averaging a double-double this month and only he of the 30 has grabbed more offensive (71) than defensive (64) rebounds over that span.
"I don't think he's really had a poor game in the last two weeks,"
coach Rick Adelman said about a week ago.
"He doesn't try to anything that's really not with his strengths. He stays with his strengths and he's aggressive. You need people like that."
"I knew what I can do,"
said Pekovic.
"Maybe I don't know that I can do it like this so much, but I knew that I can play. ... I was just waiting for my chance."
Freeing up Kevin Love from some of the Wolves' dirty work down low, the physical side of Pekovic's should not be overlooked. He sticks to what he's good at, where's he's best at it -- at or near the rim. He's making tons of plays in the paint and his team's has risen along with his minutes.
It's a shame that Pekovic won't be in the BBVA Rising Stars Challenge to get a little exposure at All-Star weekend, but if he continues to play the way he's playing, he will deserve strong consideration for the NBA's Most Improved Player Award.
Keep doing what you're doing Pekovic.
Be sure to follow Beard And Stache on Twitter 
@BeardAndStache
, 
and also Adam 
@Adam_Parker43
, Like our Facebook page 
HERE
!