THE BAND: PIONEERS OF AMERICANA MUSIC 
Book signing - May 10th at Wood & Strings Music Center, Arlington, MA
Author/photographer Craig Harris will be talking about and signing copies of his new book, The Band: Pioneers of Americana Music, the in-depth exploration into an extremely influential ensemble, at Wood & Strings Music Center, 493 Massachusetts Avenue, Arlington, on Saturday, May 10th (1 PM - 3 PM).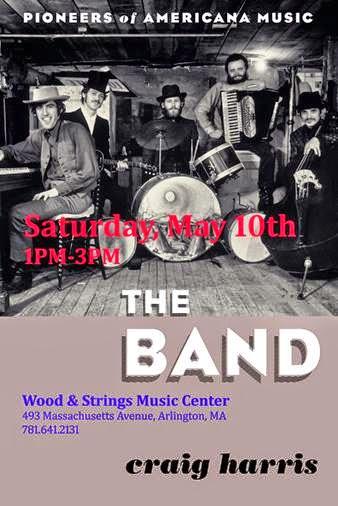 Here is what one reader had to say about The Band: Pioneers of Americana Music:
  "Until about a month ago, I didn't know who Craig Harris even was, let alone that he was writing a book about The Band. Only real Band fans can truly appreciate the gravity of knowing that such a thing exists. I got mine today, and I could not put it down. I thought I knew a lot about The Band and I did. After reading this book, I know even more. It is obviously written by a true fan, and music scholar, and will be much appreciated by legions of other fans who love this music. I found his story a wonderful addition to things I already knew, while filling in gaps that I didn't realize existed until today. It's a page turner. It's also historically sound, and amazing in its scope. He tells of the dreams and aspirations of each player, and how many were or were not realized. The research alone is vast. Any new comprehensive book about The Band has to be, and this is like having a Handy User's Guide of the roots of this pioneering music. He tells of the birth of so many dreams my head was spinning. If you are a fan of The Band during their entire history, this book is a MUST READ - a story told from all kinds of sources in a format I long for most days, a BOOK! It harkens back to when I was breathlessly waiting for every Rolling Stone, snuck my brother's High Times, and immersed myself in the music to the extent that I did. 
MANY years ago, I wrote concert reviews, naturally learning to pay close attention to everything in print about music. I find out I am not alone in my manic pursuit of the details and stories about this magical ensemble. Because of my personal knowledge, I knew many of the stories, and Craig's sources for the information because they were the same as mine. And millions of Band fans will feel the same. But this is much more, and the glorious feeling of knowing more about my beloved Band, and Levon Helm, makes me feel like a kid who still hungers for the music news in print. It evokes that feel in the book as well. Any book that keeps and encourages people to learn about Levon Helm, and honor his memory, including Craig Harris' book is welcome to many fans who may have never seen him or The Band. I thought I knew a lot about The Band, and I do, especially Levon. Craig's book lays out the history in reverent admiration that is genuine and reflects sentiments of the masses of nameless fans who feel the same way. One of my favorite passages discusses the relationship between Levon and Amy Helm as he struggled through chemo, and her selfless devotion to her dad is crystal-clear. Also, the joy Levon got from the realization of his dream of having her with him at the Rambles is clearly present, while also devoting equal, fair, and unbiased reporting about all the original members. The facts and history are painstakingly told in such a great way to help keep The Band, as well as Levon's spirit alive and well, along with Rick and Richard. This book is one that the Angel Band would applaud."
Further information can be found at 
www.drumawaytheblues.com
The Band: Pioneers of Americana Music
(Rowman & Littlefield)