Delhi Pavilion at Sheraton New Delhi, Saket completed one year this August, and on the occasion of their first anniversary they had a festival that was all about the Mughal era, the slave dynasty, and local food. Meeras-E-Dilli, conceptualised by Salma Husain, a very renowned scholar and custodian of Indian food heritage, was led forward by the restaurant's chefs, Chef Vipul and Chef Mofid.
The concept, the entire menu, the recipes belonging to each dish- everything has been taken from the slave dynasty. The food is an amalgamation of different cuisines that were prevalent during that time- Turkish, Afghani, Central Asian, Indian and Persian. Salma Apa, as she is fondly known, is one of the most kind and warm women I've ever met. Her vast knowledge of the era, her insights into the Mughal empire and the food traditions, it's an experience that cannot be described. She sat with us and took us through everything that she could manage from that era in those three hours. She was the mind behind the menu and Chef Vipul and Chef Mofid were the hands, as Chef Vipul gleefully said.
We were welcomed with a refreshing gulab ka sharbat served in gorgeous silver jugs and glasses, just like people in that era would use. It completely set the tone for the meal ahead and got us all perked up.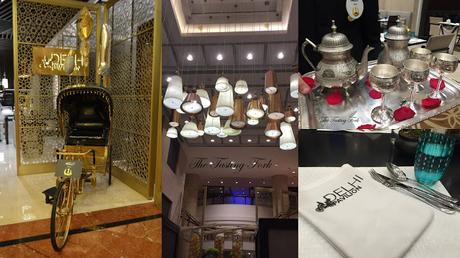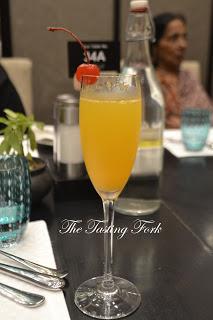 Once we settled in, we were served a sparkling wine based cocktail that was a celebratory drink for Delhi Pavilion turning 1. Gave good company throughout the meal!
Starters were served and we saw samosa and Makai Seekh in vegetarian, with Fish fry (Bulgur Mahi Dolma) and chicken kebab with brinjal in non-vegetarian. The samosa was nice and crisp with a good stuffing of aloo, matar and dry fruits (do not compare it with the samosa we get now- we're talking about a different time altogether). The Makai seekh was a little dry but the taste was good. All the ingredients were finely minced and rolled into a kebab. The non vegetarian appetizers were superb! The soft melt-in-the-mouth lamb kebab and the so-full-of-flavour brinjal that was fried and dunked in a lot of masala. The soft and crisp fish melted in the mouth within no time. Just mind-blowing!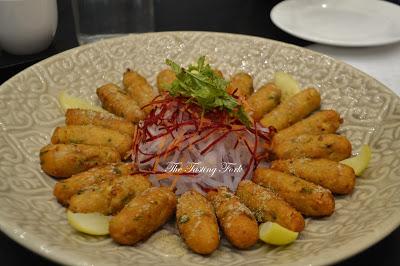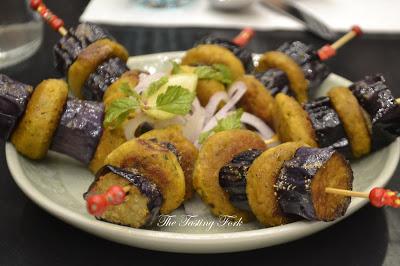 We moved on to the main course and before I tell you how the main course was, I want to say that this was one of the most memorable meals of my life. And everything plays a role in this- the concept, the history behind the food shared by Salma Apa, the warm warm staff and their hospitality, and finally, the taste of the food!!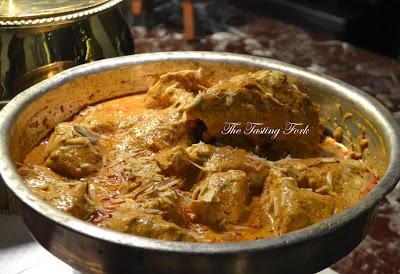 Vegetarian food was as good as non vegetarian, which really deserves an applause. Shahdeg was a mutton dish that was cooked with sumac and pomegranate (a very prominent ingredient used in that era). With a perfect consistency of the curry, the mutton tasted so so hearty. While the Jalpari (prawns cooked in onion and tomato gravy) and Murgh Qutbia (chicken roasted and served in a rich thick gravy) were my favorite of the lot, it in no way means the others were anything short of smashing. The richness of the chicken gravy that came from cream and cashews, and the beautiful look of the dish (see the picture above), would make you fall in love with it at first sight. The prawns were cooked in a perfect blend of sourness and saltiness, with onions adding the sweetness, and the juicy prawns lending their own flavor to the dish too. Vegetarian food saw Badenjaan Anari (eggplant cooked with tomato and pomegranate gravy), Kofte Nilofari (lotus stem made into soft balls) and Perizaad (cottage cheese with trio of bell peppers in a turmeric gravy) and a raw banana dish. It's hard to choose one favorite out of these. The eggplant was nothing like I had before. Loaded with masala (just like the appetizer), with tomatoes and onions that had become soft with the cooking, the eggplant was to die for!! Kofte Nilofari was another rich dish that could sweep your off your feet with its taste and texture. I cannot describe how that dish was drawing me towards itself- it looked so appealing! Perizaad was just the soulful paneer dish that gives you a hit with its flavourful turmeric gravy, and is so rich yet not so heavy on the palette.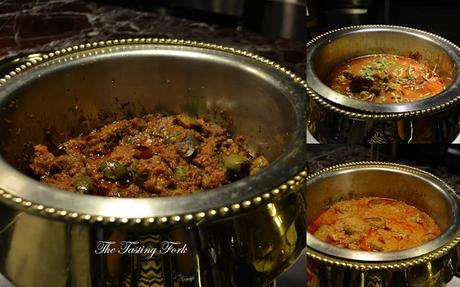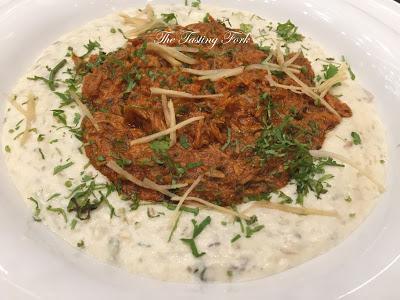 Two dishes were served on the table and weren't on the buffet- Fish wrapped in cabbage and Sultan-E-Delight which was a minced lamb dish with a yoghurt based curry. Very smooth in texture, the yoghurt based curry and minced mutton blended so well together. With coriander and ginger for the garnishing, the dish was a burst of flavours! It was nothing like I had ever had before. 
The fish had a very thin coating of cabbage with a very chunky interior. The curry here did all the magic. Thin in consistency and another dish packed with so much flavor.
These dishes were complemented by kaju pista parantha and crisp rotis and naans. Kaju pista parantha, I thought, would taste sweet, but oh my, what a unique flavour! I just couldn't comprehend it would taste like it did. 
The chicken biryani, Khichdi Quroot Afghani, was so fragrantic! Small balls of minced meat in a biryani that was essentially a khichdi- cooked with rice and moong dal.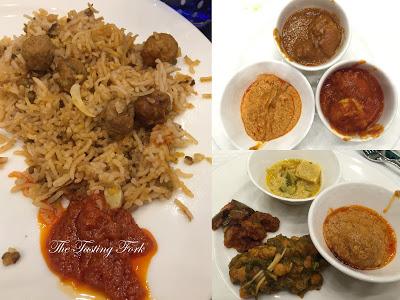 Desserts saw shiny silver and golden platters decorated with rose petals with sweets in them. Different kinds of burfis, moti choor laddoo, Jalebi, Kheer- all of them fantastic! I focused only on these and not on the other desserts laid in the buffet, and I was such a happy kid with this choice!
Delhi Pavilion has etched a memory in my mind that I will remember for a long time. Food does that to you, and it's amazing to see how well Delhi Pavilion knows that. This meal ticks all boxes for me! And a special mention to the hotel's warm hospitality. That's why you spend the extra buck and go to a property like that- because the staff really pampers you. 
Contact: 011 42661230
Address: Sheraton New Delhi Hotel, District Centre, Saket
Timings: 24 hours
Disclaimer: The review was done on an invitation from the restaurant. All views expressed are unbiased in nature but readers are advised to exercise their own discretion.
Connect with me on:
Twitter: 

@sahibagursahane
Instagram: 

@thetastingfork
Facebook: 

www.facebook.com/thetastingfork
Snapchat: @thetastingfork
Roposo: www.roposo.com/@thetastingfork