Meera Herbal Hair Wash Powder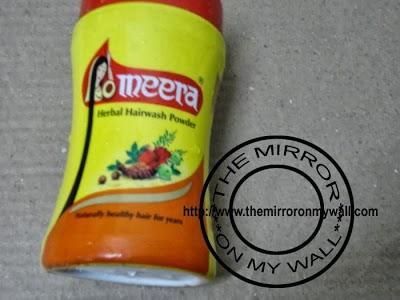 Meera Herbal Hair Wash Powder
Hi everyone,
Recently I suffered severe hair fall which made to choose a herbal hair wash powder. I was in a store and looking for a good mild and herbal shampoo for my hair then I cam across this product called Meera Herbal Hair Wash Powder which is from  CavinKare. It has goodness herbs and also cleanse hair effectively.  Read the review in detail and how was my experience with this hair wash Powder. Yes, this hair wash is in form of powder which needs to be mixed with little water to make a smooth paste.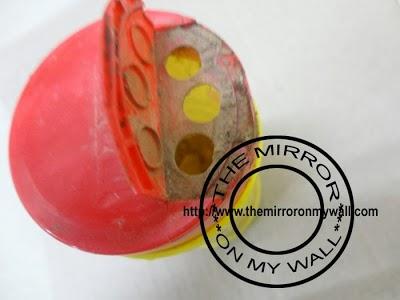 Meera Herbal Hair Wash Powder
My hair type and length:-
I have dry and rough hair with a few split ends which reaches few inches  above my elbow.
Product Claim:-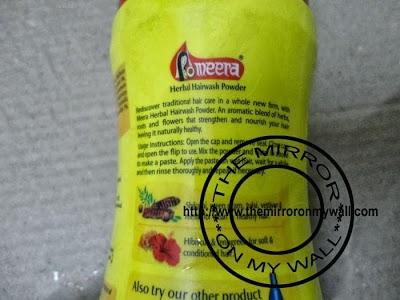 Meera Herbal Hair Wash Powder
Rediscover traditional hair care in a whole new form, with Meera Herbal Hair wash Powder. An aromatic blend of herbs, roots and flowers that strengthen and nourish your hair leaving it naturally healthy.
Ingredients:-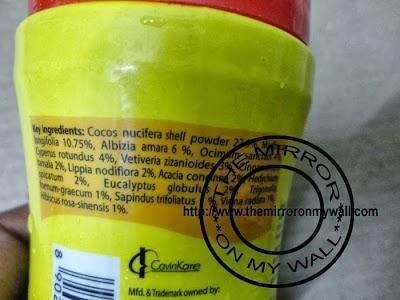 Meera Herbal Hair Wash Powder
Price:-
INR 49 for  90gm(Jar Pack)
INR 45 for  90gm(Pouch Pack)
Shelf Life:-
24 months from the date of mfd.
Directions for use:-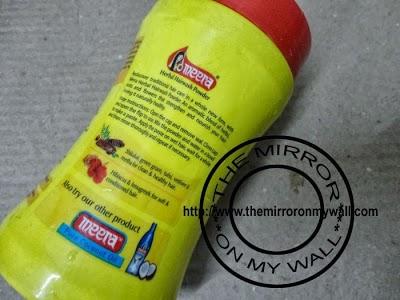 Meera Herbal Hair Wash Powder
Open the cap and remove seal. Close cap and open the flip to use. Mix the powder and water in a bowl to make a paste. Apply the paste on wet hair, wait for a while and then rinse thoroughly and repeat if necessary.
My opinion on the product:-
I have purchased the jar and pouch both. Jar is more convenient than the pouch and will use  the pouch as refill. When I first opened the jar I found the smell herbal and not strong or artificial. I followed the directions how to use and made a paste just like how you make for a face pack. Applied on my wet hair mostly on the roots and massaged and then waited for some time may be for 2-3 minutes and then rinse it.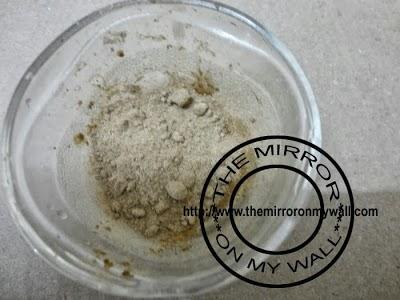 Meera Herbal Hair Wash Powder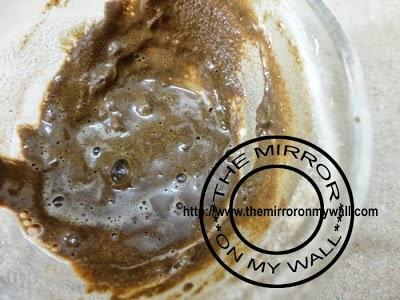 Meera Herbal Hair Wash Powder
I apply oil to my hair a night before washing my hair so I had to repeat the process once again. Just in two washes my oil was gone. Don't expect too much from this hair wash it won't make your shiny and bouncy like shampoo but will sure nourish your hair to make it soft and strong. The ingredients are all herbal so it is going to benefit your hair in long run.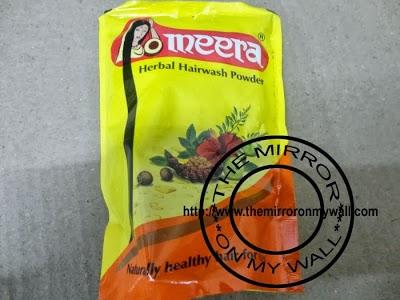 Meera Herbal Hair Wash Powder
I have been using this for about 3 months now but also used shampoos in between. The packaging is decent but sometimes becomes messy also jar is not travel friendly. Only a table spoon is needed for my hair and after using this hair wash my hair had faint smell of it. I use a conditioner with it sometimes which make my hair more manageable. The hair has become more soft and nourished now and I am happy with the result.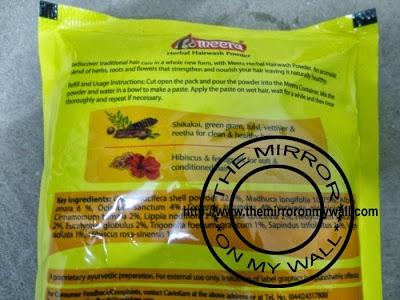 Meera Herbal Hair Wash Powder
What I liked:-
Reduced hair fall
Nourished hair
Pocket friendly
Herbal
Very little is needed
Cleans well
Makes my hair soft
What I didn't liked:-
Packaging not travel friendly.
Some people might not like the herbal smell.
Will I repurchase and recommend:-
Yes, have already repurchased.
Rating:-
4.5/5
If you have found this helpful or have used this product before please share your experience with us.
XOXO,
VSS