ZEE5 has announced its upcoming original, "Mee Raqsam", which is set to premiere on 21st August. An ode to the father-daughter relationship, this film is directed by Baba Azmi and presented by Shabana Azmi as a tribute to their father and legendary poet Kaifi Azmi.
The movie had already created a buzz when it was announced due to its unique title.
"Mee Raqsam", which stands for "I Dance" is a story about a teenage Muslim girl living in a small town who aspire to be a classical dancer but religious and fundamentalists hindrances is trying to stop her until her father goes against the patriarchal society to help his daughter pursue her dream. #SapnoKiTaaqat
Impressive cast: The film stars Naseeruddin Shah, Aditi Subedi, Danish Husain, and Shraddha Kaul on main roles.
I am stoked enough to watch them on screen as their performances are worth the watch.
Have you watched the teaser and trailer?
When the teaser released, I got a glimpse of this character-driven story and couldn't wait for the trailer release. Finally, the trailer is out and it looks so much interesting. A very relatable story we all witness around us and therefore, am waiting eagerly for 21st August to watch the movie.
#MeeRaqsamOnZEE5
My first reaction after watching it was the message of the film that they want to present. Indeed, there are many things to learn and to relate. But the two main aspects of the trailer that empathize with the characters are:
1. A Muslim girl's dream of becoming a classical dancer
I share the same religion and hence I could understand the emotions behind. Many girls have to deal with such challenges. However, stories like this inspire and motivate them and am glad a movie has been made. 
This story reminded me of Maryam Siddiqui, a 12-year-old Muslim girl from Mumbai who won the Bhagavad Gita competition. 
India is a diverse country and we should not let religion bind us from following our desire, passion, and dream. Let us aim for a better India and better brotherhood.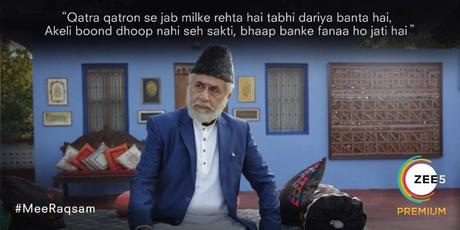 Image source: ZEE5.com
2. A beautiful story about the bond between a father and daughter
The emotional bond between a father and daughter as together they fight religious fundamentalism and patriarchy in the latter's pursuit of classical dance should be watched by everyone.
In some way or the other, every father helps his daughter to achieve her dream. Personally, my father always encouraged and concentrated on our studies. My relatives were not so keen about the importance of education for their children, so they always tried to provoke my father, but he never paid attention to them and did what his heart and his children wished.
He worked hard so that we fulfill our dreams and gave us the best of education. Now, seeing us doing well in our life, my relative's perception has been changed not just about education, but also about marriage and this makes me a proud daughter.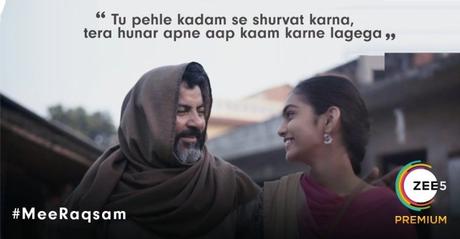 Image source: ZEE5.com
---
"Mee Raqsam" will connect to the audience because of its beautiful story, stellar star cast, and powerful message. How one father sacrificed everything to fulfill his daughter's dancing dream? Together, they're liberating themselves from all shackles to accomplish a dream. Based in a small town yet relatable story to everyone which deserves to be seen, learn, and inspire.
Let's watch this movie together on ZEE5 on 21st August.
---
---
---
Looking for movie recommendations on ZEE5? Then check this out:
5 Regional language Movies You Can't Miss, To Watch On ZEE5

Looking for a thriller series? Watch "Mafia" on ZEE5
*Sponsored post